Kathryn Elizabeth "Kay" (McDonald) Schrepel - June 11, 1924 - October 20, 2018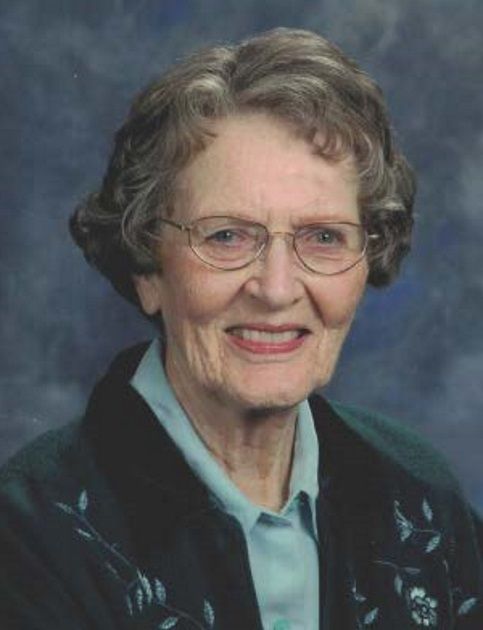 Kathryn Elizabeth Schrepel, 94, passed peacefully on October 20, 2018, in McMinnville, Oregon. A memorial service will be held at 2:30 p.m. Sunday, November 4, 2018, at First Presbyterian Church in McMinnville. Interment will be at Riverview Abbey in Portland.
Kay was born June 11, 1924, to Warren Thomas and Cecile (Spooner) McDonald at home in Redmond, Oregon. In Kay's youth, the McDonald family also lived in Eugene, Portland and Yamhill during her father's career as an agricultural extension agent.
Kay graduated from Yamhill High School in 1942. All through her school years and later in life, Kay was known as an excellent piano accompanist. She attended Behnke-Walker Business College in Portland. During the war years, she worked for a CPA and for Farmers Co-operative Creamery in McMinnville.
On December 4, 1945, at the conclusion of World War II, Kay married her high school sweetheart, Keith Wyman Schrepel. After Keith's discharge from the Army in 1946, they both attended Oregon State College until he graduated in 1948, at which time they moved onto the Schrepel family farm near Gaston.
They logged and farmed in partnership with Keith's parents, Oliver and Anne, in Benton and Yamhill counties, producing grain, timber, sweet cherries, tart cherries and plums. In 1950, they began to process tart cherries on the farm for freezing.
A few years later, they moved from the farm to where they developed a fruit processing facility on the east edge of Yamhill. Until her retirement, Kay was the farm's bookkeeper and processing crew leader during cherry season. The farm currently involves the family's fifth generation.
Kay and Keith were always generous with local students and they willingly cooperated with the Oregon State University Extension Service in the development of state-of-the-art varieties, techniques and treatments for the crops they produced. They retired from day-to-day management of Fruithill, Inc., in the late 1970s.
Kay was involved in the community, as well, as a Cub Scout den mother, a leader in the Yamhill County Tuberculosis Association and Yamhill County Republican Women, as a precinct committee person, charter member of P.E.O. Chapter DO in McMinnville, member of First Presbyterian Church in McMinnville, United Methodist Church in Yamhill and the Cove Orchard Grange.
Kay and Keith hosted many memorable holiday gatherings of grandparents, aunts, uncles, cousins, children and grandchildren in their home. Through her lifetime, she nurtured a family tradition (now enjoyed by the fifth generation) of popcorn, sausage and fruit on Sunday evenings. During retirement, the Schrepels traveled extensively in the United States, Mexico and Europe. Kay enjoyed her family and friends, making daily entries in her diary (from the time of her youth), gardening and motorhoming, particularly over-wintering at Lake Havasu City, Arizona.
Kay was preceded in death by Keith; her parents; and her great-granddaughter, Kaitlin. Kay is survived by her sons, Lee (Linda) of Yamhill and Mark (Debbie) of Gaston; eight grandchildren; 10 great-grandchildren; three great-great-grandchildren; and sisters, Charlotte (Jerry) Smith of Eugene and Janet Baker of Carlton.
Messages in remembrance may be left online at http://www.riverviewabbey.com/Obituaries
Gifts in Kay's honor may be offered to the American Cancer Society, BeyondType1.org or Yamhill United Methodist Church.