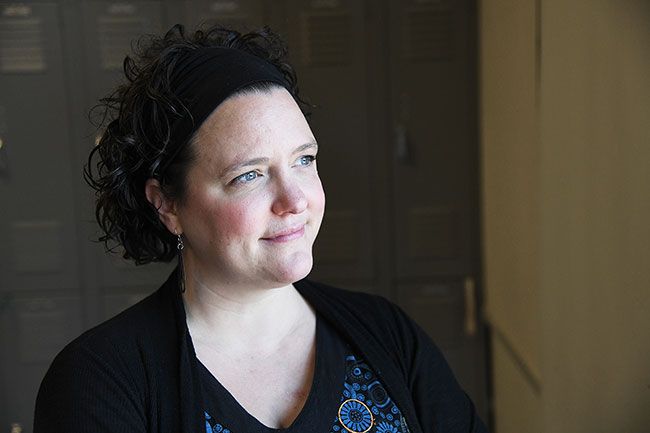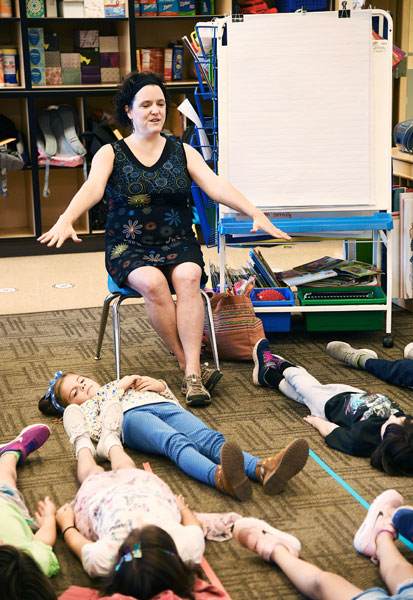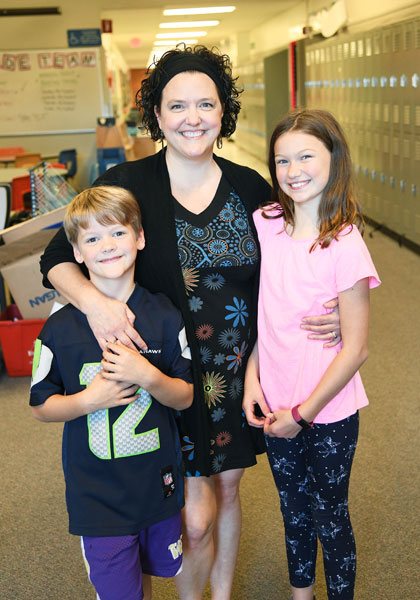 Stopping By: Breathing through the pain
"How do we always start?" she asked.
"Breathing!" chorused the excited first-graders, who were gathered in front of her on the carpet.
Fleckenstein grinned, although doing so is extremely painful for her. She has a chronic condition called trigeminal neuralgia, a rare nerve disorder that results in terrible facial pain triggered by temperature, movement, the breeze — even smiling. But who can resist grinning at first-graders?
She asked the children to place their hands on their bellies, so they could feel the intake of breath. As they breathed deeply, she expanded a colorful ball, showing how their lungs fill up.
Then she and the children repeated, several times, "My ... body ... is ... calm." They breathed deeply between repetitions, soothing themselves.
Next Fleckenstein introduced another relaxing technique, which some people call a "body scan," but she calls the "spaghetti exercise." She asked children to isolate one part of the body at a time — the toes, the legs, the back, the neck — and tense up like a piece of dry spaghetti, then loosen up like a wet noodle.
The first-graders giggled, but quieted as they concentrated on tensing and relaxing.
"My body is calm. My body is calm," they repeated as the session ended.
"How did that feel?" Fleckenstein asked.
Her son answered first. "Really, really, really, really, really, really, really, really, really good," he said.
Fleckenstein grinned.
Three years after being diagnosed, Fleckenstein has learned to use mindfulness meditation to relieve some of the pain caused by her rare nerve disease. It makes her temporarily forget her suffering.
In March 2015, just after her 39th birthday, she first felt the agony of trigeminal neuralgia, she thought she had a toothache — a really awful toothache, with twinges like electric shocks shooting up her face.
The pain persisted as her dentist and doctors tried to figure it out. After a root canal and other dental work, they ruled out the toothache theory. But it took six months to fully diagnose.
Trigeminal neuralgia begins when something — a blood vessel, for instance — presses against a particular nerve at the lower back of the skull. The trigeminal nerve connects to the cheeks and the upper and lower parts of the face.
The pressure of trigeminal neuralgia results in some of the worst chronic pain there is, according to medical professionals. For her, the pain daily reaches the seven to eight range, on a scale of 1 to 10.
And the twinges are excruciating, Fleckenstein said. They are triggered by movement, talking, chewing, drinking, being subjected to cold. Being touched also triggers spasms, even if the touch is a gentle breeze or the soft hand of a child.
The latter is an especially cruel manifestation of trigeminal neuralgia, since Charlie was only 3 and his sister, Carolyn, was 5 1/2 when their mother was diagnosed.
Fleckenstein would love nothing more than being able to hold her kids and her husband, Jamie, without pain or worries about scaring them.
"But every day is a constant battle," said Fleckenstein, who moved from Seattle to McMinnville with her family a little over a year ago.
In the three-plus years she's been fighting trigeminal neuralgia, she has developed a motto: Just. Keep. Going.
She repeated it during diagnosis and disappointments — two brain surgeries that didn't help, but left her with lengthy recovery times; working with a medical team at the Mayo Clinic; another brain surgery that implanted electrodes to help mitigate the pain and another less-than-hoped-for result.
Just. Keep. Going. She repeats the motto these days as she practices and teaches mindfulness meditation, which does help; mindfulness — focusing on the moment — and deep breathing take her mind off the pain for minutes at a time, a huge relief.
And teaching children about mindfulness does her good, as well. "It brings meaning and purpose to my life," she said. "I'm able to make an impact."
Fleckenstein enjoyed an active lifestyle before she was hit by the rare disease. She ran half marathons, hiked and pursued other outdoor activities with her kids and husband.
He was a stay-at-home dad. She had a demanding job in the corporate world as consultant and vice president for a health care company. She often traveled to give presentations.
Then the pain hit, and the search for a cause, and the diagnosis, and the first brain surgery.
She could no longer give presentations. "One of the hardest things to do is talk. That's pretty devastating" she said.
Bedridden since before her diagnosis, she couldn't travel, or even work. Without her corporate job, she had to rely on a COBRA plan that cost $2,500 a month. After she was dropped by the company through which she had longterm disability insurance, she filed a legal appeal..
Her personal life suffered. No more endurance races; no running, period, and not much walking, either. No helping with the housework. No cuddling with her husband and kids.
One thing she could do, she realized, is share her story, which might help others with facial pain by making people understand. She has blogged, written her story on the Hats for Heroines website, www.hatsforheroines.com, and spoken about it, when possible.
She has done what she can to support the Facial Pain Research Foundation, as well.
In January, she will take part in a TEDx event at Linfield College. She will discuss her problem and one thing that helps, mindfulness mediation.
TEDx McMinnville will take place Saturday, Jan. 26, at Linfield College. In addition to Fleckenstein, it will feature speakers Pat Crowley, Kathy Beckwith, David Sumner, Deven Paolo, Gerardo Ochoa, Jess Smith and Becky Steckler. Tickets are $65 to $100, available starting Nov. 14.
Fleckenstein has been practicing for the TEDx talk when she can, teaching meditation when she can, and living life as normally as she can, all while working with doctors and counselors in an attempt to manage her disease.
"As I am able," she said, describing her teaching schedule. The phrase "speaks to the inconsistency of my life due to trigeminal neuralgia."
Even now, she said, she has to refrain from talking in the evenings, when her condition is worst. Mornings usually start out OK, she said, but "the more I do, the worse it gets."
Fleckenstein and doctors had hoped operating on her brain would help.
Surgeons tried cushioning the trigeminal nerve, but that didn't do much good. Her balance was affected, and she suffered nausea as well as pain that "returned with a vengeance."
A second surgery also didn't help.
Finally, she turned to the Mayo Clinic and underwent a another operation -- she's had four in all. This one to implant a net of electrodes in her head.
For that procedure, she said, she lay in bed for days with her skull opened as medics tested different patterns of electrodes. They were looking for the pattern that would reduce her pain the most while preserving other functions, such as speech.
After finding the optimal pattern, they replaced her skull and sewed the wires from the electrodes under her skin, leading to her upper chest. The wires connect to a control box that allows her to turn the power up or down as she feels varying intensity of pain.
She must return to the hospital regularly to have the batteries replaced, she said. "Every four or five months, I get reprogrammed," she said.
It helps, but not as much as doctors predicted. And there are side effects: The electrodes can cause seizures.
Still, she said, she has hope. Maybe doctors will find a pattern that makes the electrodes work better. Or maybe technological advances will find a cure.
In addition to learning mindfulness meditation, she has adapted as much as she can.
She learned to wear scarves, which protect her face from the breeze. "I have like 50 or 100 scarves now," she said, describing the different thicknesses she uses in all sorts of weather.
She misses the fresh air, though. "Especially in fall, when it's cool and crisp," said Fleckenstein, who was born in Astoria, then lived in first in Long Beach, then in Camas, Washington. "Especially at the ocean."
She learned not to drink ice water or hot beverages, not to eat really hot or cold food. She avoided vibrations, whether they were caused by chewing or walking. She limited her driving, noting that "long drives are a killer."
And she avoided touch. "That was horrible. Our kids couldn't touch me for years, and now they still have to be very, very careful," she said. "We live in a trauma state."
Carolyn and Charlie have learned to help their mom in all sorts of ways, from being careful to taking over if she has a seizure in public.
"Just breathe," her son will tell her as his sister turns down the electrodes. "Make your body calm."
Her husband has returned to work in a job with the city of McMinnville's planning department. He also does the bulk of the heavy lifting at home, caring for his wife, as well as the kids and the house.
Her brother and sister-in-law, Michael Brown and Maria Vasoli, and other relatives and friends have been a big help, as well. They've raised money to help with travel expenses and hospital bills, as well as offering emotional support.
Fleckenstein said her family has been fortunate to have quickly developed a support group in McMinnville and at Memorial Elementary School, where her children are enrolled.
"We've been embraced by this community," she said.
She appreciates everyone's loving help. But they shouldn't have to be in that position, especially the children, she said.
"Trigeminal neuralgia is horrible for the whole family, even if I manage the pain," she said. "It's about 8,000 miles from normal."
Starla Pointer, who believes everyone has an interesting story to tell, has been writing the weekly "Stopping By" column since 1996. She's always looking for suggestions. Contact her at 503-687-1263 or spointer@newsregister.com.