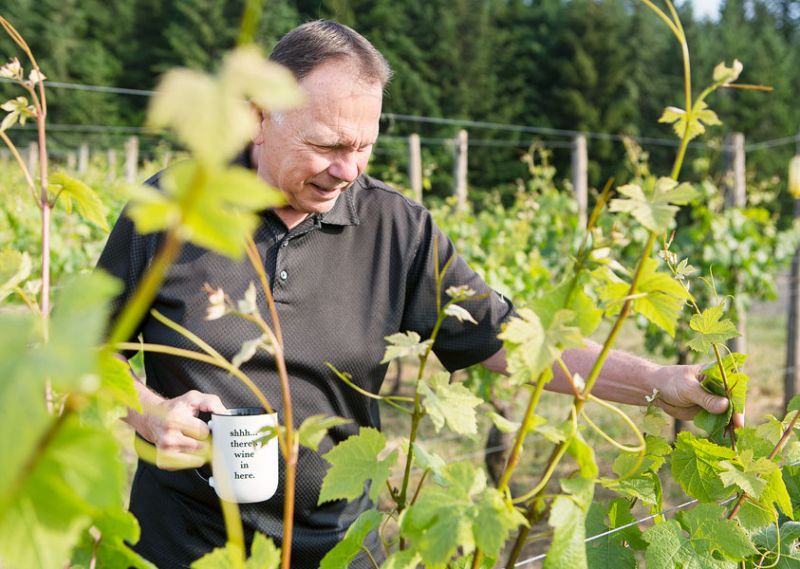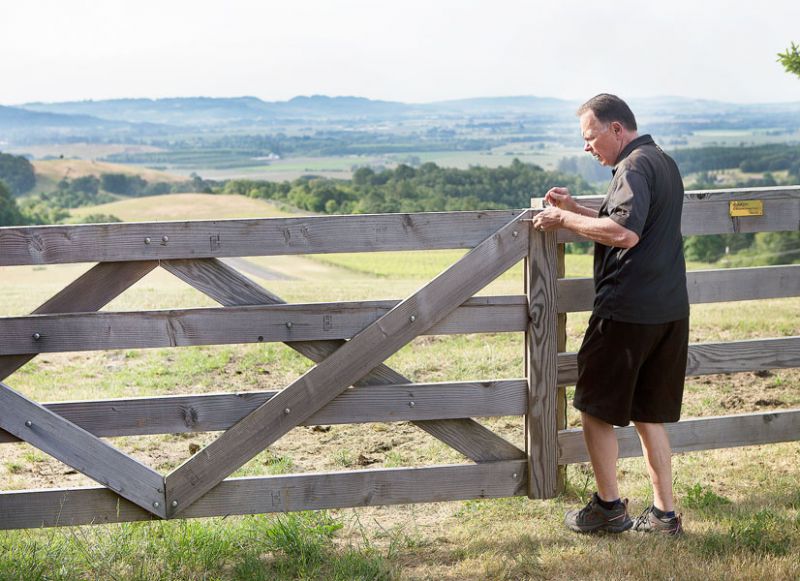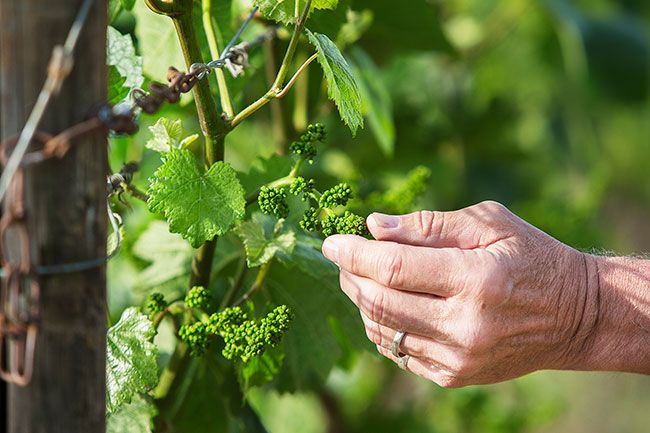 Stopping By: Nature and nurture
Wayne Bailey is a farmer, first and foremost.
He learned to love and respect the land while growing up in Iowa, where he helped his father run a 450-acre farm. They grew corn, oats, soybeans and hay, plus a vegetable garden that provided food for their table. They kept 30 brood sows that produced litters twice a year, and their cows had calves annually.
"It was a great way to grow up," he said. "I loved to farm."
His grandfather had a similar operation three miles down the road. As a high school student, Bailey raised pigs in 4-H and FFA, and figured he'd take over his granddad's farm when the older man retired.
"But my dad was adamant about me not farming," he said. "It was hard work, and you never get rich."
Farming may not have been lucrative, Bailey said, but it taught him lessons more valuable than money: A strong work ethic, responsibility and the value of neighborliness, whether that means helping out the farmer next door or developing supportive relationships with other winemakers.
The farm he runs today grows grapes, which he turns into wine.
"I like to remind people that wine is an agricultural product," said Bailey, winemaker and owner at Youngberg Hill southwest of McMinnville. "It depends on Mother Nature, weather and soil. It's so important to work with nature, to be organic and sustainable."
Listening to himself, he laughed happily. "The farmboy in me is always there," he said.
Between Iowa and Oregon, Bailey took a few detours — learning experiences, all.
Following his father's advice to continue his education, he enrolled at the University of Nebraska and became the first in his family to graduate from college.
He majored in agricultural engineering. His plan was to get a job wih John Deere and design "practical farm equipment."
When the major turned out to be too light on the engineering side, Bailey switched to mechanical engineering. He received a job offer from John Deere anyway.
"I turned it down," he said. "Other opportunities came up."
He said yes to a different company that produced controls and instrumentation. He developed several patented control valves.
But after enjoying the seasonal nature of farm work, he soon grew bored with engineering. "Long, tedious prospects; three or four years on one design," he said.
So he moved to the sales and marketing side of the business. He worked with customers who needed instruments and controls for the oil and gas, chemical and nuclear industries.
Later, he moved to a similar company that was more consumer-oriented. Then he became an independent consultant. "I was motivated to succeed," he said.
His home base was in Chicago, but he was on the road about 75 percent of the time, he said. It was a fine lifestyle for someone young and single. Eventually, though, he tired of traveling.
Air travel and hotel stays lose their appeal, he said. So did living in a large city.
"It forced me to rethink. I needed to change," he said.
What was to be one of last trips took him to Burgundy, France. "I fell in love with the people," he said. And he felt a kinship with the vintners, who think of themselves as farmers — a refreshing contrast to the celebrity winemakers he'd seen in the Midwest.
"That was an epiphany for me," he said. He had enjoyed wine for many years, he said, but "Burgundy took me back into farming."
He ended up spending two years in France learning from growers there "how to marry farming and wine."
Then he returned to the U.S. and began looking for a place to grow his own grapes. "I wanted Pinot, and I wanted a cool climate," he said. "My eyes were set on the Willamette Valley."
He'd heard about Oregon wines while still in France. And he knew a distributor in Chicago who carried wines from Maysara and Brooks, both near McMinnville.
So he visited the valley in April 2002, met Brooks — "we're like kindred spirits" — and started scouting properties where he could grow grapes with natural and biodynamic techniques. When he walked the Youngberg Hill property with Brooks, his friend said the site had a good feel to it.
"That first trip to Oregon felt like coming home," Bailey said.
The Yamhill Valley reminded him of Iowa, with small farms, a strong agricultural community, a great deal of diversity and "very neighborly" people. "It reinforced that this was the right choice," he said.
He and his wife, Nicolette, bought Youngberg Hill in 2003. They were more interested in the vineyard and the land than the inn, he said. In fact, they were leaning toward closing it so they could concentrate solely on grapes and wine grown and produced organically and sustainably.
Instead, they ended up turning it into a wildly popular Wine Country destination for overnight stays and weddings. They host fundraisers and concerts, as well — events have included performances by the Salem Concert Band, with one of the Baileys' three daughters, Jordan, on vocals.
Jordan will have her own concert Wednesday, Aug. 15, as part of Youngberg Hill's series of Wine Wednesday events. She will perform from 6 to 8 p.m. There's no cover charge. Wine, beer and food will be available for purchase.
Concertgoers sit on the lawn, where, like winetasters on the elevated patio, they have views of the Cascade mountains. Mount Hood is a frequent guest; Jefferson and the Three Sisters appear regularly, as well.
The property also affords views of the Coast Range, along with a panorama of the Yamhill Valley.
Over the years, Bailey said he's seen an expansion of the "tourism window" — the period in which the winery and inn draw the most visitors. The window has increased to weekdays, as well as weekends, and now starts in February, rather than warmer spring months.
The first year the Baileys lived in Yamhill County, the winter was rainy and, to locals, chilly. But Bailey was happy. "We came from Chicago; 20 below and 10 feet of snow," he said.
He tells friends from outside the state that Oregon has better weather than at least half the nation, year-round.
While the inn draws a constant stream of visitors, Bailey concentrates most of his efforts on the vineyard and its products.
In some ways, growing wine grapes is similar to any other kind of crop-based farming. Bailey and his vineyard employees are concerned about the soil, the weather and other growing conditions; about planting, pests and weeds; about growth rates, harvest and yield.
But in many ways, it's different from the farming he did in Iowa. "It's not like corn," which completes its cycle in one season, he said.
Rather, he said, "it's much more focused on the health of the plants" — plants that will keep producing for many years, if he's doing his job right.
"Raising healthy grapevines is like raising championship roses," Bailey said. "The vines are individuals. There are 50,000 of them, and each has its own character."
He walks the vineyard each morning; in summer, he's often out in time to see the sunrise. The air is fresh; "it's very quiet, very peaceful, very serene," he said. "It's great to be out in nature."
He inspects the plants, considers the soil, looks at what's new, what's good, what's a potential problem.
"My French tutor said the best fertilizer is your footprint," said Bailey, who returns to the vineyard many times during the day.
In the morning, he also gives his plants another type of "fertilizer." He sings to them.
"Good morning, starshine! The earth says hello!" he may warble in the fresh morning air. Or "Here comes the sun!" he'll sing, or "There's a bright golden haze on the meadow ... oh, what a beautiful morning!"
He doesn't claim to be a great singer, he said, but the vines seem to appreciate showtunes and 1960s music as much as he does.
Healthy vines start with healthy soil, Bailey said. He plants cover crops — winter peas, mustard or other seeds — between rows to reduce weeds, add nutrients and increase the soil's "aliveness" with worms and good bugs.
When the vines are covered with young grapes, he does some selective thinning, another technique he learned in France. For an Iowa farm boy who grew up focusing on getting the biggest yield from a field of corn as possible, thinning was "almost traumatizing at first."
His heart hurt at the thought of discarding any of the precious grapes. But he understood intellectually that the remaining clusters would benefit.
And he saw the difference thinning made in the production of larger, more robust grapes. "It works," he said.
"It's important to look at every plant individually," he said. "What does it need to be as healthy as it can be? You leave on what the plant needs."
He compared tending his vines to using homeopathy to maintain a person's health. "You're working on the core of the body or the vine. It will pay off in the long run," he said.
While the vines produce year-in and year-out, "every year is a learning experience," he said. "Every year the fruit is different, distinctly different."
He likes that: It makes his work more challenging, more interesting, he said.
When Bailey took over Youngberg Hill, he sent his grapes to NW Wine Company to be turned into wine.
He had made wine himself in Burgundy under the watchful eyes of French winemakers. But he wanted to learn additional technique from local winemakers — such as Jimi Brooks, Joe Dobbes, Robert Brittan and others — before taking on the job himself.
"I love learning, and anytime I'm with a fellow winemaker or grower, I love sharing and learning," he said.
For instance, he said, he recently learned more about the barrels used to age wine. The French tradition calls for reusing barrels, with the idea that a new barrel would influence the delicate flavor of the wine too much.
But since "our fruit is so big, so robust, it can handle a little more oak," he said; hence he's purchased a few new oak barrels. "Who would have guessed?" he asked, wondering at himself and adding, "the fruit is telling me what it needs."
Now, as the winemaker, he said he considers himself not an artist, but a steward or a parent. It's almost a matter of getting out of the way.
"My job is to allow the fruit to make the wine as good as possible," he said.
And that is a process that started long before the fruit was picked, back when he was tending the soil and singing to the vines. "If the vines are given a safe environment and the resources and support they need, their fruit will express the best it can," he said.
Success comes when he pours a wine that tastes like the fruit he sampled in the vineyard, he said. Sometimes he can tell that long before the wine is bottled; other times, it takes a year or more for the flavor to reveal itself.
"Take the 2010 vintage. We're just now seeing how good it is," he said with satisfaction.
Starla Pointer has been writing the weekly "Stopping By" column since 1996. She's always looking for suggestions. Contact her at 503-687-1263 or spointer@newsregister.com.