'The start of something big': We Three advances on AGT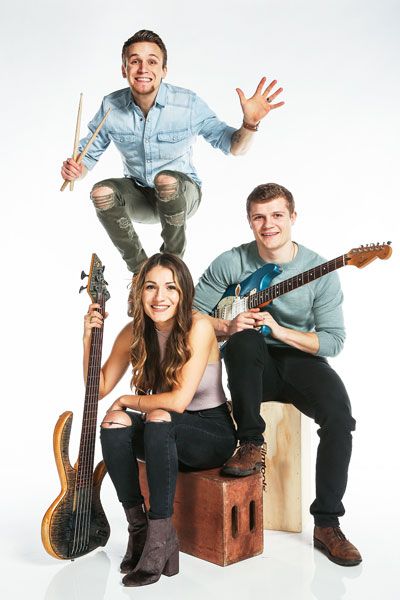 The most difficult part of auditioning for television's "America's Got Talent" wasn't performing live in front of hundreds of spectators. It wasn't submitting to being judged by Simon Cowell and the others. It wasn't taking time away from teaching at the Humlie School of Music so they could travel to California for the taping.
No, for the Humlie siblings, Joshua, Bethany and Manny, even sharing a highly personal song wasn't difficult.
Keeping a secret was.
For more than two months following their audition, the members of McMinnville's We Three couldn't divulge the results. They were contractually obligated to remain silent.
"And we don't like to keep secrets," said Bethany, 24, who plays bass in the trio.
Their fate is a secret no more. The Humlies appeared on the show's 13th season premiere Tuesday, and people across the nation witnessed the judges lavish them with praise and send them on to the next round of competition.
What a relief! the siblings said. "It's so nice that everyone knows," said Joshua, 27, who plays drums and keyboards simultaneously in We Three.
Fortunately, guitarist Manny, 21, said he and his sister and brother had been able to discuss their performance with a few people — family members who traveled to California with them for the mid-March taping.
"Having the whole family there meant everything," said Manny, a 2015 graduate of McMinnville High School. "That was so cool. We're so, so, so grateful."
They're appreciative, as well, for all the support they've received over the years from people in McMinnville and the rest of Yamhill County, Joshua said.
Local people have cheered them on as they've grown up playing in local churches, the community center, the Brown Bag concert series, festivals and other events. The encouragement they've received helped prepare them to audition on a national stage, Bethany said.
"The community has been amazing ... allowed us opportunities, given us positive feedback, patience, encouragement," she and her brothers said.
Friends and community members were supportive also, when their family experienced a tragedy: Their mother, Kelley, was diagnosed with cancer in 2015 and died four months later, in January 2016.
Joshua, Bethany and Manny told the story of their loss on the "America's Got Talent" stage. Then they performed "Heaven's Not Too Far," a song they wrote in honor of their mother. It's written from her perspective, as if she is talking to her children, giving them advice and reassuring them they will meet again.
"Heaven's Not Too Far"brought the audience to tears, especially one of the judges, Mel B of Spice Girls fame, who said she'd lost her father last year.
She and the other judges were quick to compliment the trio.
"I love your voices. I love how you harmonize," Heidi Klum said.
Howie Mandel added, "I felt it."
And Cowell, notorious for his harsh judgments, said he's not a big fan of live bands on the variety talent show, but, "Somehow, the whole thing worked. It felt like a record."
He added, "There's something really special about you guys. I honestly think they're at the start of something big here."
The musicians' father, George Humlie of McMinnville, stood in the wings with the show's host, Tyra Banks. He was shown weeping with a mixture of sadness and pride as he listened to We Three's performance.
Bethany told the judges their father had inspired them to start their band. Both their parents encouraged the siblings' musical interests from the time they were toddlers.
Cameras also showed the large group of family members present to support We Three. It was the only time in the two-hour episode that an act's cheering section was shown.
The nation's response was equally as appreciative. The band's social media pages were flooded by comments from people who also lost a loved one to cancer and were moved to tears by the performance. As of Thursday afternoon, We Three's Facebook page contained 53,000 likes. The clip they added to their page was shared more than 6,000 times and induced nearly 1,000 comments by Thursday late afternoon.
"Thank you all so much for sharing your stories with us," the band posted. "Your support, encouragement, and kind words have been overwhelming."
The audition also led to stories from numerous national outlets, including Entertainment Tonight and Billboard.com.
Joshua said he and his brother and sister had seen a copy of the program in advance, so they were prepared for the emotional footage. But plenty of Kleenex was needed when the whole family gathered to watch the show Tuesday night.
For We Three, seeing their audition reminded them not only of the bond their family shares, but also of the good experience they had trying out for "America's Got Talent."
They were able to meet and watch some of the other acts featured on Tuesday's show, including the trained cats and the dance/tumbling troupe whose performance capped off the show. "We saw amazing stories and talent," Joshua said. "It was an honor to be part of it."
It didn't feel like the contestants were competing against one another, he said. "We were cheering each other on," he said. "That's what makes this show unique."
Since the Humlies advanced to the next round, they'll be on "America's Got Talent" again. They don't know when their next appearance will air, but they couldn't tell anyone if they did.
If they succeed with their second performance, they could go on to the live round. In that case, people from Yamhill County and the rest of the country will have a chance to support them by voting.
"America's Got Talent" airs at 8 p.m. Tuesdays on NBC's KGW Channel 8. Live shows start in mid-summer.