Miller, Chapman to face off in November for seat on bench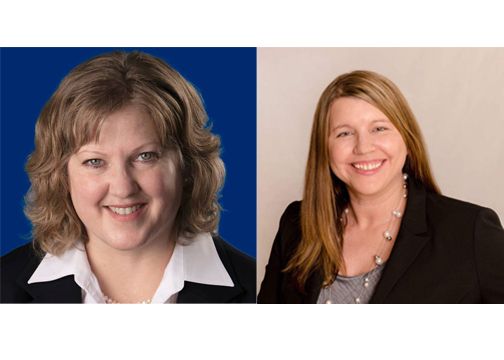 [Updated 5/18 11:30 a.m.]
Jennifer Chapman said the movie she watched Tuesday night, "Life of the Party," wasn't anything to get too excited about.
After she returned home, however, the evening became better and better with each passing hour.
Yamhill County Deputy District Attorney Lisl Miller and Chapman, a McMinnville attorney who serves as legal counsel for the American Federation of State, County and Municipal Employees, will compete in the November general election for Position 2/25th District on the circuit court bench.
Miller received 6,173 votes, 33.85 percent, and Chapman 4,490, 24.62 percent, in unofficial results.
Trailing were McMinnville defense attorneys Mark Lawrence, 2,893 votes, 15.86 percent; Carol Fredrick, 2,566, 14.07 percent; and Mark Pihl, 2,060, 11.29 percent. Write-ins accounted for 57 votes, .31 percent.
Presiding Judge Ronald Stone will retire at the end of the year. He was elected to the seat in November 2000 and has served in that capacity since.
"I am very pleased about the outcome," said Miller, who grew up on a farm east of Salem and graduated from Silverton High School. "I'm honored to come in first in a field of candidates so qualified and experienced, and who have the best interest of Yamhill County at heart."
With the primary victory secured, Miller said she and her campaign team have been strategizing in anticipation of the general election. Her message to voters won't change during the next six months.
"The biggest thing I bring to the table is my experience," said Miller, an attorney for 25 years and a prosecutor for 18. "A vast majority (of my career) has been spent in public service."
Miller said prosecutors are tasked with securing justice, for the victim, the defendant and the public.
"Others have a different focus as they represent an individual or an organization," Miller said. "They want the best outcome for whomever they represent. My focus has to be looking at all sides of a case."
Miller believes her experience, not only in a criminal courtroom setting but in civil court, too, makes her the best candidate to succeed Stone.
Leading a campaign effort has been a "complete learning experience" for Miller since she announced her candidacy. She expected to work hard, but it was intense and more difficult than she imagined.
"The most important thing I could do is meet people by introducing myself to them on a one-to-one level, getting to as many gatherings and meetings as I could, walking door-to-door and introducing myself."
Miller said it took a great investment of energy and time, but it was a better way to learn about issues the voters feel are important to them, and it will help her moving forward toward November.
Miller is a 1990 graduate of Oregon State University with a bachelor's degree in agricultural and resource economics. She graduated in 1993 from the Northwestern School of Law of Lewis & Clark College in Portland. She worked for the Multnomah County District Attorney's office and the Kane County State's Attorney's office in St. Charles, Illinois. Additionally, she worked for law firms in Chicago and Portland. A local deputy district attorney for more than a decade, she currently chairs the county's Multidisciplinary Child Abuse Team.
"Absolutely, this is a big thing for me, and I felt really good," Chapman said regarding the outcome. "I was so flattered and appreciative of the voters.
"This was a community campaign," she said. "It was validating to see that voters believe in me and the message that I have been talking about."
Chapman emphasized she is a mother of four and a civil attorney. She believes those are attributes in which there is great value. As she saw results come in, which favored her over three other candidates, the numbers validated what and who she represents.
"There is value in having that civil perspective on the bench," Chapman said. "That's the message I have gotten out and that will continue to be my message."
She emphasized her wide variety of experience, and the many aspects of law she has watched play out in a variety of courtrooms.
"I'm always going to be me," Chapman said. "The best I can present to voters is being me."
As with Miller, campaigning was an entirely new experience for Chapman, who said there was a tremendous learning curve.
"I know so much more today about the political process than I knew before," she said. "I'm grateful for everything I have learned. I've never been involved in anything like this."
She added, "There are things you wish you could have tweaked, more people you could have talked to, more doors you could have knocked on, more literature you could have gotten out."
Chapman said nothing could have prepared her for the emotion it takes to "put yourself out there."
She said she wishes she would have given herself time to breathe more during the runup to the primary election, but doubts that will happen in the months leading up to November and the runoff.
"We have a campaign to run," Chapman said. "It's nice to know the voters believe in me, and that gratitude will carry me through the ups and downs."
She was raised in Garland, Texas, part of the Dallas–Fort Worth metroplex. Chapman received her bachelor's degree from the University of North Texas in Denton and attended the Northwestern School of Law of Lewis & Clark College. In 2011, Chapman went to work as legal counsel for AFSCME, handling civil cases and arguing before administrative bodies and the Oregon Court of Appeals, according to her website.
Her current role involves representing the rights of workers, including attorneys, corrections officers, doctors, law enforcement personnel, nurses, social workers and other public and private sector workers.
In preceding years, while working for the Department of Justice, Chapman appeared in numerous circuit courts throughout the state, including Yamhill County, her website states.
She represented a diverse number of state agencies in arbitrations, civil trials, depositions, hearings, mediations and settlement conferences.
Her work included child support cases and motor vehicle crash cases, restitution recovery and tort claims.
Both candidates expressed appreciation for the support shown them. Miller called it overwhelming and humbling.
Campaign financial information released by the Secretary of State's office shows Chapman leading the way to date in the areas of contributions and expenditures.
All her contributions have been in the form of cash, totalling $17,825. She has spent $13,485.27.
Miller's contributions totalled $11,825 — $9,225 listed as in-kind and the remainder in cash. She has spent $10,125.13.