UFO Festival: A life immersed in the paranormal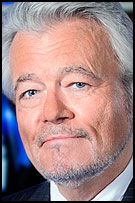 "McMinnville is so much fun; the event has such a good spirit," said Knapp, who also took part in 2016.
He said he loves the mixture of scholarly ufology and lighthearted activities, especially the UFO Parade, which draws people in all sorts of otherworldly attire. "Everyone recognizes you can be serious, but have fun with it, too," he said.
Knapp will speak at 10 a.m. Saturday, May 19, in the McMinnville Community Center. Doors open at 9 a.m. Admission is $20 in advance or $25 at the door.
He also will take part in a speakers' panel at 6 p.m. Saturday in the community center and in a speakers' and public breakfast Sunday morning at McMenamins Hotel Oregon.
All his appearances are part of the 19th annual festival, which runs Thursday through Sunday, May 17 to 20, in and around the Hotel Oregon and the community center and along Third Street.
The Hotel Oregon started the UFO event in 2000 to celebrate the 50th anniversary of the Trent Sighting, in which farmers captured the image of a flying saucer hovering over their property. The photo, published in the Telephone-Register, a forerunner to the News-Register, has never been disproved.
Knapp lives in Las Vegas, where he is an investigative reporter for KLAS-TV. He usually covers government corruption, organized crime and other topics that everyone takes seriously.
He also hosts Coast to Coast AM on the third and fourth Sunday of the month. The late night show often deals with topics such as aliens, remote viewing and other edgy phenomenon that are extremely serious to some, not so much to others.
Knapp said he became interested in such topics as a direct result of where he lives. In the 1980s, he started hearing about mysterious occurrences and strange aircraft at a secret military base near Las Vegas — Area 51.
At the time, he said, most people outside of Nevada had never heard about Area 51. But his investigations and stories helped "put Area 51 on the map" for the general public.
Knapp's location in Las Vegas also put him in touch with Robert Bigelow, a businessman and hotel-chain owner whom he says has "spent more money on UFO research" than anyone else.
Bigelow Aerospace, which has an alien as its logo, currently is developing inflatable habitats it hopes can be used outside Earth's atmosphere, such as for space research or tourism. Bigelow's National Institute for Discovery Science focused on investigating UFO sightings and related phenomenon.
Knowing Bigelow gave Knapp access to many of the NIDS investigations. "I was a fly on the wall," he said, even if the investigations weren't public.
One of the most intriguing, longterm investigations, he said, involved Skinwalker Ranch in Utah — a 480-acre property that's been a hotbed of unexplained phenomena through the ages.
The documented occurrences and investigations into possible causes will be the topic of Knapp's presentation in McMinnville. His book about Skinwalker Ranch will be available at the UFO Festival, as well.
Knapp said the ranch came to Bigelow's attention after a news story relating its owners' experiences, such as sightings of flying saucers, liquid-filled orbs and strange entities. In addition, he said, the owners lost some of their prize cattle in horrible ways similar to animal mutilations that have been reported by UFO researchers.
At first, he said, "the family was convinced the government was doing it."
Later, they decided that was not possible. After all, some of the happenings were so small and personal, such as moving a frying pan in the kitchen or making a cord of wood disappear; they were more similar to poltergeists than politics.
In fact, they discovered, the inexplicable events predated their residency by hundreds of years. Knapp said even the Native Americans who lived in the area knew about the strangeness — and stayed away.
Bigelow purchased the ranch, which is named for a Native American legend about "skinwalkers," malevolent beings that can change shape and appear as animals. His NIDS began 20 years of monitoring at the site.
"They kept their studies quiet. I was allowed to know, but not do any stories," Knapp said.
About eight years into the studies, though, he and Colm Kelleher wrote their book, "Hunt for the Skinwalker: Science Confronts the Unexplained at a Remote Ranch in Utah." The volume documents 140 incidents at the site, from UFOs to crop circles to sightings of Bigfoot.
"Everyone who's been there has seen it, but me," he said.
Unfortunately, Knapp said, the 2005 book generated far too much interest in the ranch. "It was overrun by souvenir hunters, the media, ghost hunters ..." he recalled, so Bigelow had to erect fences to keep people away.
His researchers continued their work, however. And so did the government, spending millions of dollars on a secret, three-year investigation, Knapp said — likely one of many government pursuits of information about UFOs.
Bigelow has since sold the ranch in 2016 to a new owner who also is pursuing studies. The incidents continue.
Although he's been privy to the research for more than two decades and written about the phenomena, "I have no idea what's going on" to cause such a varied collection of weirdness, Knapp said.
"Could some of it be government? Is it military? Is it aliens?" he wondered.
He is convinced, though, that the occurrences are real and that something — some kind of energy or entity — is causing them.
"It's not like anything else. It seems elusive," he said. "It calls the shots and decides who gets to get a glimpse."