McCready guilty in manslaughter case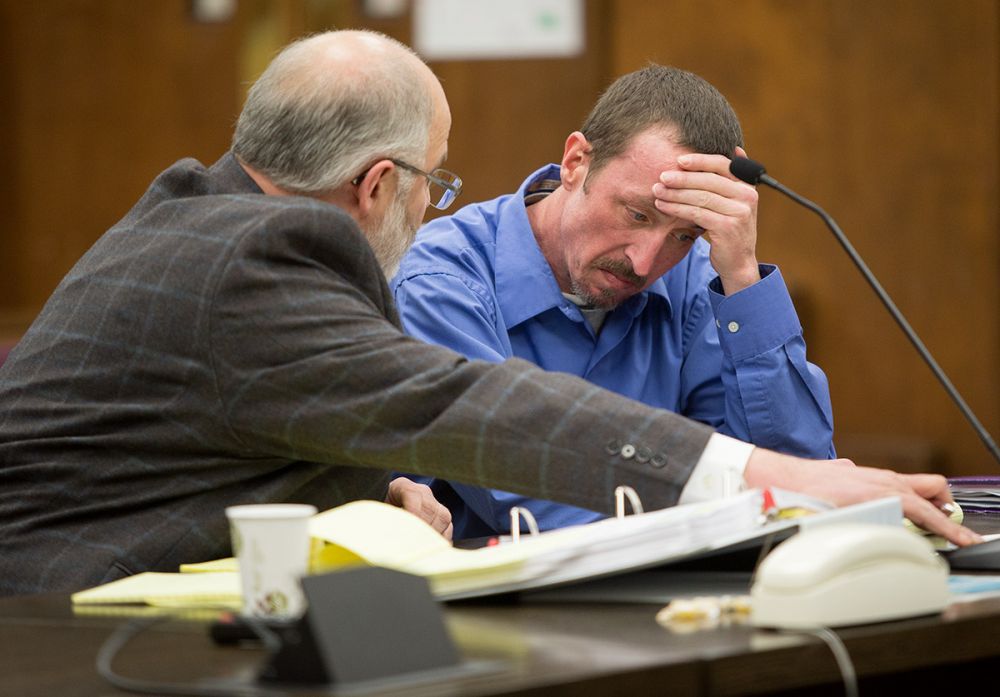 Sentencing is scheduled for Friday, Feb. 23, at 1:30 p.m.
Stone's decision was made late Thursday, after McCready had taken the stand as part of defense testimony. Due to the newspaper deadline, reporting of that testimony and closing arguments will be detailed in Tuesday's News-Register.
Steve Livasy testified Wednesday that Timothy McCready's favorite activity was drive with a beer in one hand.
"I told him, 'You'll probably be the guy who kills a kid one day,'" Livasy said. "We both laughed that one off."
What happened the evening of Friday, June 24, 2016, was no laughing matter.
The Sheridan resident was charged in connection with a two-vehicle crash between Sheridan and Willamina on Highway 18B almost two years ago.
McCready faced one count of first-degree manslaughter, two counts of second-degree assault, one count each of driving under the influence of intoxicants and reckless driving, in addition to six counts of recklessly endangering another person.
A Sheridan man was killed and three others were injured, including McCready.
First-degree manslaughter is a Class A felony and second-degree assault a Class B felony. The remaining charges are Class A misdemeanors.
All three felony counts fall under Measure 11's mandatory-minimum sentencing guidelines.
McCready is represented by McMinnville attorney Mark Lawrence. Deputy District Attorney Amanda Dresen is prosecuting the case.
Dresen, as part of her opening statement, and the Oregon State Police gave this account of the crash:
About 7 p.m., McCready's eastbound 2001 Hyundai Elantra was passing (two) vehicles recklessly on the two-lane business route
"He flew by them at a high rate of speed, on a corner and a double yellow (no passing section)," Dresen said.
Just west of Rock Creek Road, on a sweeping right-hand curve, the Hyundai collided with a westbound 2001 Hyundai Accent. Both cars came to rest in the highway.
Watkins, the Accent driver, was transported to Legacy Emanuel Medical Center in Portland. The 61-year-old died Aug. 6 of that year.
He died of respiratory issues, according to Dresen, who said he would never have been able to speak again had he survived.
McCready was also hospitalized at Emanuel. Accent passenger Kim Watkins of Willamina, then 59 and Phil's sister, and Elantra passenger Livasy, then 30, of Sheridan, were also hospitalized.
"She (Kim Watkins) suffered lifetime altering injuries," Dresen said. "She's still in a wheelchair and is in constant pain."
Dresen said McCready's BAC (Blood alcohol content) was .322," Dresen said. The presumed level of intoxication in Oregon is .08.
Lawrence declined an opening statement.
Livasy was drunk, too, at the time of the crash. Dr. Michael Barr, an emergency room physician at Salem Hospital, where he was transported, testified Wednesday that his BAC was .201. Livasy also had cannabis in his system, according to the doctor.
He and McCready are neighbors. Livasy said they didn't know each other well, but he wanted to get to know McCready better.
Livasy said they were hanging out the day of the crash. He was supposed to go to work, but was told not to go in, so he and McCready started drinking. "We had a good time," he said.
They left home about noon to go shooting in rural Willamina. McCready drove. Livasy said his aggressive and reckless driving was terrifying.
The two returned to Sheridan, met up again later in the day and returned to Willamina to help set up for some mud drag competition scheduled that weekend.
"He grabbed some beers for the road," said Livasy, who admitted to thinking he hoped they arrived in Willamina safely. "There was a constant amount of drinking that day."
After spending part of the day at the mud drag track, the two returned to Sheridan, making one stop along the way before tragedy happened.
Livasy admitted he was intoxicated. He said he remembers looking over at McCready at one point.
"No one was home," he said, describing McCready's demeanor. He was just hoping to make it home safely.
That didn't happen. Prior to Rock Creek Road, Livasy said McCready accelerated to pass on the corner.
Livasy said he remembers glancing out the passenger side window of the car. He never saw the Watkins car coming in the opposite direction.
All he remembers afterward is someone communicating with him at the crash scene and numerous emergency room personnel surrounding him at Salem Hospital.
Testifying Tuesday for the state were: Oregon State Police trooper Bridget Kiger, a crash reconstructionist, Yamhill County Sheriff's Office deputy Nathan Skaer, former Sheridan Fire District medic Shane O'Connell, sheriff's deputy Steve Wilkinson, Willamette Valley Medical Center emergency room physician Dr. Brett Johnson, Newberg-Dundee police officer Ryan Simmons and OSP Crime Lab toxicologist Michael Jackson.
Phil Watkins was also intoxicated, according to Kiger. She said he had a blood alcohol level of .15, and was told there was a beer located between his legs in the Accent. He was never charged.
The two vehicles collided in the westbound lane — Watkins' original lane of travel — and there was no evidence to suggest Watkin's car was in the eastbound lane or attempting to return to the westbound lane from an easterly direction when the crash occurred.
"On impact, the victim (Watkins) vehicle was in the correct lane of travel and the suspect (McCready) vehicle was eastbound in the westbound lane of travel," Kiger said.
Skaer, who patrols the West Valley for the sheriff's office, was the first to arrive on scene.
He said he detected a strong odor of alcohol coming from McCready, whose speech was slurred.
Beer bottles and cans were located in the vehicle, according to Skaer.
On cross-examination, he said Les Young, a NW Natural employee who McCready tried to pass prior to the crash, said he "completed the pass" but never returned to the eastbound lane.
As a Sheridan Fire District medic at the time, O'Connell assisted at the scene, and helped transport McCready to Willamette Valley Medical Center before his transfer to Emanuel.
McCready appeared irritable and told O'Connell he had consumed four beers before leaving Willamina for Sheridan. O'Connell said he did not detect an odor of alcohol.
Wilkinson, whose area of focus is traffic control, said he located beer bottles in Watkins' car.
Dr. Johnson said McCready arrived at the Willamette Valley emergency room as a trauma patient.
There was a blood draw conducted, and it measured .322.
"He could not recall any details (of the crash)," Johnson said. "He said he had been drinking alcohol. He could not feel any pain, in my opinion, because he was intoxicated.
"He had multiple rib fractures," Johnson said. "He had a liver laceration and collapsed lungs. This was a patient we were worried about."
Johnson read from his physician's report.
"He admits to drinking heavily. He may have passed out. He seems midly angry and agitated."
On cross-examination, Johnson told Lawrence he could smell alcohol on McCready, and he considered him to be "clinically intoxicated."
When Johnson asked McCready if he was in pain, he responded, "No."
Simmons, a member of the county's Multi-Agency Traffic Team, said he has advanced training in alcohol detection.
He responded to Willamette Valley Medical Center, spoke with McCready and asked for consent to draw blood. He refused the request.
McCready was transferred almost immediately to Emanuel for treatment of his injuries. Simmons wrote a search warrant for the blood draw, which was granted and completed shortly after 1 a.m. Saturday, June 25, six hours after the crash. It was then sent to the OSP Crime lab.
Jackson, a toxicology expert, said he received the blood sample Tuesday, June 28. Safeguards were in place so as not to taint the sample, or expose it to potential tampering.
A BAC of .169 was recorded, according to Jackson.
Young, Amber Yates of Willamina, Sheridan resident Erica Bedwell and Kiger testified Monday for the state.
Young, a NW Natural service technician, was traveling in an oversize vehicle eastbound between Willamina and Sheridan on Highway 18B. He said his cruise control was set at 55 mph and he was approaching the corner where the crash occurred when he saw the car driven by McCready about to pass him.
Young said there was no way to see around the corner. "It wasn't safe (to pass)," he said. "It was inappropriate."
He wondered what was going to happen, and then the two cars collided. Young described what he saw, said he panicked but then composed himself long enough to call 911 and exit his vehicle to check on occupants of the cars. He said no one was conscious.
Young's 911 call was played. The Yamhill Communications Agency dispatcher asked him if "police, fire or medical" were needed. "I need everything," he told her.
On cross-examination, Young said he told a Yamhill County Sheriff's Office deputy he believed the car that passed him was going 70 or 75 mph at the time of the crash.
Young said the car passed him and was attempting to return to the eastbound lane when the crash happened. McCready's car had moved to the north side of the westbound lane before making any attempt to return to the eastbound lane.
Phil Watkins took no evasive action to avoid the crash, according to Young, who said there was no time for him to react.
Yates said she was traveling eastbound on the highway en route to McMinnville and was behind the NW Natural vehicle.
She said the car driven by McCready was approaching her fast. When he attempted to go around her and Young's vehicle she thought to herself, "There's no way they can pass. Oh my goodness."
Yates said she could not see the crash occur because of the size of Young's vehicle, but heard what she described as a "boom, a huge bang."
She also called 911 and her conversation with the dispatcher was played.
When she got out of her car to check on the occupants of the two vehicles, she said one of the tires on the car driven by Watkins was "smooched" into Kim Watkins.
On cross-examination, Yates said she was scared by what she saw, in part, because she had her son with her at the time. He was 16.
Bedwell said she was traveling westbound on the highway en route to Willamina from Sheridan and had her two daughters with her.
The Watkins car was in front of Bedwell, driving about 55 mph and maintaining control. She said she saw the car driven by McCready drive into the westbound lane.
"It was coming around the corner real fast," said Bedwell, who remembers the Watkins car trying to maneuver in an attempt to avoid a collision. "He (McCready) was driving so fast."
Bedwell repeated on cross-examination that the Watkins car tried to avoid the collision.
In addition to her patrol duties, Kiger also serves as an OSP reconstruction expert, who frequently responds to critical injury or fatal crashes. She assembles an in-depth report on each of them based on her investigation.
She wasn't on duty but was called out about 7:30 o'clock the evening of the crash. She arrived, was provided a preliminary report of what happened, walked the scene and began her investigation.
There were no skid or yaw marks. The yaw mark is produced by a sideways movement of a vehicle.
The Watkins vehicle was facing westbound in the eastbound lane at an angle and McCready's vehicle was facing northbound and straddling the westbound fogline.
"The suspect (McCready) vehicle was going faster than the victim vehicle," Kiger said. "It (McCready's car) pushed the victim vehicle backwards."
Kiger said she immediately concluded McCready was responsible for the crash, in part, because that section of the highway was marked with double yellow/no passing lines and trees obscure the line of sight in the eastbound lane prior to when the highway starts to curve to the right.
She said she seized a number of beer bottles and cans from McCready's car. Some were empty and others were not.