Police arrest home intruder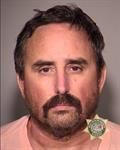 The home intruder who was shot Sunday, Oct. 15 by a McMinnville resident has been identified as Larry Neal Baker, 50, of McMinnville.
He was transported by Life Flight helicopter to Oregon Health & Science University for treatment of a gunshot wound to the chest.
Baker was released Thursday and taken into custody by OHSU Police. He was arrested on a warrant charging him with one count each of first-degree criminal trespass, second-degree criminal mischief and stalking, all misdemeanors.
He was lodged in the Multnomah County Detention Facility in Portland but will eventually be returned to Yamhill County to answer to the charges.
McMinnville police gave this account of the incident:
About 6:10 a.m., officers responded to a residence in the 1300 block of Southwest Gilorr St., between Claremont and Taft streets, on a reported shooting.
A female resident told a Yamhill Communications agency dispatcher that a male, identified as Baker, broke the glass on the front door, reached in, unlocked the door and was opening the door when he was shot by her husband.
About 5:40, it was reported the same male attempted to get into the house by "shouldering" the door.
An hour earlier, the individual knocked on the door and the husband told him to leave. He and his wife did not know him. Officers responded but were unable to locate anyone.