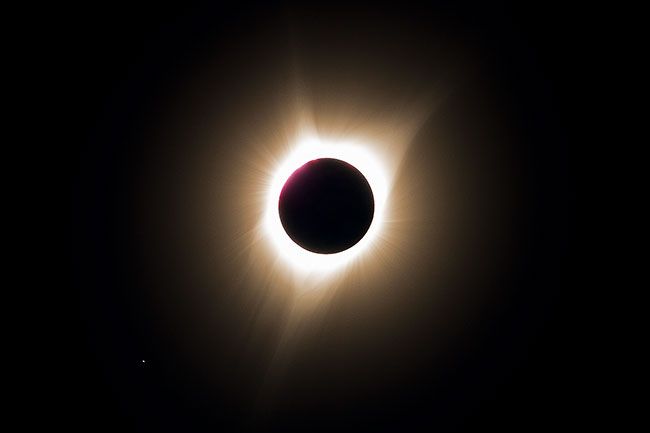 AWESOME: Eclipse captures hearts in the valley
Science answered a million questions about Monday's solar eclipse:
What a rarity it was for the shadow to race all the way across the U.S.; how the moon, just 1/400th the size of the sun, could block the solar orb: why, during totality, you could see stars otherwise invisible, and why the temperature dropped five or six degrees Fahrenheit.
But when the moon completely covered the sun, science was temporarily forgotten. Only emotion existed.
It was a total eclipse of the heart.
More than 1,000 people gathered on the front lawn at Linfield College. They gasped and sighed, whooped and hollered, applauded or silently gaped, as the sun's corona flared white around the perfect circle of the moon.
Peter Oehler, who had been studying the phases of eclipse so he wouldn't miss anything, set up his telescope facing east. For almost an hour, it projected the image of the moon moving slowly over the face of the sun.
Once totality arrived, his eyes moved from the telescope to the sky, where he "stared at the magnificence."
Totality was supposed to span 55 seconds in McMinnville. It felt much briefer to the Linfield crowd.
As the moon slipped forward, exposing an incredibly bright sliver of sun, Oehler exclaimed, "It all happened so fast! I want to bring it back!"
The eclipse was wonderful, he said, and it was better because he came to Linfield. "The crowd experience really made the day," he said.
Oehler, from Beaverton, was one of many people who drove to McMinnville for the eclipse. They arrived from California and Washington, from Illinois and New York, as well as from other parts of Oregon.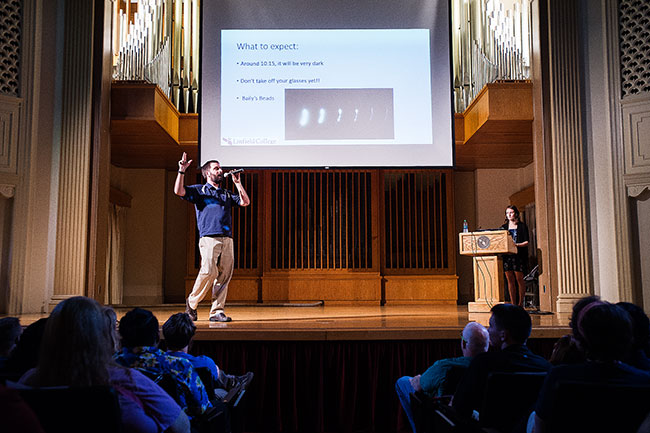 About 400 of the community members, out-of-town visitors and students crowded into Richard and Lucille Ice Auditorium and an overflow area next door for physics Professor Michael Crosser' pre-eclipse lecture.
He reviewed what the audience would see, and how to do it safely. Using volunteers who posed as the earth, sun and moon, he showed how the celestial bodies must alight perfectly in order for an eclipse to happen.
Outside on the lawn, Crosser and biology Professor Chris Gaiser narrated the movement of the moon as it began to cover the sun. The two men collaborate on a podcast, "Crisscrossing Science."
Visitors said they particularly appreciated the scientific information. It added to an inherently exciting event.
The professorial talk drew Sherwood resident Sherri Fisher and several of her "space nerd" friends. "We're super-excited," she said as they spread out blankets and set up lawn chairs.
Her 9-year-old friend, Samantha McNamee of Washington, wasn't sure what to expect. But she shared in the excitement as the moon began moving across the sun.
"It looks like Pac Man," Samantha said. "Or like a pancake with a bite taken out."
Maryellen Fleeger of McMinnville, whose husband Bill teaches environmental science at Linfield, chatted with Natasha O'Loughlin of Portland as the light gradually changed from yellowish to bluish.
Neither had seen a total eclipse, and they didn't want to miss it. "I'll be in the home for the next one," Fleeger joked.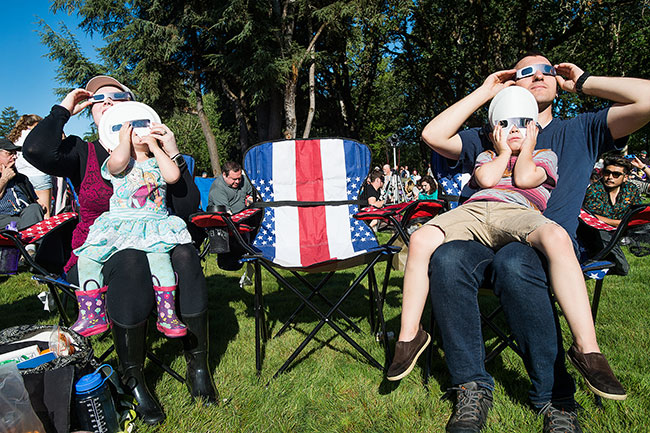 O'Loughlin considered about staying in Portland, outside the path of totality. But in the early hours Monday morning, she started searching online for a good viewing spot.
She spotted Linfield's website and hopped into her car, making the trip in just an hour and six minutes via Highway 47.
She was thrilled by what she saw through her eclipse glasses as the moon moved across the sun.
"It's a little bitty bite," she said about 9:15 a.m., just as the event started. Later, as totality neared, she could see only a curved sliver of the sun, "like the Cheshire Cat's grin."
Scott Wren and his family also made a last-minute decision to drive down from Portland. "We heard the traffic wasn't so bad, so we decided at 2 a.m. and left at 5," he said.
It was a morning to remember, Wren said. Not only was it his first eclipse, it also was the first for his daughter, Avery, 2 1/2.
"This event is really nice," he said, looking at the crowd on Linfield's lawn. "I'm really glad we did it."
Communications Director Scott Nelson said he was pleased with the crowd. "This is exactly the size and type of event we wanted," he said, noting that the school quickly gave away 1,500 pairs of eclipse glasses printed with the Wildcat logo.
The Linfield Wildcat itself had the special glasses — a giant pair that fit over his oversized face.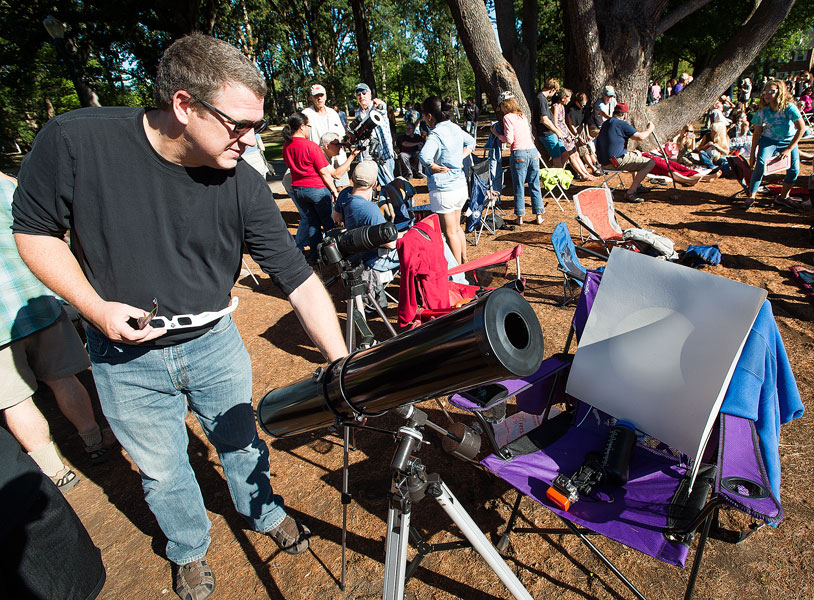 Jonathan Levy of Berkeley, California, used filtered binoculars to watch the moon covering the sun. "This is awesome! Holy ...." he said, noting that he could see sunspots, swirling masses on the surface of the disc.
Levy arrived from California to meet up with his parents, who flew from Illinois.
His mother, Louisa Levy, said they spent the night at a B&B in Dundee. When they realized it wasn't in the path of totality, their host suggested they drive to Linfield.
It was a good choice, Jonathan said. "This is an awesome spot."
The prospect of totality also drew John Crown, who lives in Sherwood. "We were getting 99.8 percent. So last week I scouted out places with 100 percent," he said, and felt welcome at Linfield.
He brought eclipse glasses, paper and file cards, using the latter to make a pinhole projector.
Curtis Stensland, who lives north of Seattle, also created a pinhole projector. "The light is refracting through the hole," he explained as he showed a perfect image of the partly-covered sun.
The hole has to be tiny to get a sharp image, he said, explaining that watching the eclipse gave him a chance to use "everything you learn in physics."
Stensland said he chose to watch his first total eclipse at Linfield because he knew McMinnville was in the path of totality. "I was thinking of traveling some, so I traveled to Oregon," he said.
Warner Wada, who came all the way from New York, also relied on a makeshift pinhole projector. He used a metal colander — the kind you'd use to drain pasta or wash greens.
The colander created dozens of tiny copies of the crescent-shaped sun. "Each hole is a lens," explained Wada, a photographer.
He projected the myriad images onto a poster of a total eclipse, which he'd found in The New York Times. "I thought it would be appropriate," he said.
Between demonstrations of his unique pinhole projector, Wada flipped the colander onto his head. "Doubles as a hat," he quipped.
Rami Grunbaum of Seattle reserved a house in Carlton a year ago so his whole family could see the eclipse. His wife, two daughters, sister-in-law and her two children joined him.
So did his father, Branko Grunbaum, who closely monitored the movement of the moon. "Now it's a bite on the 2 p.m. position," he said as he watched the "bite" grow larger to cover more of the sun.
"I've maybe seen a partial eclipse before," the elder Grunbaum said, "but nothing memorable." This one, he said, definitely would remain in his memory.