Crowd gathers in support of peace, respect for all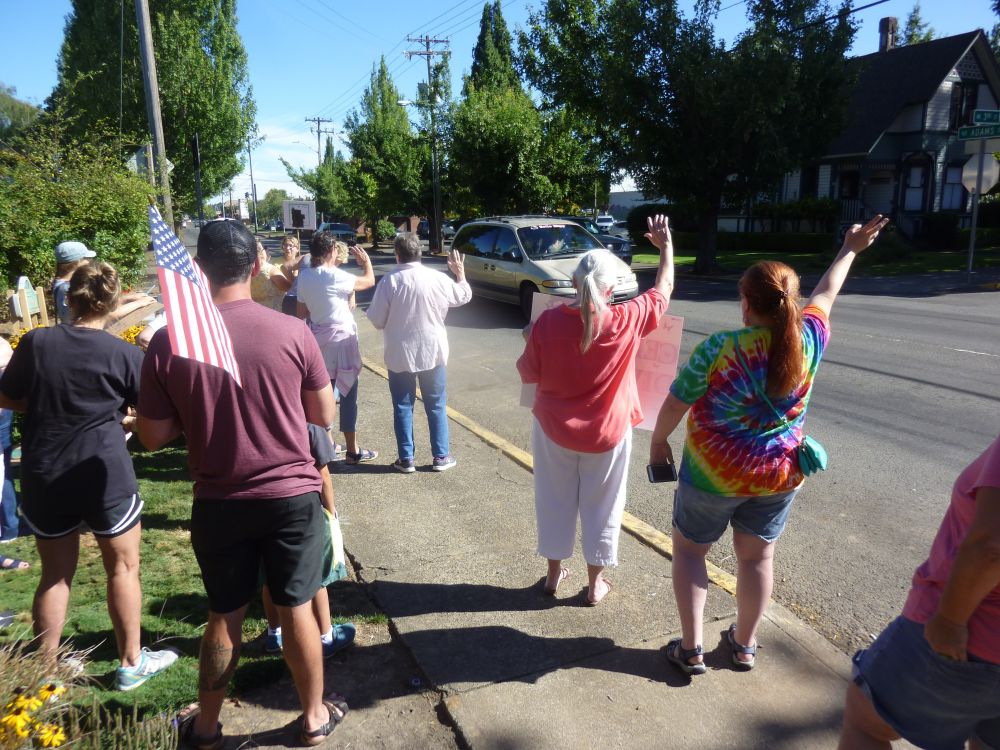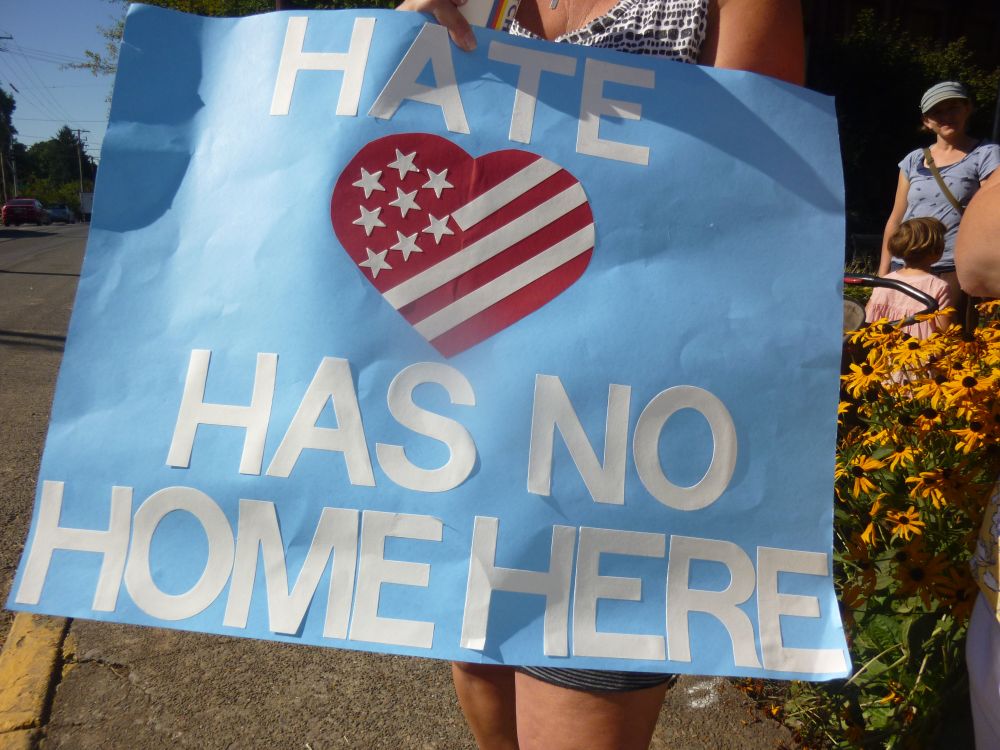 Supporters of peace and respect stood alongside Adams Street near the McMinnville Public Library Friday morning, holding signs such as "Love Trumps Hate" and "Diversity" and "Hate Has No Home Here."
Many drivers honked and waved as they passed the impromptu rally.
"Whoo!" the crowd of mostly women cried, waving back. "Whoo!"
"It's a scary time. It's a time for people who've remained quiet to make a statement," said Cassie Sollars, who promoted the rally on her Facebook page.
She said she had the idea after the violence at an alt-right, white power rally in Charlottesville, Virginia, last weekend. "It made me feel both helpless and like I wanted to do something to make a difference," she said.
Hate and intolerance have always existed, she said, but these days it seems like haters feel empowered. But they shouldn't think they have permission to spew hate. "I want them to get that message," she said.
By the 9:30 a.m. starting time, two dozen people had joined Sollars on the sidewalk. Many brought signs or wore T-shirts with messages such as "Choose to be Nice."
Brian Altree, who carried an American flag, said he heard about the rally and decided to bring his son. "In the current political climate, it's good to have some positive vibes," he said.
Jocela Mae Crawford also had a version of the flag -- a red, white and blue sign with stripes on which she'd written, "Jewish Mexican American."
"I want to remind the community that we are many and we are one, we are human," she said.
Not everyone lives in a place where they are free to hold a rally expressing their opinions, she said. "It's important to use my priviledge" to speak up, she said.
Crawford said she also wanted to make people smile. And one way she did that was to bring her daughters: Ember, 2 1/2, and Senan, 11 weeks. "This is Senan's first peaceful protest," her mother said. "It's Ember's third."
Jan Houghton, who wore the "Nice" shirt, said choosing kindness isn't difficult -- and it's important. "We can't overcome violence with violence," she said.
Another participant, Carol Posey, said she put the lesson about niceness to work when she was a customer service manager. "The nicer to are to people, eventually it calms them down and makes them think," she said.
Posey and Houghton both said they were heartened to see their fellow residents stand up in support of kindness and diversity, especially given the current political climate. "I feel so helpless in the face of all this anger and hate talk led by the leaders in Washington, D.C.," she said.
Sollars agreed. She said she would be happy if passersby noticed the peaceful rally and thought about the messages on the signs.
"If it just raises consciousness ..." she said. "If it lets people know that bigotry and racism just can't be tolerated."