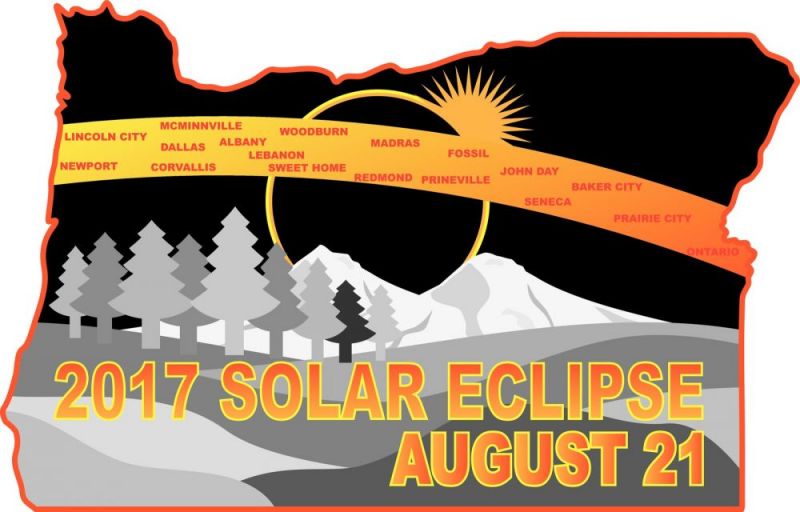 Eclipse earns all-clear forecast in Mac
Highway 18 could be getting some heavy eastbound traffic Monday morning, as the National Weather Service is rating the chance of cloud cover over Newport at 60 percent, and around that level in the vicinity.
Newport and other coastal points in the path of totality were bracing for a massive influx of eclipse chasers over the weekend, and they could end up heading east if conditions turn cloudy on the coast. However, meteorologists said the outlook could improve as the time nears.
"Confidence is only at about 50 percent for the area of eclipse totality along the coast Monday morning," the Weather Service said in a report issued Thursday morning. "Models are showing small but significant differences in surface winds, which could mean the difference between overcast skies and clear skies."
However, the forecast will be updated several more times between now and Monday. And the picture could change.
In the Willamette Valley, the Portland office of the National Weather Service rates the chance of morning clouds at 15 percent.
Overall, the forecast is for sunny skies and temperatures reaching the high 80s by mid-afternoon, initiating a warming trend with an increasing threat of afternoon and evening thunderstorms over the Cascades.
The National Oceanic and Atmospheric Administration has also forecast cloud cover for the date. It used different methods, but reached similar results.
NOAA based its predictions on "10-year hourly climate normals for 2001-2010," as measured at automated weather stations across the country, for "as close to the hour of the eclipse as possible."
It said, at 10:15 a.m. in Newport, "There's a 56 percent chance that viewability will be adversely affected by clouds."
Yamhill County Emergency Manager Brian Young recommended residents treat the eclipse like a severe weather event. He advised them to have groceries, bottled water and any other necessities, including pet food, medications and gasoline.
"Fill gas tanks and plan to stay close to home, avoiding unnecessary driving," he urged.
The state Department of Transportation recommends people "arrive early, stay put and leave late." It suggests they carpool when possible, drive with caution and attend to any necessary errands "well before Aug. 21,"
The state will be updating its TripCheck.com website to display current traffic conditions, useful in planning trips.
Travelers also may call 511 for 24/7 updates. However, officials have warned cell phone service may be prone to overload.