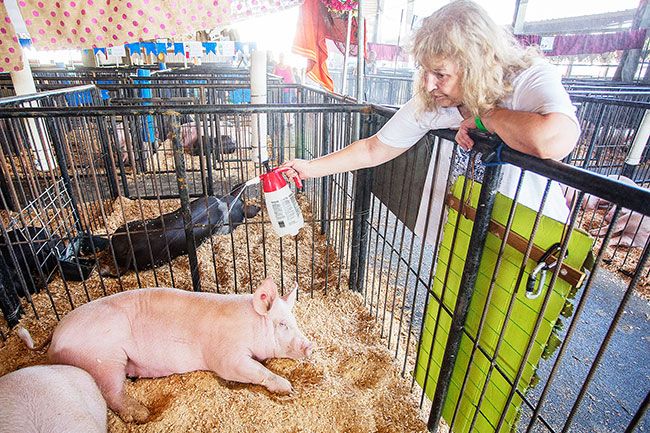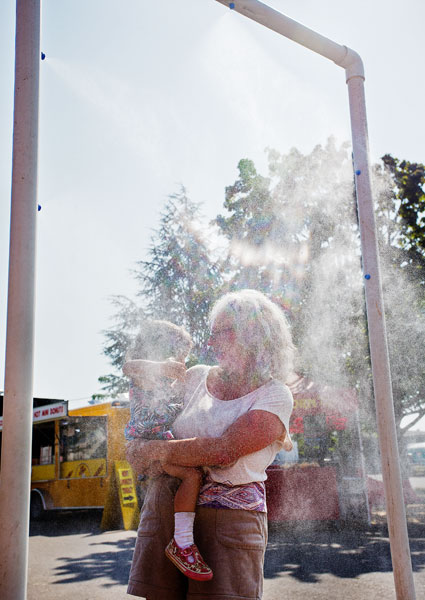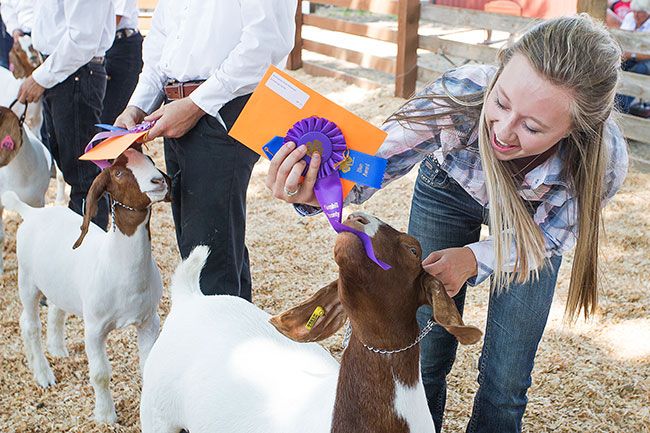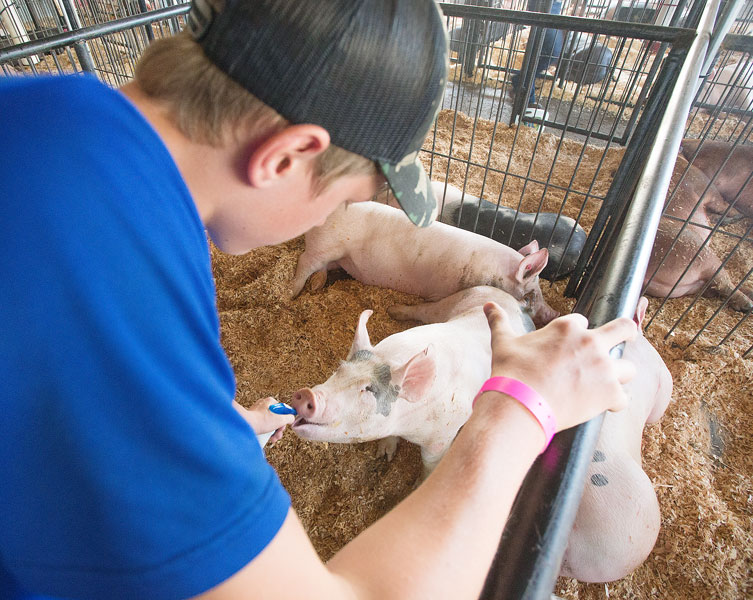 Fairgoers battle heat
Opening day crowds were sparse at the Yamhill County Fair, as afternoon temperatures climbed past 100 degrees.
Those enjoying the rides and carnival games anyway typically came equipped with spray bottles, electric fans or an ice-cold drink.
Megan McCrossin issued this advice: "Drink lots of lemonade and visit the pig barn. It's remarkably cold."
McCrossin said her 10-year-old daughter, Molly, claimed first-place honors for a homemade bag, and her 8-year-old daughter, Katie, third-place award for a homemade dress. So those exhibits were a must.
Her 4-year-old son, Sam, insisted on his fair share of rides before they departed. "I got to go on a roller coaster, and now we're doing two more rides," he said.
McCrossin said her family also enjoyed the animal and craft exhibits, but could only bear the heat for a few hours.
In every animal barn, fans and misters had been set up. But the pig barn received the most attention.
"Pigs react to temperature really quickly," said Bailey Field, an ag teacher and FFA adviser at Newberg High.
"If you're cooling them down, you have to start from the feet up. Otherwise, they could go into stress shock."
She said members of the community were quick to help, donating swamp coolers and setting up misters around the pig barn. As a result, she said, "This is the coolest place at the fair."
Now in her second year as FFA adviser, she enjoys witnessing her students succeed with their animals.
"The fair is a way to support them and give these guys a great start to furthering their project," she said. "We're just making sure everyone has a good time, because that's the goal."
Standing next to one of the pens was 17-year-old Newberg High student Abigayle Darula. She was watching over her pigs, Spark Plug and Hub Cap.
After 10 years of working with horses, she decided to try something new this year. And she settled on pigs.
"I wanted to try and show something different," Darula said. "I love animals and anything I can learn from them."
She said she has always enjoyed spending time at the fair, as it allows her to connect with other people who love animals. "You spend a week with these people and they just become like family," she said.
In the poultry barn, one set of volunteers moved around the cages spraying the birds with ice water while another set hosed down the floor.
"If they die, then they don't go to auction," said Robyn Thorsen, assistant poultry superintendent. "The kids could lose their money, and what they've been working toward. The kids are definitely working hard so that doesn't happen."
"It's not fair for these animals to be in this heat," said Poultry Superintendent John Jensen. "But we've got to make the most of it, because we can't control the weather.
"If it wasn't for the kids, we wouldn't be doing it. That's why all the volunteers do this."
Shannon Carter praised fair officials for taking swift action.
"The fair administration has done a really great job to keep it cool for the animals and for everyone," she said. She credited fair officials with "doing all they can."