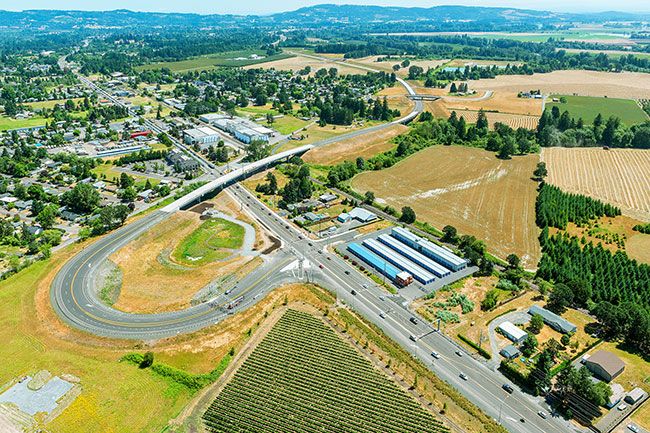 ODOT and Parkway Committee planning bypass viewing party
Members of the state Department of Transportation and the Yamhill County Parkway Committee are planning a festival a few months before the scheduled completion date to give people a chance to see an up close view of the first phase of the Newberg-Dundee Bypass.
They formulated tentative plans Thursday, deciding late September would be a suitable time, with the weather likely to still be dry and enough of the work completed to let people walk and bike selected stretches.
Senior Project Leader Kelly Amador, Public Information Officer Lou Torres and Kristen Kibler of JLA Public Involvement for the Newberg-Dundee Bypass told the committee ODOT also plans to host a formal ribbon-cutting ceremony in December or January, when the bypass is opened for use. However, they said it seemed a good idea to also let interested members of the public get a look in advance.
Amador said the department doesn't want to hold a ribbon-cutting too far in advance, because that tends to frustrate prospective users. But winter weather is likely to be less conducive to a day of walking or bicycling the new roadway than early fall weather, she said.
Torres said the department held a similar event for at least one other major construction project, and it drew several hundred participants.
Plans for the festival day will be refined over the coming weeks, but there was talk of information kiosks, a 6k run, food vendors and live music. People could bring picnic lunches or enjoy taking photographs of fall scenery from a unique vantage point overlooking the cities of Newberg and Dundee, officials said.
It will also be important, Amador and Kibler said, to give neighbors, who have lived with the noise, mess and congestion for two years, to view without having to dodge traffic.
Amador told the committee the first phase is scheduled for completion by the end of the year, and a connection to Wilsonville Road would follow by 2020.