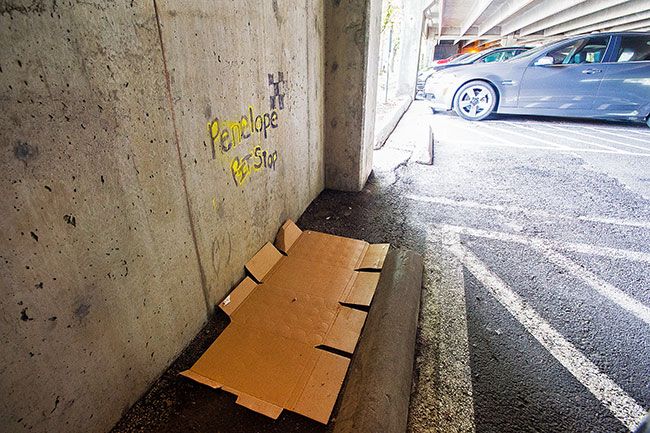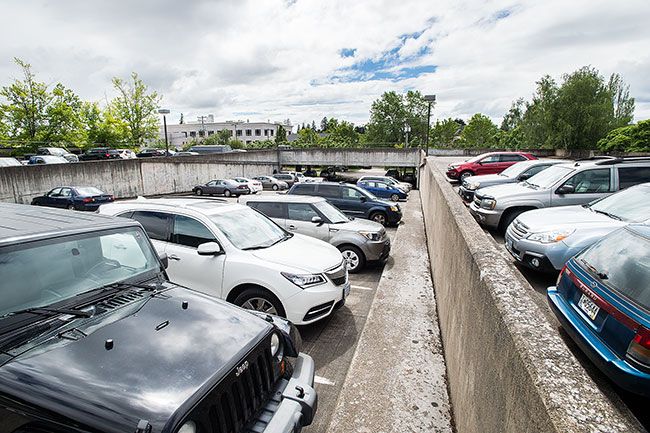 Increased attention thins parking garage homeless
He frequently stops at Third and Davis streets to share a bench with Ben Franklin and carry on one-sided conservations that have grown longer the last week or so.
"Ben is my buddy," said Mike as he patted the statue's knee. "We talk a lot.
"What else am I supposed to do? I can't go back to my home in the parking structure."
Mike, who would rather not supply his last name, had joined other homeless people in recent years in establishing makeshift living quarters in the upper story of McMinnville's downtown parking structure. They pitched tents and rolled out sleeping bags in the stalls on a more-or-less permanent basis, effectively relegating users of McMinnville's increasingly stretched parking resources to the bottom story.
"I've been staying here for 17 years," he said. "Now, out of nowhere, they come up to me say, 'You have to get out here, or you're going to get a ticket for criminal trespassing.'
Criminal trespassing? I used to stay out in front of the Cabana Club before they told me to go to the parking garage because it wasn't safe."
McMinnville Police Chief Matt Scales said officers hadn't conducted any formal raids to force out interlopers, but had beefed up enforcement efforts in response to a growing volume of complaints. "We've been pretty diligent this last month or so, and been pretty persistent in making sure people are doing what they should be doing," he said.
He said the parking structure was becoming an increasingly unsafe option for the homeless as well, and thus for other users, eliciting a police response.
"It's been problematic over the last year or so," Scales said. "We've dispatched officers there quite a bit. We've put some more emphasis on looking in on the structure."
Police responded to calls at the structure at least 220 times last year, he said.
Numerous complaints came from local residents, including county employees who depend on the structure on a daily basis. The elevator and stairwells starting reeking of urine, and garbage had begun to pile up all around the place, they said.
While Mike said he had been threatened with criminal charges, and forced to remove his makeshift camp from the corner of the upper level, Scales said it is police department policy to treat the homeless with patience and forbearance. He said the increased presence might have encouraged people to leave, but no one had been forcibly evicted.
"I don't really know the reason for the recent exodus, but I did hear that public works has been cleaning some things up," he said. "Sometimes when we monitor a situation like that, things tend to clean themselves up.
"It's great if people don't have to put up with the smell of urine anymore. I know the city put in a portable toilet, but people do have a tendency to go wherever they want."
David Renshaw, who heads Public Works, said his crews have been working on a cleanup in recent weeks, which nothing out of the ordinary.
"It's just part of our normal operation when we have a place that has received some extreme use," he said. "It's kind of what we do."
Scales said this does represent a good time for a clean-up at the structure, though, whether planned and coordinated or just occurring in the natural course of time.
With the $6 million Atticus Hotel under construction at Ford and Fourth streets, parking downtown is at a growing premium. "The Atticus Hotel might have its employees parking there," once it opens next spring, he noted.
Parking for cars in McMinnville is a problem, Mike acknowledged. But parking for human beings is a larger one, he argued.
"There was getting to be quite a few of us down there," he said. "It's supposed to be a public place. Where are we supposed to go now?"