Land of luck and lore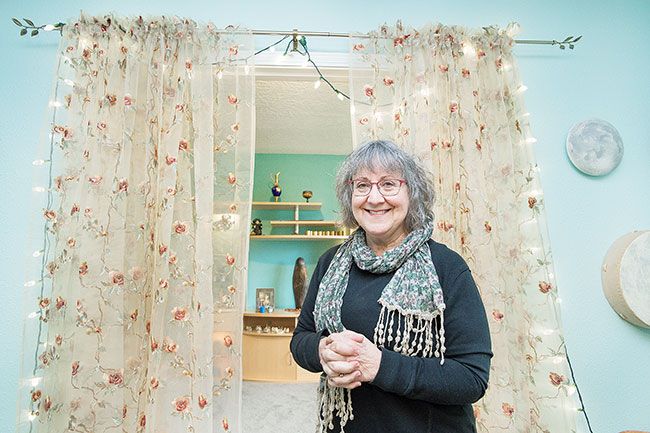 Did you know that, out of respect for the holiday, Ireland prohibited consumption of alcohol on St. Patrick's Day until late in the 20th century? Did you know that, in fact, St. Patrick was neither Irish nor sainted?
So why do we do what we do on St. Patrick's Day? What's with all the drinking in the name of Irish tradition and heritage?
Kathleen Verigin has always been interested in the traditions and rituals growing out of particular cultural and religious environments. So she has pondered these questions, and many like them, at length.
"My passion was always in the rituals, but I didn't want to make assumptions" Verigin said. "I wanted to know why are we were celebrating these days."
She learned St. Patrick was born in Britain during a period when it was under the control of the Roman Empire. He was captured by a raiding party that took him to Ireland as a slave.
"He was about 14 or so, and probably sitting on the beach trying to avoid his studies, when he was captured by pirates," she said. During his captivity, she said, he was pressed into the tending and herding of sheep.
"He was made to carry rocks, and he connected with God through the earth and the seasons, and he would pray. He found God out there praying," she said.
The story goes that St. Patrick had a vision, showing him how to escape. He headed to the coast, where he encountered sailors who took him back to Britain to be reunited with his family.
He went on to become a priest. And as fate would have it, he was eventually dispatched to Ireland to spread the gospel there.
"It's interesting that there were priests in Ireland before St. Patrick, but somehow he got stuck with the credit," Verigin said. "It's also interesting that the day we celebrate him is the day of his death," rather than his birth.
He was then free to preach the gospel throughout Ireland, converting thousands of people to the catholic religion. And he had an advantage in that he knew what the people were like, thanks to his earlier captivity.
But only one of the early Catholic "saints" of Ireland was ever formal canonized, and it wasn't Patrick. That honor went to St. Virgin, canonized by Pope Gregory IX in 1233.
One of the remarkable legends of St. Patrick was his conversion of a Druid chieftain who had tried to kill him. "The story goes that he shaved his head to look like a druid," Verigin said, explaining, "They have a circle on the top of their heads shaved."
There's also a legend that St. Patrick drove all the snakes out of Ireland.
But Ireland has never had any snakes to begin with. Verigin suspects the reference was actually aimed at adherents of pagan religion.
The shamrock is a symbol that came about from St. Patrick's tendency to use the little green icon to teach the trinity.
Sometimes that part gets a little muddled, as shamrock is ofter confused with clover.
Verigin clarifies, "The three-leaf is the shamrock. The four-leaf is the clover."
Symbols and rituals evolving out of elements of nature, like the shamrock, are abundant in Irish culture. And they eventually drew Verigin to immerse herself in the cloak of Celtic spirituality.
"I don't like labels, but if I had to, I would say I'm a student of Celtic spirituality," she said. "It's a blend of the Christian and the pagan religions.'
On that basis, she said, "I consider myself an inter-faith minister."
Verigin used to work as a producer for KATU and KGW, a pair of major-market television news operations located in Portland.
She had considerable success, even winning an Emmy for a documentary she produced. But the same week she won the Emmy, she was laid off.
That freed her to spend even more time to immerse herself in the Celtic spiritual traditions of Ireland. And a vow she made at her mother's funeral gave her the push she needed to make her first trip to the mother country.
"My mother, Mary Kathleen Connolly McKurn, died in 1997," Verigin said. "And her only regret was that she never went to Ireland.
"At her funeral, I had a lock of her hair, and I vowed that I would go for her — somehow, someway. A year later, on the anniversary of her death, I went."
She immediately felt a sense of home and belonging.
"When I met people there, they would ask me what part of Ireland I was from," she said. "I came home saying, I have got to go back."
By this point, Verigin has made a total of 15 trips. On several of them, she organized and led groups on tours taking them "off the beaten path."
"Instead of having professors, or people who have memorized facts, come out and teach us," she said, "I have locals come out and teach us. I like to look for the presence of the divine in nature," and that includes native peoples.
One of the locals she has speak to her tour groups is an Irish farmer. Verigin said farmer lore in Ireland has been passed down from generation to generation, and for many farmers, it represents a personal connection to God.
"Dawn and dusk are profound times there," she said. "They plant and harvest by the seasons and the signs of the changing seasons are revered," she said. "In Ireland, when you hear the cuckoo bird, its the first sign of spring."
Her next group tour to Ireland is scheduled to take flight April 21. Perhaps it will hear the siren call of the cuckoo, but until then, she'll take notice of the signs of the seasons from her new home in McMinnville.
"I notice the daffodils here this time of year, it reminds me of re-birth. And the rainbows, I look at them in wonder. My husband likes to explain the science of them to me, but I want to stay in the magic of it all."
Verigin and her husband of 22 years, Doug, were delighted when everything fell into place for their move here last September. "We'd been coming from Portland to Mac for years, with a friend, and always thought it was a cute little town," she said.
She loves being able to take in the clear night sky and relishes being able to contribute to the closely connected community.
"We do everything here," she said. "We have our doctors we see here in town and buy our Christmas gifts in town. We love it."
Tonight, Verigin will be celebrating St. Patrick's Day at the Pinot Vista Tasting Lounge at 448 N.E. Third St. It previously served as an Eola Hills tasting room, and continues to offer boutique wines from producers like Eola Hills, as well as wines from the Pinot Vista line.
She expects it to be a lot of fun. "We'll wear green, tell stories, and jokes, and I'll probably even sing a few Irish songs," she said.
There's only one small complaint she's managed about her new hometown. Though she finds tasting rooms "kind of like public houses," she said, "I still think McMinnville needs an Irish Pub."