His best-laid plans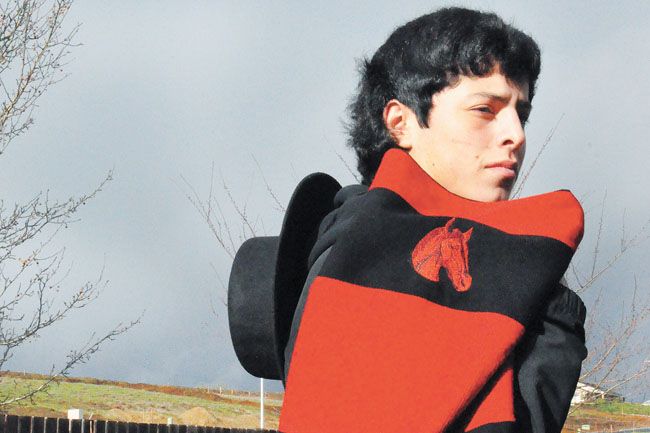 The next Olympic Games begin in eight months in Rio de Janeiro, Brazil, and fans of a certain decorated American swimmer may be disappointed to learn that the domain name michael2016.com is taken.
It belongs to McMinnville resident Jasper Abeyta. He had other plans for it.
"Probably unrealistic to believe that a 17-year-old could go to the Olympics, but he was on that track," Jasper says.
Michael Abeyta is technically still 16; the McMinnville High School sophomore turns 17 on Jan. 13. Abeyta is in the midst of a strong high school season, with three weight-class tournament titles, but he is unlikely to attend the 2016 USA Wrestling Olympic Trials, held April 9-10 in Iowa City, Iowa.
Divine intervention – and 44 months of living in the South American nation of Chile – changed Michael's sporting path.
"He had a goal. He had a focus that he wanted to be an Olympian wrestler before we went to Chile," says Valerie Abeyta, Michael's mother. "Michael's one of those people that, once he sets his mind to something, he just goes for it."
Michael was born in suburban Minneapolis, Minnesota, home to the prestigious University of Minnesota wrestling program and a highly competitive youth scene. His brother, David, began wrestling at age nine, according to Jasper; Michael would watch the proceedings in diapers and a youth singlet. David continued wrestling on and off, but Michael was hooked from the get-go.
The family remembers taking Michael to nine different Midwestern states for youth tournaments. Jasper learned how to double-enter Michael in youth tournaments, and third-grade Michael would wrestle fourth-graders and sixth-graders … and beat them all. His name inched up those mysterious regional and national rankings that permeate the sport at its youth levels.
As excellent as Michael was in tournaments, he was willing to work in the mat room.
"He used to -- I don't know if I should say this, I think it's almost on the verge of child abuse," Valerie says. "When he was little, he would do a deck of cards."
"You just do however many pushups fit on the card that you flip over," Michael explains. "So you'd start off with a deck and flip a card over and, if it was like a 10, you'd do 10 pushups. A jack, 11. A queen, 12, and so on. It came out to be about 450 pushups for a deck."
"And how many decks did you do a day?" Valerie asks Michael.
"Normally two. One in the morning, one at night," Michael replies.
"Sometimes three," Jasper says. "If he didn't have practice, he'd do one after he got home from school."
"And it was fun for him," Valerie says. "They both took piano lessons and I'd tell them, you've got to sit down and practice your piano. This was nothing."
The Abeyta family moved from Minnesota to Chile in October 2010 because God called upon Jasper.
Jasper says he found Christianity while serving with the United States Air Force Reserve at Holloman Air Force Base in Alamogordo, New Mexico. Jasper, raised in Colorado, had attended the Air Force Academy with the idea of competing for the Falcons' men's gymnastics team. (Jasper's brother and Michael's uncle, Derek, lettered for Air Force in gymnastics in 1988.)
"Before salvation, I was a rebel without a cause," Jasper says. "My grades were above average, but my military bearing wasn't."
Alamogordo "was everything I despised, but that's where I met Christ. It changed my life."
In addition to his day job as a software engineer, Jasper is a missionary with the Christian Fellowship Ministries (CFM), which claims to have planted, or begun, 2,100 churches in 117 countries and 44 U.S. states. (The Potter's House church in McMinnville, where the Abeytas practice, is affiliated with CFM.) In his missionary duties, he opened a church in the Chilean coastal town of San Pedro de la Paz, located across the Biobio River from the metropolis of Concepcion.
"We got there six months after the horrific (8.8-magnitude) earthquake (off the Chilean coast). That was wild," Jasper says. "There was numerous buildings that were condemned. We could not find a place to live when we got there. We had to live in a hotel for about a month. Talk about being at the end of wit's end – the four of us, our suitcases stacked up on the wall. Tight living quarters."
Michael and his sister Brianna, a 2015 McMinnville High School graduate, adapted to their newfound surroundings. (David had graduated from high school and did not join the family in Chile.) They went from speaking "Taco Bell Spanish" – Jasper's words – to speaking fluent chileno, the native flavor of the Spanish language. ("They'll admit, almost with a sense of pride, that they speak the worst Spanish in the Spanish-speaking world," Jasper says.) They played with neighbor children, navigated the busy streets of Concepcion by foot or bus and involved themselves with athletic endeavors.
"He finally got his childhood at the age of 12," Jasper says.
Jasper enrolled Brianna and Michael in a canoeing and kayaking club at a nearby lake, where the siblings learned to race like their Olympic-level peers in the sport would. "It wasn't that bad," Michael says. "We'd kind of do just what everybody else was doing. Get in the boat, get out of the boat. I actually started off in the kayak, which was what my sister did, but then neither one of us liked it that much. They let us try the other one and it just kind of worked out that way."
Michael and a native Chilean named Juan Pablo were paired up for C2 sprint canoeing competitions. (The letter denotes the watercraft, the number the number of paddlers.) The two were a perfect team – the tall, lithe Michael rowed on the canoe's right side, while the short, stocky Juan Pablo rowed on the left side. Michael's natural athleticism manifested itself in the sport, particularly in one memorable competition in the Pacific Ocean in which Michael fell into the surf but managed to climb back into the canoe to finish the race with Juan Pablo. "That was just the most exciting competition," Valerie recalls. "To me, it was scary."
Deep into the throes of work and preaching, Jasper never forgot about wrestling. He searched for opportunities for Michael to continue in that sport when he stumbled across a regional tournament. It had been three years since Michael stepped onto a wrestling mat, but he put forth the effort.
His first match was a loss. As Jasper recalls, Michael came back to pin his next two opponents. All his competitors were older.
"I definitely felt rusty for sure. I didn't really know what I was doing at first," Michael says. "When I kind of clicked, things just started coming back to me."
It was clear to the McMinnville High School coaches, as practice commenced in the winter of 2014, that Michael was shaking off some rust.
"When we first got him, he was just a raw kid that's pretty athletic," says Grizzlies head wrestling coach Jordan Barich, an assistant to Shawn Keinonen in the 2014-15 season. "But as we're getting going, he's picking it up way quicker than a kid who has never wrestled is picking things up."
The Abeyta family had moved to McMinnville before the 2014-15 school year, in part due to the presence of The Potter's House: "We just wanted to be in close proximity to a leadership church," Jasper says. Michael had run cross country in the fall for the Grizzlies and was the first Mac High runner across the finish line at the 2014 Class 6A Greater Valley Conference championships. The Grizzlies qualified for the 2014 OSAA Class 6A State Cross Country Championships as a team. (Michael also earned a varsity letter in track, where he ran middle and long distances.)
Barich describes Abeyta's wrestling style as "really funky." In the half-nelson, one of the elementary moves of the sport, a wrestler typically turns his opponent toward him on the side of the arm used to scoop the opponent's head. Michael would turn an opponent across his body.
"He does stuff that, last year, we wouldn't even coach him on stuff," Barich says. "He's doing stuff that we've never done. Him and his dad watch videos of wrestling. They practice moves and he comes and does these moves that kids have never seen before. And he's persistent on them. All the things he does is very unconventional."
Wrestling primarily at 138 pounds, Michael caught plenty of opponents off guard last season. He entered the 2015 Class 6A Special District 5 Championships with a 22-6 record and was set to meet teammate Manny Humlie in the district 138-pound final when he dropped a 7-0 decision to Sprague's Jake Vaughn.
"I was really devastated after that because I thought that was going to be it for me," Michael says. "And then, I remembered how if I placed third, I could come back (to state). I was just really prepared for Andy Carroll (of North Salem in the third-place match).
"I just gave it all I had, and I took him."
Abeyta's 8-1 decision over Carroll lifted him into the OSAA Class 6A State Wrestling Championships. No longer did Keinonen, Barich or his other coaches wonder about his capabilities.
"He comes in thinking, it's not an overconfidence thing, but he is definitely confident," Barich says. "He thinks he can beat anybody at any weight anytime. He truly believes that and he's very disappointed when he can't.
"I like it. I let him do his thing."
Sunset senior Quinlan Bingham never saw Michael coming. Michael upset Bingham, seeded No. 3 in the 138-pound bracket, in a 7-2 decision, then claimed a 6-4 victory of No. 6-seeded Ethan Staley of West Linn.
Michael ran into his third seeded wrestler in as many matches in the semifinals, but Jefferson junior Jasiah Williams was too much for him. Williams, seeded No. 2, posted an 18-3 technical fall.
"I would have liked to have done a little bit better," Michael says. "When I lost in the semis, that was a tough match because he beat me pretty badly."
Michael lost in the consolation semifinals and found himself matched with Vaughn – always those Olympians! – in the fifth-place match. This time, the Sprague wrestler exacted revenge with a 4-2 decision.
"Late in the match, it kind of clicked that I should be able to take him," Michael says. "It was a little too late."
The Abeytas miss Chile.
They miss the sights and the sounds, the delicious food and the unrecognizable Spanish, the disregard for the American concept of personal space. Even the irrational (Jasper vividly recalls attempting to pay bills during the Chilean lunchtime, when the city shuts down for two hours) and the unfamiliar (children calling their elders tío, uncle in Spanish, or tía, for aunt, despite no relation) within Chile's culture remain poignant.
The allure of South America beckons. But so does God's will. Jasper acknowledges that he could be called anywhere, anytime, for the betterment of the CFM.
"I don't even know. We'll probably be here through the season. Maybe he'll graduate from (McMinnville High)," Jasper says. "Maybe not."
"It would be nice to stay in the same high school," Michael says, "but I think I'd be able to move."
To Jasper, Michael has sacrificed much athletically in the family's missionary work. Michael's Olympic dreams may, or may not, be in the Almighty's plans for the future.
"We were blessed all the way around," Jasper said. "I don't think we could have picked a better location (in McMinnville)."