Alleged child abuser facing new charges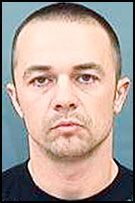 After being granted a conditional release in a child sex abuse case, a McMinnville man was returned to jail after allegedly spanking a 3-year-old girl hard enough to cause significant bruising.
He was giving the child a bath at the time, during the course of watching her, according to McMinnville police.
Daniel James Farwell, 32, was indicted by a Yamhill County Grand Jury in late October on one count each of second-degree sexual abuse, third-degree rape and third-degree sodomy, in addition to two counts of third-degree sexual abuse. He was lodged on $25,000 bail initially, but Circuit Judge Joseph Ochoa agreed to a conditional release.
Last week, he was charged with one count each of first-degree criminal mistreatment and third-degree assault in connection with the spanking case. That constituted a violation of his release agreement, so he was returned to jail, this time on $80,000 bail.
Farwell is scheduled for arraignment in the new case at 1:30 p.m. today. A trial report conference in the original case is set for 10:40 a.m. Monday, Jan. 4.
Information is more limited than usual in the sex abuse case because Deputy District Attorney Holly Winter obtained an order sealing the probable cause affidavit used to justify the arrest. The grand jury indictment accuses Farwell of engaging in sex with a minor on multiple occasions from 2006 to 2010.
The spanking incident allegedly occurred earlier this month. McMinnville police officer Brian McMullen gave this account in the probable cause affidavit filed in the case:
Farwell was caring for the child when another adult observed handprint-shaped purple and red bruises on her buttocks. The child said Farwell had spanked her, and it had hurt.
McMullen reviewed the bruising in the course of his investigation. He said it started on the child's lower back and extended downward.
The adult sent Farwell a text message asking him about the bruising. He admitted spanking the child and hurting her in the process.
He said he was giving her a bath when she threw a "tantrum." He said he grabbed her left arm and spanked her with an open hand.
He said she responded by throwing a hair brush at him and trying to bite him on the arm, so he grabbed her arm again and spanked her a second time. At that point, she started crying, he said.
The child was assessed at Juliette's House, a child abuse intervention center in McMinnville, as part of the investigation.