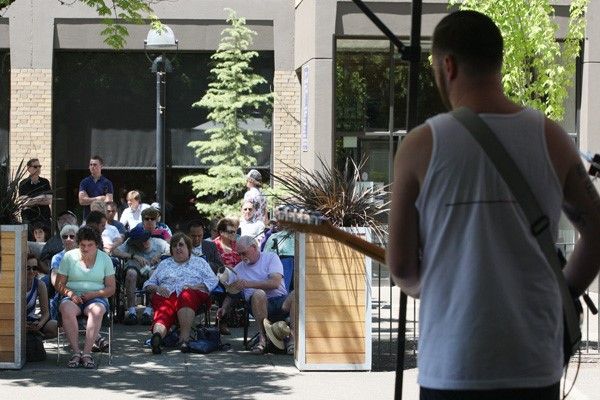 'Red Flag' warning goes into effect; fire danger extreme
UPDATE/Friday, 10:30 a.m.:
A "Red Flag" warning has been issued for the Yamhill Valley because of critical fire-related weather conditions. The warning will go into effect at 11 a.m. Friday and remain in place until the forecasted heat wave subsides.
"A "Red Flag" warning means that there is critical fire weather conditions," McMinnville Fire Marshal Debbie McDermott said. "Critical weather conditions for the fire service means that weather conditions are ideal for wildland fire combustion and rapid fire spread and growth. Humidity is low and the potential for high or erratic winds."
McDermott said fire agencies must prepare for that fact that there is a higher than normal chance for a wildland or field fire over the next few days. The temperature is protected to be above 90 degrees, the humidity low and possible high winds in the afternoons.
"We urge people to take extreme caution with barbecues, camp fires and any open flame or burning material as fire can easily start and spread," McDermott said. "Although the warning is designated for wildland fires, bark dust and dried grasses in town are subject to the same conditions."
McDermott said these fires often start in the late afternoon and early evening when the wind picks up.
- - -
Pets, livestock and people will need access to shade and plenty of fresh, clean water over the next week, as a heatwave broils the Pacific Northwest.
Dog owners should plan to leave the animals at home, rather than letting them wait in cars or pickup trucks, which, when left parked, can rapidly heat up to more than 120 degrees, causing the animals to die of heat stroke. Children and people with mobility issues also must not be left in cars, as the high temperatures could be deadly.
Temperatures are expected to be in the high 90s today, and 100 or more on Saturday.
Forecasters say that "a push of marine air" should provide a break on Sunday, with temperatures in the high 80s, before heading back into the 90s on Monday. They are expected to remain in the 90s for at least the first half of the week.
In Yamhill County, cooling stations will be available at:
n The McMinnville Public Library, 225 N.W. Adams Street
n The Newberg Public Library, 503 E. Hancock Street
n The Champion Team Drop-in Center, 2215 N.E. McDonald Lane in McMinnville
n McMinnville Cooperative Ministries, 544 N.E. Second Street in McMinnville
n Youth Outreach, 719 First Street, Newberg
n Second Street Community Church, 504 E. First Street, Newberg.
The National Weather Service has posted an excessive heat watch and a fire weather watch for Friday and Saturday.
One problem is that nighttime temperatures are expected to remain high, with predictions for 60 to 70 degree lows through Tuesday night.
The National Weather Service reminds people to keep blinds or curtains closed during the day, and wait until cooler times of day to run appliances, to help conserve energy. It also suggests using microwave ovens or grills in place of stoves. However, grill users must take care. With conditions unseasonably hot and dry, fire danger is critical throughout the Willamette Valley, foothills and Coast Range.
Dogs also should not be walked during the heat of the day, when pavement temperatures are blistering.
The National Weather Service advises rescheduling strenuous activities to early morning and evening hours, and staying well hydrated.
It warns that anyone overcome by heat should be moved to a cool and shaded location, and 911 should be called.