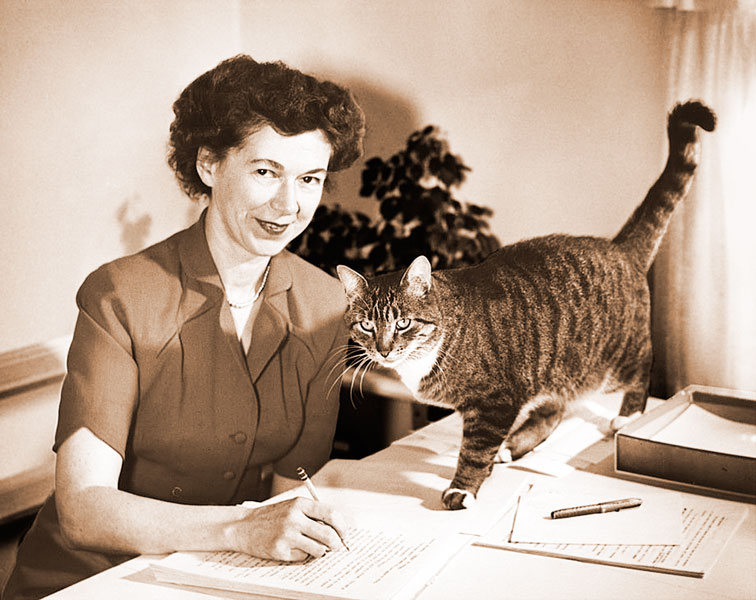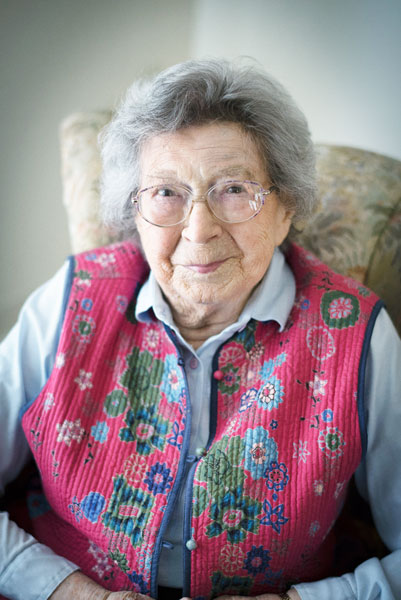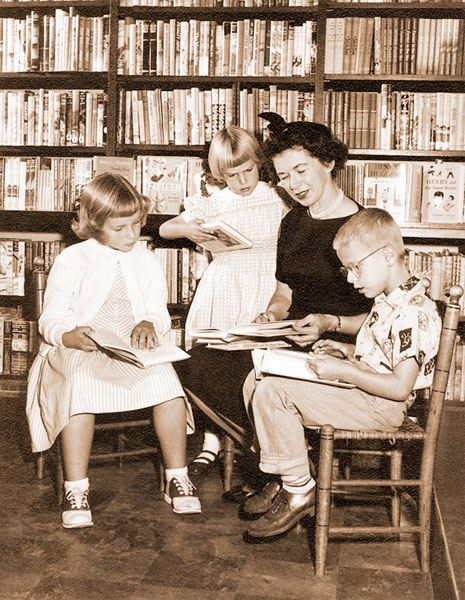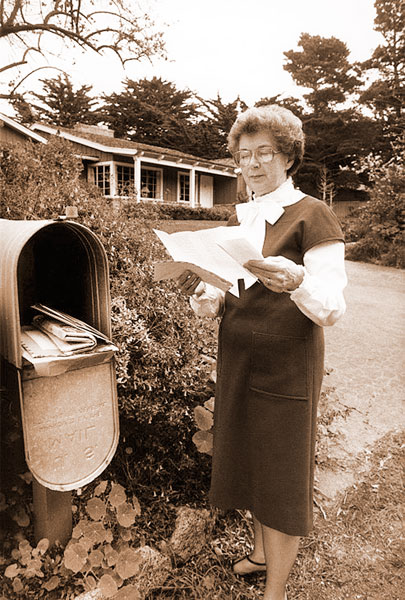 Yamhill roots helped shape author's work
The future author was born in McMinnville on April 12, 1916, and spent her first six years in Yamhill. During a rare interview, she told OPB's Kristina Sarson that growing up on the family farm helped her develop observational skills that would later serve her well in her writing career.
Young Beverly also learned to appreciate and value books early on, as her mother, Mable, read aloud to the family every evening. Mable Bunn persuaded the Oregon State Library to send books for local children, and set up the city's first lending library on the second floor of a bank building at the corner of Highway 47 and Main Street.
The Yamhill bank building still stands, as does Cleary's childhood home, a big, white Queen Anne at the west end of Third Street.
If her mother's library were open today, it would undoubtedly feature a shelf devoted to books by Cleary, among them "Beezus and Ramona," "Ellen Tebbits," "Otis Spofford," "The Mouse on the Motorcycle," "Dear Mr. Henshaw," "Ramona and Her Father," and "Mitch and Amy," a novel based in part on the author's own twins.
Her first book, the 1950 novel "Henry Huggins," might start the row. At the other end, readers might find her memoirs, "My Own Two Feet" and "A Girl from Yamhill."
On the brink of turning 100, Cleary still values her early days in Yamhill and her school years in Portland. Many of her books feature Oregon locales, including Portland's Klickitat Street, or landmarks such as Mount Hood.
In the OPB show, she discusses becoming first a children's librarian, then an author, as well as her days as a youngster in Oregon. Among her pleasant memories of the latter, she recalls "cold rain and wet leaves."
Sarson, producer of the Oregon Art Beat episode, said Cleary also talks about the importance of reading and engendering a love of reading among children. She said she was especially proud that youngsters often have told her how important her books were to them.
"It seems you've had a pretty good life," Sarson tells the author near the end of the interview.
"Oh, yes, I've been lucky all the way," Cleary responded.
Sarson said she and the Oregon Art Beat team felt "lucky all the way" to be involved with a specal episode celebrating Cleary's centennial birthday. The author was generous with her time and helped them connect with key figures from her career, she said.
The team traveled to Cleary's longtime home in Carmel, California, to tape the interview. It also visited the University of Washington, where Cleary earned a degree in library science.
In the show, UW President Ana Mari Cauce, born in Cuba, says Cleary's books were among the first she read in English after immigrating to the U.S. The stories helped her learn about her new country, she said.
Also interviewed were Cleary's former editor, illustrators who've drawn Ramona and other Cleary characters, and Oregonians whose lives have been touched by the author and her books.
"There is this wonderful magic that seems to surround Mrs. Cleary, her work, her life, her story," Sarson said. "We've been astonished this is the first documentary about her life."
That's due, in part, to Cleary's career-long commitment to privacy. "She wants her work to speak for her," Sarson said.
And it has, although that's never stopped readers from writing to her to tell her how much they love Ramona, Ribsy, Ralph S. Mouse and other characters.
Her son, Malcolm, also featured on the OPB show, recalled growing up thinking his mother was just like anyone else. Then, he told Sarson, he realized they had the biggest mailbox on the block — an extra large model to accommodate all the fan mail.
Sarson herself grew up a fan of Cleary's books. When she read them again, in preparation for the documentary, "it was amazing how familiar they felt," she said.
The OPB producer said she has a special affection for the Ramona character.
On her second-ever visit to Oregon, she sat down with a friend's 7-year-old daughter and they bonded while reading "Ramona Quimby, Age 8" together. A few years later, the child became her stepdaughter.
"I almost felt like I should say 'thank you' to Mrs. Cleary, out of gratitude for helping me connect," she said.
Sarson said she didn't tell the author that story when she visited for the interview, because "our time with her was so precious, and there was so much we were hoping to cover."
However, she and the Oregon Art Beat team did show her a video from Portland's Wordstock literary arts festival last November. The video includes birthday greetings from numerous people, who also signed a large card in Cleary's honor.
In response, the former Oregonian recorded a message of appreciation, which was shown at a special showing of the documentary April 2 in the Hollywood Theatre — a place where Cleary watched movies as a child.
---
OPB special slated on Cleary
Oregon Public Broadcasting will celebrate the 100th birthday of children's author Beverly Cleary, a Yamhill County native, with a special edition of its Oregon Art Beat show.
Known for books such as "Ramona the Pest" and "The Mouse on the Motorcycle," Cleary was born in McMinnville to a family from Yamhill. Considered one the greatest children's authors ever, she has won numerous awards, including the Newbery Medal, several lesser Newbery honors, a National Book Award, a National Medal of Arts and the title Library of Congress Living Legend.
Her books have been translated into many other languages. More than 90 million copies have been sold around the world.
Now retired, Cleary lives in Carmel, California. She has done very few interviews in recent years, but opened her doors to Oregon Art Beat in late 2015.
"Discovering Beverly Cleary: An Oregon Art Beat Special," is scheduled to air at 8 p.m. Thursday on OPB, carried on channels 10 and 710 by Comcast. The show will repeat at 8:30 p.m. Friday, 7 p.m. Saturday and several other times during the month of April.
Producer Kristina Sarson said OPB is also planning to provide DVD copies to Oregon libraries, along with 300 other libraries across the U.S.
For more information about the author and the special, or to view photo galleries, video extras and an interactive map, visit www.opb.org/beverlycleary.