Hill to be McMinnville's next mayor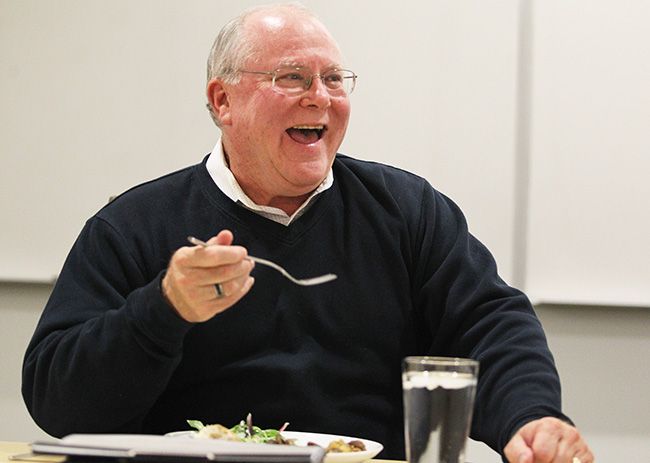 [UPDATED AT 10:38 P.M.]
After 11 years on the McMinnville City Council, Scott Hill is on his way to becoming the city's next mayor, swamping political newcomer Jared Miller 6,578 to 1,990 or 76.77 percent to 23.23 with about two-thirds of the count in.
The mayor-elect spent election night at the regularly scheduled McMinnville City Council. Miller, who had been a regular at council meetings for the past several months, has been absent from city meetings since the two candidates faced each other in a McMinnville City Club debate Oct. 18.
Hill joined the council in 2005 and served as council president from 2009 to 2010. He has served on the budget committee since 1994 and has also served on the urban renewal advisory committee and city audit committee. In addition, he served on the board of Visit McMinnville.
He and his family moved to McMinnville in 1992 from Portland, when he took a job as a regional manager for Key Bank. He retired two years ago.
When former Mayor Rick Olson was elected to the county commission n May, Hill and Councilor Kellie Menke discussed which of them should go for the mayor's position. They decided Hill should seek the job but that Menke should succeed Kevin Jeffries as the council president.
Miller came to the campaign with a criminal record, including a 2001 conviction for contributing to the delinquency of a minor.
As a result, he is supposed to report as a sex offender. However, a court case for failing to report remains open.
He has won either dismissals or aquittals on 11 other charges, all stemming from family squabbles, by his account.
His 2001 conviction, for contributing to the sexual delinquency of a minor, stemmed from a consensual relationship with an underage girlfriend, he said. He said he was candid about the relationship when it came up during a separate investigation targeting someone else.
Miller said he served in a National Guard unit out of Yamhill County from 2000 to 2011 and has enough resources to be retired at age 35. He said he spends most of his time being the sole support for his 8-year-old son.