Dayton football falls in semis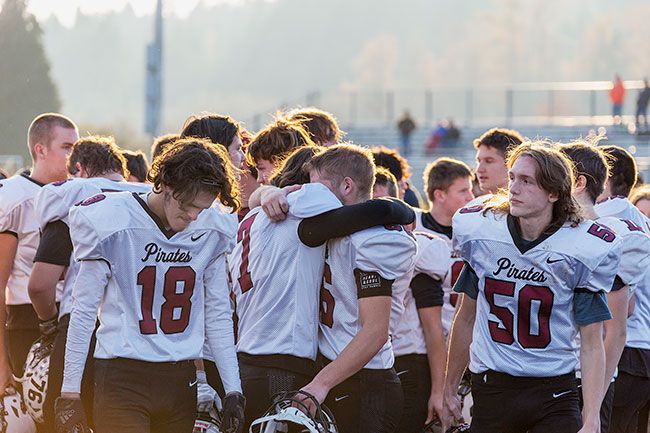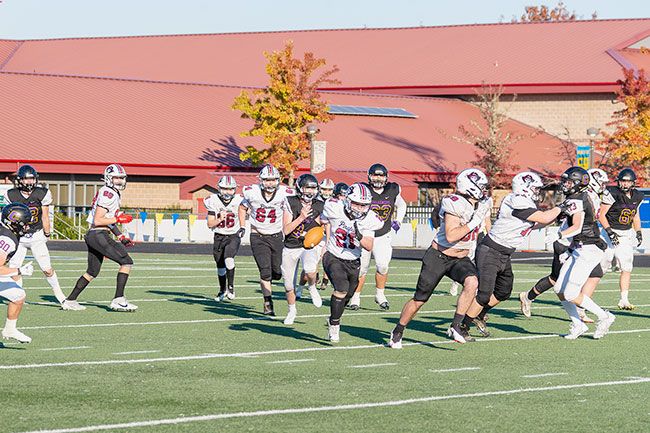 "It's always hard to process," Peterson said, alluding to the end of their season.
Peterson then began to commend his senior class, a group that was sophomores when Peterson became head coach three years ago, saying this group "turned Dayton football around."
"It had been down for three, four years. It kind of became a joke," Peterson said. "These seniors, as freshmen, were getting beat 60 to nothing.
"Day one, I came in and said you have to trust a complete stranger. We can get this fixed, we can get it turned around, but you have to trust me. And from day one, they've trusted me."
That trust and dedication took Dayton all the way to the final four, where they faced their toughest test yet in Cascade Christian.
After winning the toss and electing to receive, as they have all year, Dayton went 55 yards on nine plays to take a 6-0 lead, an emphatically opening statement that they were there to compete.
In the week leading up to the matchup, Peterson stressed how they would need to contain the Challengers' speed and limit the big plays that have made their offense so potent.
His concern became reality on the first Challenger play, as Tyler Almasy quickly answered, taking a screen pass from Keith Reed 60 yards for a touchdown.
After a Zach Smith fumble near midfield, Cascade Christian took just 1:13 to go 46 yards and extend its lead to 14-6.
Facing a third down and long on the next possession, Dayton faced a critical turning point. While it was still just the first quarter, they needed to keep pace with the Challenger offense, and a punt down eight would not play into that narrative.
Instead, after attempting just one pass last week, quarterback Boston Hodges found Tristan McGann downfield, and placed an arcing throw just over the arms of an outstretched Challenger defender for the first down.
Hodges finished off the drive with his legs, scoring a 25-yard touchdown and converting the two-point conversion to tie the game at 14.
Cascade Christian responded with a quick touchdown drive of its own to retake the lead.
The two teams traded TDs before the break, and the Challengers led 28-20 at the half.
It was Hodges with another big play on the first drive after halftime, this time on defense, intercepting Reed and giving the Pirates the ball back with a chance to tie.
After a McGann 54-yard run, it appeared as if Dayton would continue the punch-counterpunch theme that had emerged in the first half.
Instead, after a fourth-down conversion, Nate Arce fumbled inside the five, squandering the chance to tie the game.
The Challengers only needed six plays to go 96 yards to extend their lead to 35-20.
After Dayton was stopped on a fourth down on the next drive, Cascade Christian pieced together a back-breaking 16-play, 87 yard drive that took over six minutes off the clock and extended the lead to 22 with just three minutes remaining.
12-0 Cascade Christian will face 12-0 Kennedy in the 3A state championship game. Dayton finishes its season at 9-3.
The duo of Smith and Arce, which helped lead the Pirates to the semifinals, finished for a combined 188 rushing yards on 42 carries. On the season, Smith finished with 1,582 rushing yards and 22 rushing touchdowns and Arce ran for 1,272 yards and 18 touchdowns.
Arce dealt with a hamstring injury for a majority of the season, but was able to get back to full strength for the playoffs.
Arce said it was tough to miss games while he was hurt, knowing that he could help and wasn't out there showcasing what he could do.
He also was teary-eyed when describing his emotions after his final game, knowing it was the last time that the group that had grown up playing together had taken the field for the final time.
"We've all grown up together… We all grew up together, we played together our whole lives," Arce said. "It's fun to grow up and play and get this far with the people you've known all your life and have played football with them forever."
When asked what he will remember the most, he said he will miss the bond that everyone has with each other.
"I don't know if there's any other team that's like us, that bonds like we have, that's as close as we are."
Senior Gavin Koch, who tied for the team lead with five tackles for loss this season, shared a similar sentiment, saying that he'll miss "the brotherhood" that they all share.
"Watching us grow up, but still having this team bond all together and super close… We're done with all the sports after 13 years," Koch said. "It feels good to finish it off with the boys."
Peterson noted the turnovers cost the Pirates, but was proud about how the team fought.
"Our guys battled for four quarters against the best in the state because they believed in each other and they believed in the system," Peterson said.
When looking ahead to next year, Peterson noted how next year's senior class will be his first at Dayton that he has coached since they were freshman.
He noted their similarities to this class, but said that this class will always stick with him, both for their willingness to believe in him and their dedication to improvement, which showed on the field and showed the way for the younger players.
"Dayton football is back, and it's going to remain back now, thanks to this class."