Dr. Bardwell C. Marshall 1934 - 2023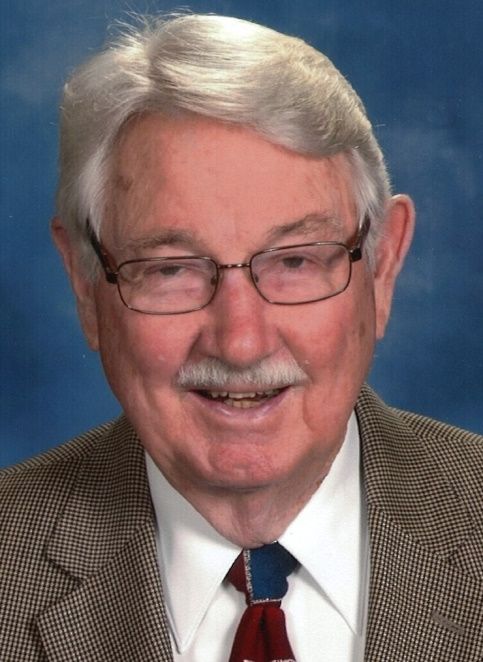 Dr. Bardwell C. Marshall, surrounded by family, went home to be with his Lord unexpectedly following a stroke, October 6, 2023, at Willamette Valley Hospital.
Born January 18, 1934, in Oregon City, to his parents James and Florence Marshall and raised on a farm in Clarkes, he learned to work hard at an early age and developed his love of music, logging, hunting and the outdoors. He attended Oregon City High School and lettered in football and wrestling, qualifying for State in wrestling both junior and senior years. Bard was active in FFA, raising and showing sheep. He also took piano lessons from his mother and was a pianist at Clarkes Church.
Bard accepted Christ as his Savior at 18; after his graduation in 1952, he attended Bob Jones University in Greenville, South Carolina. His love for the Lord grew, giving him the burning desire to preach the gospel. While there, he played on the championship soccer team and introduced wrestling, becoming the first instructor of that sport. It was while there that Bard met June Slagle of Goshen, Indiana, and they were married in Goshen on August 20, 1955.
Upon graduation from college with a BA in Bible, Bard went on to enroll in Grace Theological Seminary in Winona Lake, Indiana, where he served as class Chaplain and president of World Mission Fellowship. He also served as youth and music minister at Riverside Christian Church in Elkhart, Indiana. Graduating from Seminary in 1959 with a Bachelor of Divinity degree, Bard, June and infant son, Mark, returned to Oregon.
Bard's first pastorate was at Lacomb Baptist Church in August of 1959. In 1961, he accepted the call to First Baptist Church in Lebanon, Oregon, as associate pastor for youth and music. Part of his responsibilities included starting Crowfoot Baptist Chapel. The congregation grew, requiring the building of a chapel and fellowship hall. While serving there, three additional sons were born, Stephen, Daniel, and Joel.
In 1966, Bard became Pastor at Salem Heights Baptist Church. As the membership grew, they built a gymnasium and started Jefferson Baptist and Tillamook Baptist churches. The church also had a kindergarten for 125 children. While at Salem Heights, Bard enrolled in Western Baptist Seminary, graduating in 1977 with a Doctor of Ministry Degree. He developed Basic Bible Truths (still available online) for his dissertation. These studies were instrumental in winning hundreds of souls to Christ and were used by many churches across America and overseas.
After 15 years, Bard moved to Bethel Baptist Church in McMinnville, Oregon, where the membership grew from 300 to over 1400. During that time, they started Lafayette Community Church, a Spanish-speaking congregation, and Bethel Christian School (now McMinnville Christian Academy) and added two buildings to accommodate the growth. Bard also taught pastors in Moldova and Russia and taught two summers at Pensacola Christian College in their graduate program. After 22 years, he retired.... the first time!
In 2003, he was called to Faith Baptist in Lincoln City, staying nine years as Interim Pastor. Of course, a large addition was built. He often referred to himself as the "Triple P" pastor: Permanent Part-time Pastor. He again retired. Then in 2012, he answered a call to Rolling Hills Baptist Church in Salem, where he served as Interim Pastor for two years. Bard often said that what brought him great joy was seeing people find new life in Christ and having the opportunity to live for the Lord.
After retiring the third time, Bard returned to Bethel, now Baker Creek Community Church, where he was active teaching Sunday school, Men's Bible Study and counseling as needed. In Bard's 58 years in the ministry, he has pastored seven churches, started four churches, baptized over 2000 people, and directed camps for junior high boys for many years. After retiring, he was honored by Bethel as Pastor Emeritus.
He is survived by his wife of 68 years, June; sons, Mark (Cathy), Stephen, Daniel, and Joel (Mindy); 11 grandchildren; ten great-grandchildren; and his sister, Sherrel (Mike). He was preceded in death by his parents; his brothers, LeRoy, Willis, and Bruce; and sister, Marlene.
A Memorial Service will be held for Pastor Bard at 2 p.m. Saturday, November 4, 2023, at Baker Creek Community Church in McMinnville, Oregon. Viewing will be from 4 to 7 p.m. November 1 and 2, at the Chapel of Macy & Son. Donations may be made to McMinnville Christian Academy. To leave online condolences, please visit www.macyandson.com.