Mabel Darlene Risseeuw 1931 - 2023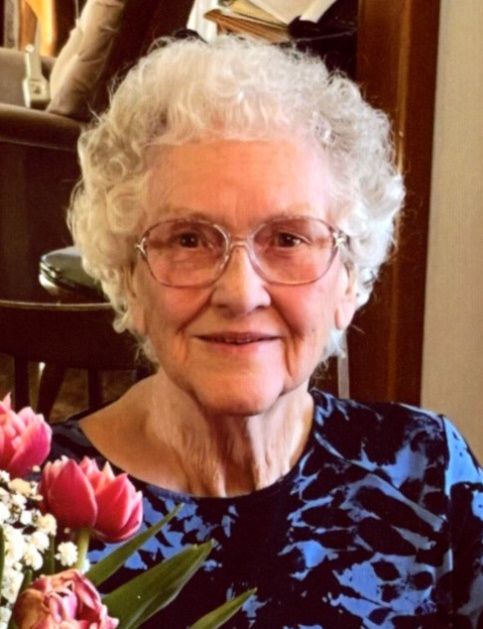 Mabel Darlene Risseeuw entered her Heavenly home on Wednesday, September 27, 2023, at the age of 92.
She was born May 14, 1931, in Vale, South Dakota. Mabel was the fifth of eight daughters and one son born to Elmer and Minnie (Ardell) Shaul. Her family often moved to various places in South Dakota and Idaho, finally settling in Vale, Oregon. Mabel graduated from Vale High School with the Class of 1949. She was the first of her family to graduate from high school.
In 1949, she moved to Grand Ronde, Oregon, and made it her home. Mabel met her future husband while she was waiting tables at The Ronde Café, when a dark-haired, blue-eyed, handsome young man home from the Navy whistled at her. She had met the man she would marry, just like her fortune cookie had said!
Mabel and Isaac (Ike) Risseeuw were married on May 13, 1950. Mabel spent her married life as a hard-working mother and homemaker. Ike often showed vitors the pantry where Mabel stored the hundreds of jars of her home-canned fruit, veggies, jam, pickles, and the oh, so yummy corn relish! Her family enjoyed the fruits of her labors tremendously. As if that all didn't keep her busy enough, she also managed the Maplewood Home for the Aged for 13 years. Mabel loved the residents and had many happy memories of her time there. She was also very active in the Grand Ronde Church of the Nazarene, where she had been a member since 1952. She had a heart for missions and gave generously to them.
Mabel is survived by her children, Sandra (Steve) Sims, Donald (Jan) Risseeuw, Kenneth (Jenean) Risseeuw, Charles Risseeuw, Russell Risseeuw, and Rhonda (Mike) Stackhouse; 22 grandchildren; 52 great-grandchildren; and two great-great-grandchildren.
She was preceded in death by her husband of 58 years, Ike Risseeuw; her son, David Wayne Risseeuw; and her granddaughter, LaDawna Joy Risseeuw. Mabel was also preceded in death by her seven sisters and one brother.
Services will be held at 1 p.m. Saturday, October 7, 2023, at the Sheridan Church of the Nazarene, 917 S. Bridge St. Graveside service at Green Crest Memorial Garden, followed by a time of fellowship back at the church. A viewing open to the public will be held from 4 to 7 p.m.Thursday, October 5, at Macy & Son Funeral Home of McMinnville.
Mabel had requested that, in lieu of flowers, donations can be made to the Nazarene World Missions in care of Macy & Son Funeral Directors.
To leave online condolences, please visit www.macyandson.com.