Back and Forth: Crossed paths create geometry in basketball, and life, in Mac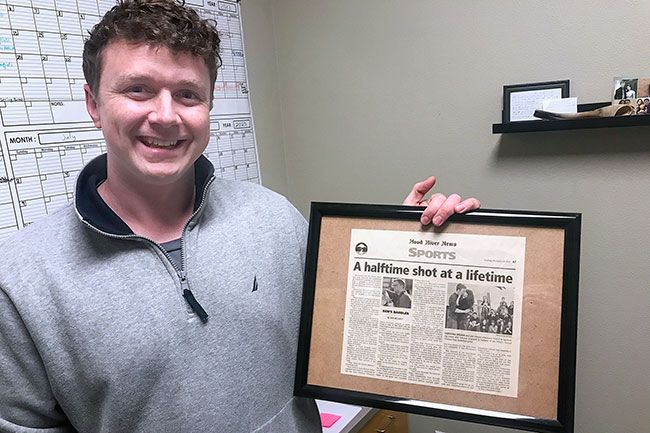 A few lines about the ongoing theme in this column: intersecting lines.
It starts with the guy who's become my basketball connection in McMinnville, Norm Tognazzini, who keeps me informed of morning and weekend games.
I play two evenings a week but we also enjoyed a "run" on MLK Day when the game was at 6:15 a.m., rather than the usual Mac morning ball time of 5.
For years in Hood River, I organized and played in a morning ball session, three days a week at 6 a.m. That's a practice I started about five years before that when I lived in Port Townsend, and the a.m. routine became positively addictive: good exercise and, usually, good fellowship before you go to work.
Here in Mac, Reid Kimura opens up the Grandhaven Elementary gym where he teaches for the run at 5 a.m. I can do 6, but 5 is just too early, so I was grateful for the "late" start on Jan. 16. And it gave Norm and me the chance to match up. He has me by a few years, and he has a nifty set shot that goes over me every time. I love running with him because we both do just that — run.
Sure, in pickup ball you find your spot for a pass or a shot, or pause to strategize when and how to move, and then you make your cut or run some more. That's hoops, be it pickup ball or some more sophisticated basketball scene. It's running with a purpose.
Basketball, like life, is geometric. The lines we run, present and past, happen at angles to each other. They might be parallel or at 45 degrees but usually triangular, meaning any of multiple options might occur. It's all about intersections, some planned and some random. I wrote in this space nearly two years ago, during the pandemic, of touring local outdoor courts as a way of getting to know Yamhill County. It also kept my hand in the game I love in a time when sharing close-quarters on the court was not an option.
But I missed the geometry of the game — teammates standing at points and moving to others, and good things happening as a result. I missed those kinetic connections. When I took up group ball again, Tuesdays and Thursdays at the McMinnville Community Center, in October 2021, rusty as can be, it was a joy to play again. I had first shown up on a Monday and, creaky-as-hell, ran with a bunch of twentysomethings. I might even have hit a basket or two; following the game, a kind young man named Jonah took me aside and suggested I try the Tuesday 30-and-over game.
And I did just that, finding a great group twice a week, though at 64, I have a quarter-century on all but a few of them. As one new to town, the other players were all unknown to me, though I won't say strangers. Indeed, they were not, as more than one surprise connection would attest. For it is through local hoops, I've enjoyed a crossing-of-paths dating more than 15 years ago in Hood River. A second hoops intersection emerged from within my nearly two years in McMinnville. I'm enjoying the geometry.
The older connection revealed itself a few weeks ago. As we were setting up teams one Tuesday, I was delighted when a new guy I'd seen only once before asked me, "Did you used to live in Hood River — work for the newspaper?" Guilty on both counts. We shook hands in one of those great moments of dawning recognition, and he told me his name: Jake Johnson, class of 2009 from Horizon Christian School in Hood River.
I certainly remembered him, as a regular attendee at the Hawks' games. I saw Jake play varsity ball on some very good teams back in 2007-09. And as to morning ball, the folks at Horizon let us morning basketball players use that same court (and still do.) Jake and I figured once or twice, in his teens, he had come out for a few morning runs — so Mac Community Center was not the first place we had shared court-time.
After college, Jake moved to McMinnville for work as a teacher and is now youth pastor at Creekside Church. He reminded me of another connection: On his office wall is the framed 2010 article from my former paper, Hood River News, of the night Jake proposed to his wife, Christina, at halftime at a Horizon home game. I texted the photo of Jake holding the article to Ben McCarty, the reporter who wrote it, who was quite pleased to see it.
Jake and I both maintain our Hood River connections, and his close friends include some of mine, and it was a joy to see Jake at the court again the other night, and trade notes and catch up while waiting our turn to play. One more example of links and tendrils connecting my past in Hood River and my present in McMinnville.
Meanwhile, that other, more recent connection: I've been here long enough to have "aha" moments with people I've come to know since moving to McMinnville. In this case, it goes back to April 2021, and a server named Wyatt at McMenamins Hotel Oregon who was a welcoming face when I popped in for a pint a couple of times to a longtime favorite haunt I was happy to see reopened — the Rooftop Bar. At the time, I had mentioned this really friendly barman to our circulation manager, Connie Crafton, who told me that Wyatt happens to be her nephew. A fine connection in itself. Then I forgot about the interaction. In October 2021, I was able to get back to playing hoops. And one of the guys I got to know there was a guy named Wyatt Moore, who in recent months I would see in the main bar at McMenamins or just out on the sidewalk — he would see me walk by and come out and say hello. It's just the kind of guy he is. And after knowing him through basketball for the past 15 months, we recently put two and two together, that he is the same friendly Wyatt I met at the Rooftop Bar. (Note: Wyatt is constantly putting two and two together on the court: the guy can score baskets.)
I know this makes me look rather slow on the uptake, but you could say I'm similarly slow on the basketball court, as in when to cut to the hoop, but what can I say? It was cool to make that connection, and I'm still enjoying learning the geometry.
Contact Kirby Neumann-Rea at kirby@newsregister.com or 503-687-1291.