Vintages & volumes: La Biblioteca is newest winery on Carlton scene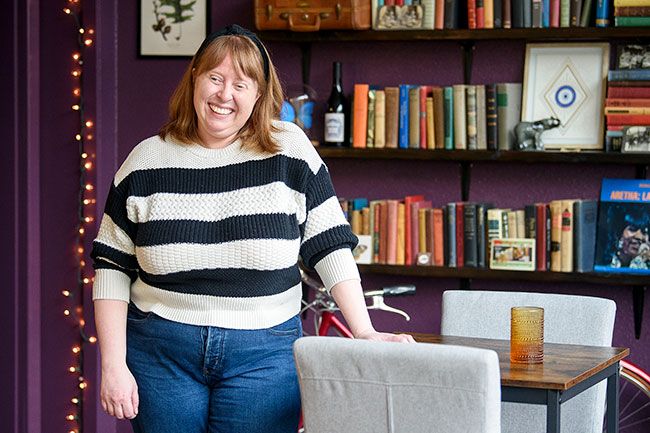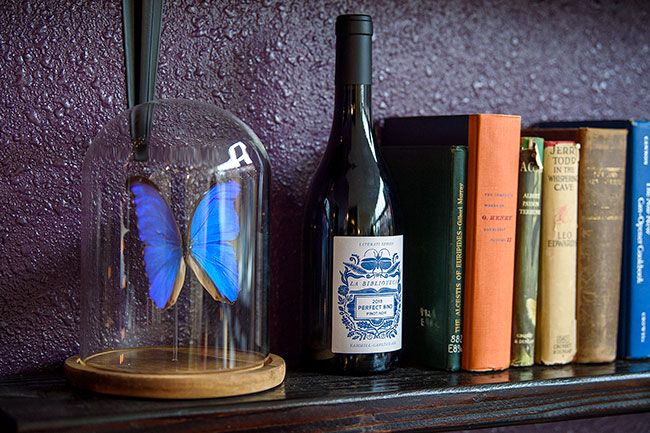 Some customers step into La Biblioteca, a tasting room in downtown Carlton, thinking it must be a library. One wall is lined with books, after all, and comfortable chairs invited visitors to sit down and read.
But the large display of wine bottles confirms that yes, it is a tasting room recently opened by La Biblioteca Wines. But there's no conflict: "Wine and books are heaven for the right person," said Amy Griffith Strandberg, tasting room manager.
La Biblioteca does mean "the library" in Spanish. But the name also refers to "La Biblioteca de Babel," by Argentinian writer Jorge Luis Borges, the story of a room filled with every book ever written.
The book is a favorite of winery owner Jay Lee, a Korean who went to school in Oregon. James Cahill, who founded North Valley Vineyards, is a managing partner who oversees both Biblioteca and North Valley brands.
Cahill also is the founder and winemaker for North Valley, which uses grapes from several Willamette Valley vineyards. It also has a new tasting room, which is open Thursday through Sunday at 1326 Highway 99W in Dundee.
Lee started La Biblioteca in 2018 with wines made by Robert Brittan of Brittan Vineyards. He used fruit from Aegrina, a vineyard southwest of McMinnville in the McMinnville AVA, and Wapato Ridge high above the Chehelem Valley.
"He makes a really full-bodied, ripe style of Pinot noir," Griffith Strandberg said. "Very luscious."
La Biblioteca turns out 1,000 to 1,200 cases per vintage. With such a small production, the bottles are very exclusive, Griffith Strandberg said.
Before the two tasting rooms opened in 2022, most of La Biblioteca's wines were sold online and shipped overseas. They drew customers from South Korea and other parts of East Asia, she said.
"Oregon wines are very popular there," Griffith Strandberg said.
For owner Lee, owning an Oregon winery is a "labor of love," she said. He lives in South Korea and visits the U.S. several times a year.
La Biblioteca chose to place its tasting room in Carlton partly because of the proximity to many other wineries. The "beautiful storefront" also appealed, Griffith Strandberg said.
She joined the company last April and was instrumental in fitting out the tasting room over the summer. "Really fun," she said.
"It was really fun to put the tasting room in," Griffith Strandberg said.
She searched for the books on the shelves and helped with other decor. "I wanted it to look like an eccentric professor's office," she said, pointing out botanical prints on the walls along with specimens of collected butterflies and grasshoppers.
The appointments reflect the La Biblioteca label, which features grasshoppers, grapes, roses, oaks and other Oregon plants and animals. Artist Carson Ellis designed the label.
"I took inspiration from that. I wanted the tasting room to feel a little different from others," said Griffith Strandberg, who previously worked for several other similar businesses.
The labels decorate the full range of La Biblioteca wines on display in the tasting room.
The Pinots, Chardonnays, roses and sparkling wines have become popular with Carlton residents and tourists alike. "We're starting to have a loyal fan base of locals," Griffith Strandberg said.
The brand's wine club also is growing, with members from all over the country, she said.
She also is looking at opportunities in McMinnville and Newberg; Social Goods Beer & Pizza carries La Biblioteca wines.
"One of our goals is to do more outreach to the community and more events," Griffith Strandberg said. She said the tasting room will participate in Carlton Business Association events, such as the first Thursday ladies' nights, and expand its marketing to areas such as Portland and Bend.
La Biblioteca tasting room at 118 W. Main St., Carlton, is open Thursday, Friday and Saturday from noon to 7 p.m. and by appointment at 503-403-8966.
The tasting fee is $30, but that is waived with the purchase of one or more bottles of wine.
For more information, call 503-487-7066.
---------------------------------------
Carlton full of tasting rooms
Wine lovers will find plenty of places to visit in Carlton, home to more tasting rooms per capita than anywhere else in Oregon, owners say.
From the long-established Ken Wright Cellars, which moved to Carlton from McMinnville in the 1990s, to newer places such as Flaneur and La Biblioteca, visitors can take their choice. Almost all the tasting rooms are within walking distance of downtown parking areas, too.
Ken Wright's tasting room is in a historic train depot at 120 N. Pine St. It's open from 11 a.m. to 5 p.m. daily.
Tendril Wine Cellars, across the street at 130 W. Monroe St., is open 11 a.m. to 5 p.m. Wednesday through Sunday.
Cathedral Ridge recently moved across the street into a historic bank building at 105 W. Main. It's open from noon to 6 p.m. Friday through Sunday.
La Biblioteca is open from noon to 7 p.m. Thursday, Friday and Saturday at 118 W. Main.
Also downtown, K&M Wines, 128 W. Main St., is open from noon to 5 p.m. every day but Tuesday.
Craft Wine Co., 116 W. Main, is open from 11 a.m. to 5 p.m. Thursdays and Sundays and from 11 a.m. to 7 p.m. Fridays and Saturdays.
Stone Griffon Vineyard has a tasting room at 305 W. Main, open noon to 5 p.m. Friday through Sunday.
Marshall Davis Wine, 125 W. Main, is open noon to 5 p.m. Thursday through Monday. In addition to pouring wines, it offers a display of art on its walls.
Flaneur wine tasting room is located at 168 S. Pine St., half a block south of downtown. The tasting room is built into a historic granary building. Flaneur's wine making facility is just southeast of the granary, as well.
Next door in a former feed store, Big Table Farm has a tasting room at 128 S. Pine St. Hours are 11 a.m. to 5 p.m. Tuesday through Saturday.
A block off Main Street in the other direction are two tasting rooms. Lavinea Wines at 250 N. Kutch St. is open from 11 a.m. to 5 p.m. Thursday through Monday. Celestial Hill Vineyard, 258 N. Kutch, hours are 11 a.m. to 5 p.m. Wednesday through Sunday.
At the north end of town, the Carlton Winemakers Studio at 801 N. Scott St. is open from 11 a.m. to 4 p.m. daily. Sixteen vintners produce wines for tasting there.
Cana's Feast Winery at 750 W. Lincoln St. is open daily from 11 a.m. to 5 p.m.
Among others outside of the downtown area is Carlo & Julian Winery, located on the east side of town at 1000 E. Main St. It is open for tasting from noon to 5 p.m. on weekends.
Just west of Carlton is Resonance Wines, 12050 N.W. Meadow Lake Road, Carlton. Hours are 11 a.m. to 5 p.m. daily.
Sortor Vineyards, Abbey Road Farms, Chris James, Lemelson Vineyards and many other wineries and tasting rooms can be found just a short drive from Carlton, as well.