Treats from trunks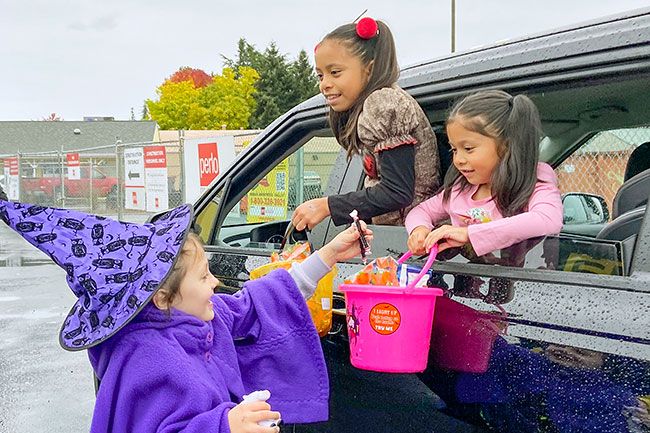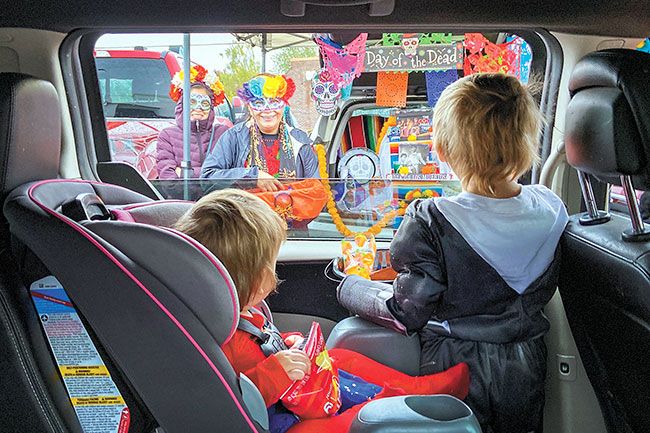 Some of the trunks – or rear ends of SUVs – were pretty scary at the Trunk or Treat event hosted by Lum's GMC Buick on Halloween.
An Amazonian monster's open mouth, fangs menacing those who were seeking candy. A dungeon seething with spiders and snakes. Jurassic Park populated by prehistoric creatures. Old MacDonald's Farm. A giant Twinkie. A disco.
All in fun, of course. Fun and treats.
"I'm gonna give out candy! I'm gonna give out candy!" chanted Vaida Slaughter as another vehicle rolled up to the "Despicable Me" trunk she and her family were hosting.
Vaida, dressed as Agnes from her favorite movie, said she loved handing out treats. She was looking forward to collecting some of her own later.
Cars lined up to turn off Highway 99W into the Lum's lot for the event Monday afternoon. Most rolled slowly through the car lot, pausing at open trunks to receive their treats – packets of chips from one SUV, fruit and veggie bars from Betty Lou's, candy for kids and pizza cutters or cow-shaped stress balls from First Federal, actual Twinkies.
"This is so much fun," said Tammy Hads of Betty Lou's, who topped her work outfit of white smock and hairnet with a feathery boa decorated with ghosts and skeletons.
Some families walked the route. In many cases, parents and older siblings dressed up along with their kids – a little Mario and a big Mario; a coven of cousins; assorted superheroes ready to save the world together.
Kinsley Franklin, 20 months, played the title character in her family's Scooby Doo group. Her mom, Courtney Franklin, wore bright red hair as Velma; older brother Zane Franklin, 6, dressed as Fred.
Like other trunk-or-treaters, they visited booths set up by 10 businesses and nonprofit organizations, such as the Willamette Cancer Foundation, MV Advancements, McMinnville Youth Cheer, Mac Hub and Homeward Bound Pets, along with seven employee groups from Lum's.
"It's so nice to see the community come out!" said Pam Lum, dealership owner.
Lum served as emcee, wearing white go-go boots and a psychedelic print dress to complement the groovy costume worn by her husband, Cliff Ellis, who was handing out candy from the disco SUV. "Did you see our disco ball?" Lum said, pointing to a mirror ball sparkling from the dome light.
Participating groups voted for the best trunk decorations. The award went to the Day of the Dead booth set up by the nonprofit Unidos Bridging Community, which won $500 for its efforts.