Stopping By: On history's cutting edge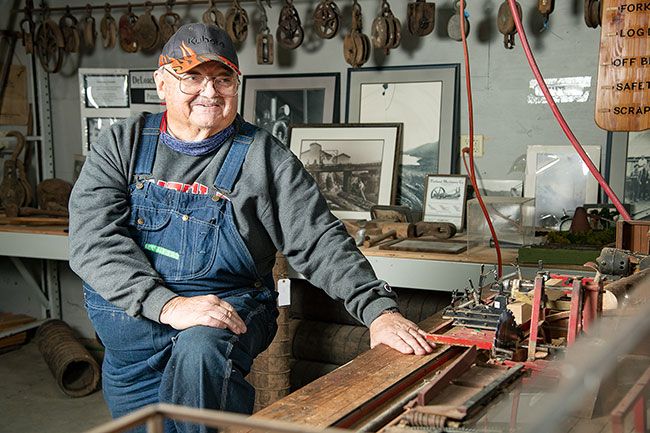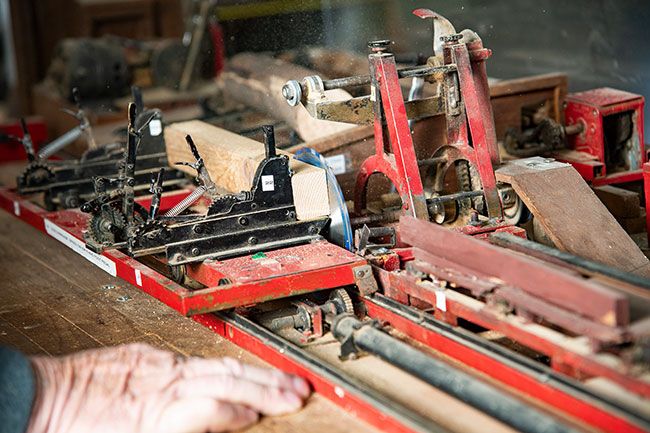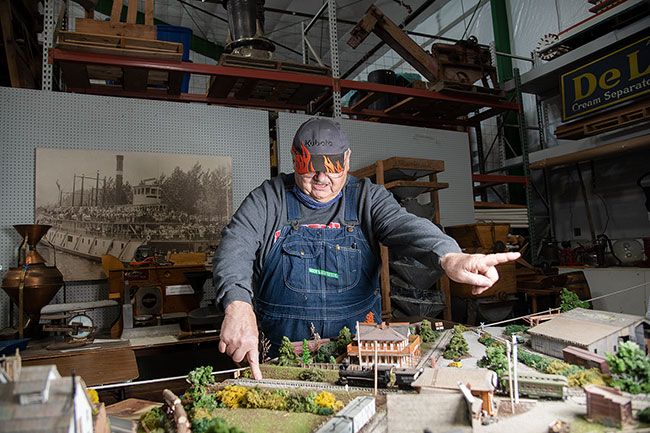 Gary Brooks claims he has no imagination. But people who see his miniature buildings, boats and buggies don't quite believe that.
"I have no imagination," Brooks insists. "But if you give me a picture of something, I can build it."
His skills at building realistic, three-dimensional models have led him to recreate a downtown McMinnville rail crossing from the early 20th century and the Dayton waterfront with its Nestle's plant, flour mill, dehydrator and other businesses. The model invokes the time when boats, not trucks or even trains, were the main method of moving cargo.
Using photos, he's also reproduced many other scenes from local history, including Whiteson, when it was a major rail crossing south of McMinnville with a bustling hotel, and Lafayette Locks, which was proposed by the Army Corps of Engineers in the 1870s as a way of transporting cargo up the river to McMinnville, but already usurped by the railroad by the time it was finished in 1906.
All are static models built to HO model railroading scale — 1:87, in which 3.5 mm of model equals 1 foot of building or rail car. Several are on display at the Yamhill Valley Heritage Museum, which is open from 10 a.m. to 4 p.m. Fridays and Saturdays.
Now Brooks has completed reconstruction of his first working model, a sawmill that cuts lumber just like the full-size sawmill in another of the Heritage Center buildings.
It's an approximately 1:22 scale replica of the real sawmills that dotted Yamhill County back when the timber industry was in its heyday. Most are long gone, but a few, such as the Hampton Mill in Willamina, are still in operation.
"Now I know why mills employ so many millwrights," Brooks said of the workers who keep all the equipment running. "I have to do all this myself. I could have used some millwrights."

Brooks makes most of his parts himself, even cutting firewood and siding with a tiny table saw. He casts barrels, boxes and stumps in a mold, though he may supplement his work with items purchased in a model railroading hobby shop.
"The details make the difference," he said, pointing out the two-hole outhouse in the Dayton waterfront display.
Another project has a two-story outhouse. "The top one says 'politicians,'" he laughs, "and the bottom one says 'voters.'
The working sawmill is an exception to his start-from-scratch rule.
The original was built in the late 1950s as a training project at a technical school in Northern California. Later it went on display at the World Forestry Center in Washington Park in Portland.
At some point, it ended up in storage at a facility the forestry center had on Parrett Mountain, out of Newberg. When the storage site was cleaned out, it was donated to the Yamhill County Historical Society, which piled the pieces in the Yamhill Valley Heritage Center's restoration shop for "someday."
A decade passed.
In early March 2020, YCHS volunteer Tony Meeker spoke at a meeting in Willamina, where Brooks had practiced dentistry before retiring. Brooks also served on the fire board there for 18 years, after several decades of service as a fire volunteer in McMinnville.
Meeker had heard about the former dentist's model building skills and the classes he teaches. So he asked Brooks to take a look at the jumble of parts at the Heritage Center.
He suggested it might take 20 to 25 hours to get the sawmill up and running again. Brooks thought the estimate was on the money.
"And he was right," the builder said last week. "It took 20 to 25 hours — a week, for 18 months."
Thirteen motors, a web of wiring and chains linking parts of the mill together combined to create a very complex project, Brooks said.
He was fortunate, he said, to have fellow restoration volunteers available to help. Waldo Farnham, for instance, assisted with the wiring, and Frank Sherman fabricated tiny parts that couldn't be found.
Even the Heritage Center's next door neighbors got involved. When the sawmill needed a 4-to-1 reduction gear, difficult for a layperson to find, Brooks went to Northwest UAV to ask for assistance. Soon he had the necessary part.

The sawmill works just like its larger cousins, although it deals with branches rather than full-size trees.
To put things in context, Brooks scratch-built a model to show how the branch-size logs would be pulled into the mill from a pond at the beginning of the milling process. He built another for the other end of the mill, where cut lumber would leave the saws on a green chain.
The mill itself shows what passersby might see if the structure housing a real sawmill was lifted away by a giant.
On one end of a real mill, chains pull in the raw log and roll it toward the first saw. The blade slices off on curved, bark-covered side, then the log is rotated 90 degrees and another side is sliced off.
After all curves have been removed, leaving a piece with four flat sides, the piece goes on toward the next saw. Workers set the blade to cut a slice of whatever thickness is desired — 4-inch planks, for instance.
At still another saw, the 4-inch planks, now lying flat, are cut into smaller pieces. Set the saw at 2 inches, and it becomes a a bunch of 2-by-4s, for instance.
Near the end, those long 2-by-4s could be chopped into 8-foot lengths or other sizes. Or they could be cut strategically to remove bad sections of wood.
It's all the same in the mini mill, Brooks said. But instead of a 4-inch thick plank, it might cut one a quarter-inch thick. It might slice off a bit to leave a plank one inch wide.
And, in fact, this wee mill often produces "lumber" of that size. Brooks and his fellow volunteers had a stamp made up so they could turn the little lumber into a useful souvenir: wooden 1-foot rulers labeled "Yamhill Heritage Center."

Brooks came to model making because of his love for history and, especially, for railroading.
"I always loved trains," he said, remembering how his mother would take him to the end of Seventh Street to see what was moving on the railroad tracks.
As an adult, he's ridden Amtrak to Klamath Falls for hunting and fishing trips.
Decades earlier, 3-week-old Gary boarded his first train. Born in Boston, where his father was stationed as a Navy corpsman in World War II, baby Gary and his mother took a train back to Oregon when his dad's ship left port.
Another train took them to New Orleans when his father's ship stopped there. Then baby and mother returned to the West Coast. The ship left for the Pacific Theater, where his father was killed.
"I never knew him," Brooks said. "But I had a real dad."
He's referring to Ron Eborall, whom his mother married a few years later. Eborall not only was a great father to Gary, but he also was beloved by generations of McMinnville children for portraying Santa Claus.
Dressed in red fur and a white beard, Eborall brought up the end of McMinnville's Christmas parade each year, waving from atop a fire truck.
His final year as Santa, Eborall was joined by Brooks' children, nieces and nephews for the holiday highlight.

Brooks graduated from McMinnville High School in 1962 and went on to Linfield. After he earned a bachelor's degree, he studied dentistry at the University of Oregon's dental school in Portland.
The summer before his senior year, he became interested in steam-era logging. That would lead him to start building scenery for model trains — a hobby in which his dexterity with tweezers, learned in dental school, gave him an edge.
The new dentist returned to Yamhill County to open a practice in Willamina.
He commuted from McMinnville for many years, then about 1990 moved to rural Sheridan.
The 1918 barn sold him on the Sheridan property. He spends most evenings puttering in the "project room" inside the 10,000-square-foot structure.
"Just me and the squirrel," he said, although his German shepherd, Ladybug, is often with him, too. He and the dog listen to books on tape while they're relaxing.
The shop has helped him be productive as a model builder, he said.
Another help was the decision his wife, Patty, and daughter made more than 30 years ago: No television. They bought a hot tub, instead, so he does spend some time in it, as well as in the barn.

Brooks typically spends 300 to 400 hours on a project, working from historical photos. If a building is still standing, he measures it himself.
"If I can touch and feel it, that's even better than pictures," he said.
Many of the 40 projects he's finished have ended up in museums, such as the Sheridan Museum and the one at Fort Vancouver.
While most of the models are built on 4-by-8-foot Styrofoam sheets, the Vancouver one, his largest, runs 8-by-32 feet, requiring eight sheets of foam.
He was recruited to create the mill and railroad yard for the fort's 200th anniversary in 2019. It took "two-and-a-half years of solid work," he said, and he had to deliver it one section at a time.
It depicts the time when split spruce logs from the Oregon and Washington coasts were taken to Vancouver, then transported by rail to Baltimore. From there, the Northwest wood was shipped to England and France for World War I airplane building.
Only one of his projects has a permanent place in his home. It depicts an English longboat negotiating a lock.
In 2004, he and Patty, along with another couple, spent 10 days traveling the canals of England and Wales. Along the way, they negotiated 30 hand-operated locks, then turned around and went through the same 30 locks on the way back.
At each lock, they had to crank open a gate, motor into the lock, close the gate and add or remove water, so the boat floated to the level of the canal it would be entering. Then they cranked open the second gate and sailed out.
"A great experience," he said, noting that the locks were 7 feet wide, the boats about 6-foot-10-inches wide.
Traveling the canals took them through beautiful scenery that reminded him of the Willamette Valley. He enjoyed talking to the locals, too, although it sometimes took awhile to understand their accents.
"The pubs opened at 5 p.m. for beer and 7 p.m. for dinner. I usually could understand better by 7," he joked.
At the end of the trip, he found an HO-scale model of a longboat in the gift shop. Just what he wanted!
"But I had to build a setting for it," he said.
Starla Pointer, who believes everyone has an interesting story to tell, has been writing the weekly "Stopping By" column since 1996. She's always looking for suggestions. Contact her at 503-687-1263 or spointer@newsregister.com.