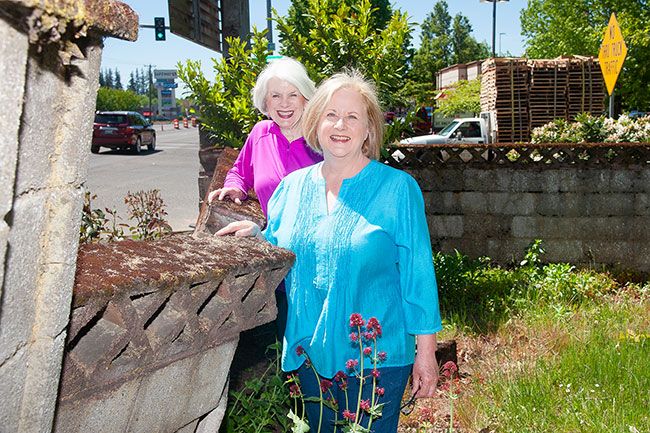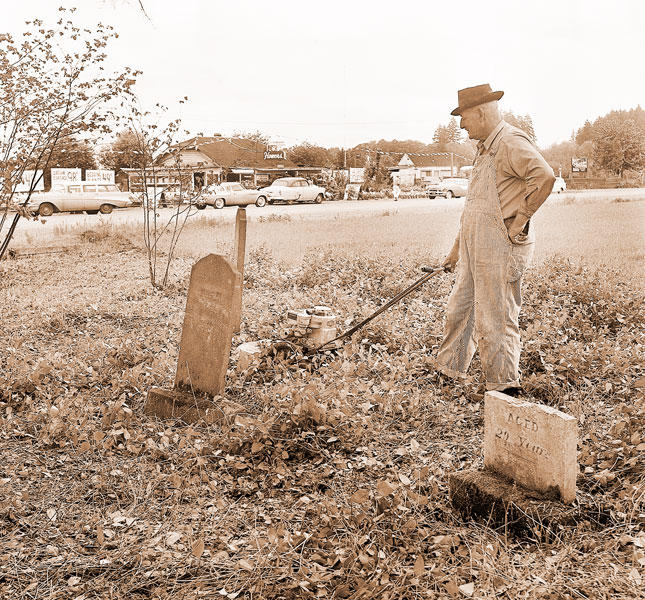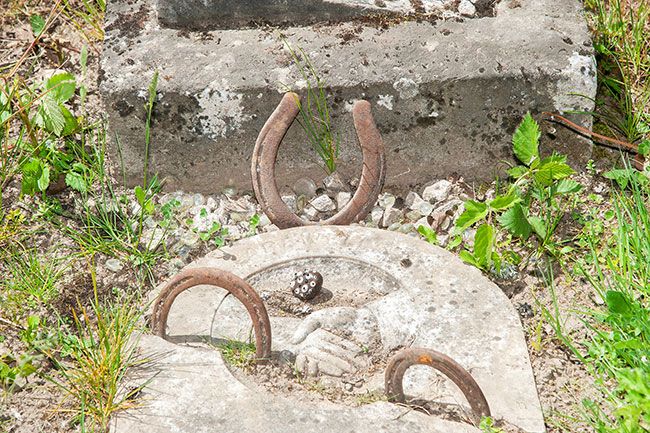 Hidden in plain sight
Some people, stopping at the traffic light, might take a moment to wonder about the tiny cemetery concealed behind crumbling concrete walls at the northeast corner.
McMinnville resident Joan Buccino did just that.
"It deserves more respect," she thought.
The Malone Cemetery was started in 1850 in the corner of farmer Madison Malone's expansive fields.
Now squeezed by stores, restaurant and the busy highway, the historic site had been tended by various people and groups from time to time. But it had fallen into disrepair again over the last decade, and during the winter, its walls and gate were severely damaged by a falling oak.
Surely something can be done, said Buccino, a longtime real estate broker who is "retired with a lot of energy." She moved to McMinnville four years ago.
"That little piece of ground calls to me," she said. "It's so visible. It's such a shame for it to disappear."
With support from her neighbor, Jan Stoven, and others, Buccino started looking into the history of the cemetery and how it could be refurbished and preserved.
"Every call I made led to another person who knew something or wanted to help," Buccino said. "The timing was right."
For instance, one day when she visited the Malone Cemetery, she ran into a University of Oregon archaeologist watching workers doing a 99W improvement project. He had ground-penetrating radar scans of the area, including the cemetery.
"Everything just fell into place," she said.
She included the radar data in a grant application to the state Historic Preservation Society. The application, which asks for $21,000 to help begin repairs, was due for review May 26; she expects to know the results in early June.
She said she doesn't expect to receive the full amount for the project. But after talking with Kuri Gill of the historic preservation group and Masonic cemetery sexton Johnny Edwards, who is familiar with grant programs, she is hopeful the Malone Cemetery will receive some funding.
She plans to start a donation account at First Federal and a Go Fund Me page to support the project, and seek volunteers to help with the work.
Priorities include repairing the broken wall, replacing a piece of sidewalk that had been lifted by the fallen tree's roots, and fixing the entrance column that also was smashed by the tree.
With help from the McMinnville Garden Club and Yamhill County Master Gardeners, Buccino, a member of both organizations, also hopes to replace weeds and blackberries with turf and add a bark dust border around the edges.
She plans to plant heirloom roses and "period appropriate plants" to go along with an oak sapling and two mature trees inside the walls. She wants to frame the known graves in rock or brick, and place wooden crosses similar to those that marked many of the original graves.
She, Stoven and other supporters also are trying to gather more information about the cemetery. They hope to locate descendants of its original owner, as well.
Madison Malone came across the Oregon Trail from Missouri in 1843, part of the same wagon train that brought names such as Newby, Hembree and Cozine to what would become Yamhill County.
Malone's family was the fourth to settle in the area, local historians say. His 1844 land claim was the 49th filed with Oregon's territorial government officials in Oregon City.
"He was a pretty ordinary farmer," Buccino and Stoven said, yet his impact is still felt today.
In November 1851, when the farmer was 33 or 34, his wife died. He laid her to rest in what would become the Malone Cemetery.
He was left with three children: Margaret, 8, William, 3, and Richard, 1.
He remarried a woman named Margaret Eaton and had about five more children before he died in 1880. He is buried in the cemetery, and it's likely his second wife and at least some of the children are, as well.
Records are sketchy. Only a few headstones are visible, and they are mostly broken or have fallen. Buccino said she knows there are more graves, but their markers have been lost to time.
Some may belong to distant relatives or neighbors, she speculated. The most readable marker in the cemetery says, "BRITANIA, Wife of J. Halstead, died Aug. 20, (year unreadable), aged 29 years." The stone is carved with an image of clasped hands.
A historical marker at the entrance to the small plot calls it "the first cemetery between the North and South Yamhill rivers."
Although it now is inside the city limits of McMinnville, it has never been annexed, historians said. The 5,000 square foot site remains part of Yamhill County.
There have been several attempts in recent decades to trim weeds and take care of the cemetery.
For instance, in 1968, civic leader Ralph Wortman organized volunteers to put up a wall and gate.
In 1985, Aaron McClure took on the task as his Eagle Scout project. He and other Scouts worked through a snowstorm to spruce up the cemetery, scraping off moss, pruning a tree, cutting grass and hauling several loads of debris to the dump.
"The project was very successful. No one could believe it was the same place. All the Scouts felt as though they had contributed something to the community," says the report written by McClure, who now is a pediatrician in Des Moines, Iowa.
In 2002, another young person, Chantell Fredrickson of Carlton, began caring for the cemetery. At age 13, she gave a tour for members of the state Historic Cemeteries Commission when they met in McMinnville in 2005.
"Mom and I used hand clippers to find the stones, then we used a weed eater, then the lawn mower," Fredrickson described the project to the News-Register in 2005.
The cemetery's wall was damaged when a pickup slammed into it in 2006. Larry Gannaway of Amity volunteered his crew to repair it.
Wilco Farm Store and its predecessor, Farmers Co-op, adjacent to the site, helped over the years, as well. For example, the store donated a bench with a horse theme and held a cleanup day in 2014.
Although the weeds have grown and the walls have suffered damage, the Malone Cemetery has never been completely forgotten, Buccino and Stoven said recently as they inspected headstones.
People often stop to ask about the place when they see the women there. And someone — or a variety of someones — comes to pay respects to the cemetery's occupants.
Horseshoes have been left on several graves. Small trinkets, such as a ceramic turtle and a feather, have been placed there, too.
And recently someone has been leaving painted rocks on the monuments.
It pleases Buccino and Stoven that other people are interested in the cemetery. "We hope to have this beautiful by fall and hold an open house to show it off," Buccino said.