Beloved downtown homeless man dies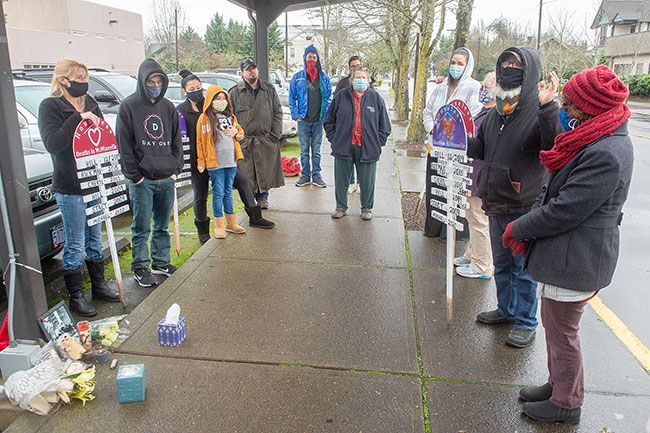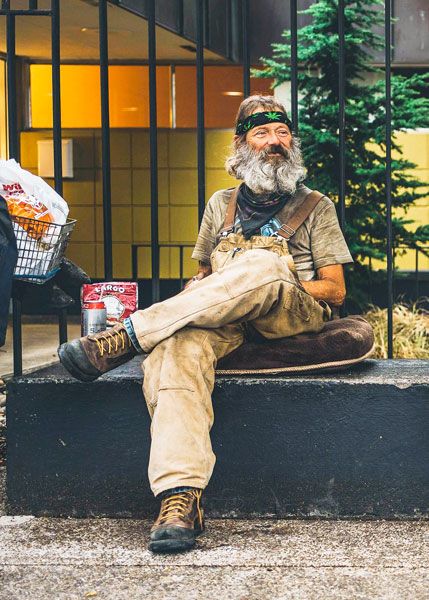 Betty Stepp was not expecting any more siblings. A doctor had told her mother she was unable to have more children. But in 1965, her mother gave birth to Michael.
Betty, age 11 at the time, said Mike became her "little doll." She taught him to tell time, tie his shoes, and read, and was his advocate throughout his life.
"He was a miracle boy," Betty Stepp said.
Mike Stepp, whom many people knew from his time living on the streets of downtown McMinnville, died Dec. 12, his sister said. About 30 people gathered for a memorial Sunday, Dec. 20, at the Yamhill County Courthouse bus stop.
"(The memorial) was one of the first times I've seen so many people come to pay respects for someone who was homeless who had died, in the area they hung out, on a cold, rainy day," said Valerie Miller, a local advocate for the homeless.
Stepp was well known to people who frequent Third Street and the area around the courthouse, as he'd greet most people, said Casey Kulla, a Yamhill County commissioner. He remembers Stepp, with a beaming smile and scruffy beard, pushing his shopping cart and chatting with Kulla on his way to work.
"He had a very hard life, but he shared joy with everybody around him," said Kulla, who attended the memorial.
Betty Stepp, who lives in McMinnville, described her brother as someone who loved to read, listen to music and liked adventure. Rob Stepp, 39, said Mike, or "Possum," as many in the family called him, was his favorite uncle and frequently took the cousins hiking, fishing and biking around Yamhill County.
Nicholas Kristof, the two-time Pulitzer Prize winner and New York Times columnist, grew up down the road from the Stepp family in Yamhill and walked to the school bus stop every day with the siblings.
Kristof said Mike's funny and charming personality remained relatively unchanged, and was on display in moments such as Mike joking about the relative merits of various places to sleep in downtown McMinnville. They lost touch as they grew older, but in recent years they occasionally talked on the phone, including a few weeks ago, and ran into each other on Third Street when Kristof was in town.
"He liked to talk to people, he was quick with his smile, and liked to joke with people," Kristof said. "I can well imagine that in different circumstances, he would've ended up very differently."
Stepp's stories were not always reliable, Kristof said, and he spun "fairy tales" about being a war hero or incredibly close with his children that likely reflected the life he would have preferred instead of the one he lived. Kristof said he attributes Mike's circumstances to some poor personal decisions but also larger-scale problems that leave many people behind.
"Mike was a good person. He made some foolish choices and paid for them enormously, as did his family, and that I think is partly on him but also partly on all of us," Kristof said.

Michael Earl Stepp was born Nov. 12, 1965, in McMinnville, according to his nephew Rob. Mike's father, Robert, was a celebrated Korean War veteran. Mike also served a few years in the National Guard in the 1980s, Betty said. As she's spent the past few days reviewing old photos, his portrait in his uniform stands out, she said.
After the military, Mike returned to Yamhill County and married Stephanie Ross, with whom he had two children, Brandie and Michael Jr. The couple separated in the early 2000s, Betty said.
Stepp worked for a cable company, Mission Foods and a relative's roofing company, among other places, his family said. Along the way, he began abusing alcohol and meth, according to his nephew. His uncle was frequently "in and out of trouble" and at one point robbed houses when he was high, Rob said. In more recent times, that behavior stopped, he said.
Neither Rob nor Betty said they know precisely when and why Mike became homeless, but he had lived on and off the street for at least the past three to four years. Rob said he visited him every few days to bring food, cigarettes and books. In that time, his uncle's health deteriorated rapidly. He injured his head while riding his bike in City Park, had gangrene and a toe amputation and also had a heart attack, his family said.
Betty said many questions remain around Mike's death. He was hospitalized for sepsis in early December and was scheduled to have another toe amputation, but left the hospital before receiving care, Betty said. The McMinnville Police Department received a call around 12:30 a.m. Dec. 12, because someone had found Mike on the ground at 5th and Ford, after which he was transported to Willamette Valley Medical Center, Police Chief Matt Scales said in an email.
Mike had asked his sister to visit him in the hospital, but left before she could arrive, Betty said. Kulla, who serves on the board of Champion Team, a nonprofit that helps people experiencing homelessness, said the organization is exploring ways to support unhoused people when they are hospitalized.
Mike died Dec. 12, Betty said. She's heard he was attacked and nearly beaten to death, a fear other people have also raised. Scales said some plan to talk to the police, but current police information does not indicate Mike was assaulted.
Following the toe amputation in 2018, Mike stayed at his sister's house for five months. She hid his shoes at first to prevent him from leaving, she said. Several people said he claimed to prefer living on the street, but they doubted it was true. His sister and nephew tried persuading him to apply for disability benefits, but he refused, they said.
"I've thought about it a lot, why he would be like that, but he didn't like being confined," Betty said.
Speakers at the memorial said Stepp cared for others though he had little to share materially.
"That's the kind of guy Mike was, he'd give you the shirt off his back," said his friend Travis Rollins, wearing a Philadelphia Eagles hat Mike had given him.
Jon Hermens, Stepp's nephew, said his uncle lived the "pay-it-forward" mentality.
"He lived the, what we would call, 'be the better world you want to see,'" Hermens said.
Rob, who lives in Tennessee, said seeing pictures of the memorial made him emotional as he reflected on his uncle's life.
"Despite all of his issues and demons and addictions, he was still a wonderful uncle," Rob said. "Maybe not your typical, great, television type of uncle, but where it mattered, he was always there."