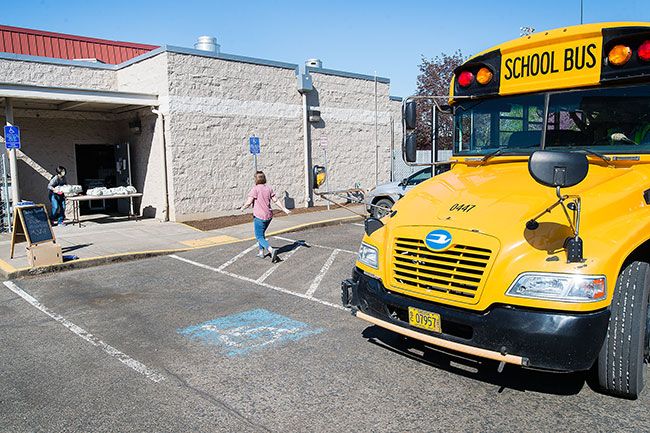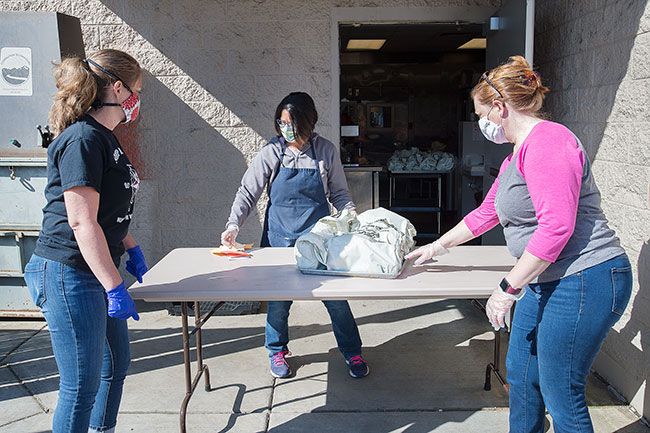 Stopping by: Feeding the need
Food service director makes sure Dayton kids have nutritious meals
Pam Johnson has eaten lunch at school every day for the past 25 years.
The meals are good, she said, and she's not just saying that because she's Dayton School District's food service director.
"They're really good," she said.
Especially her favorite, spaghetti with homemade sauce. "I simmer it down just like Mom used to do," she said, recalling her mother, Jean, who owned the popular Pirate's Den across from Dayton High. "The secret is in the simmering."
Johnson, who will retire in June, loves feeding her homemade spaghetti, casseroles and other dishes to Dayton students. She wants every student to have nutritious lunches and breakfasts -- even when they're not reporting to school.
Since March, when coronavirus closed schools, she's been leading the effort to provide grab-and-go meals to kids across the town. The food's a little different, she said, but it's still good and plentiful, and it still meets important nutritional needs.
Johnson was honored in June 2019 as Dayton's Education Citizen of the Year. She said she felt very honored by the award -- just as she feels honored every day to feed students, especially if they call her "the lunch lady."
"There's more to my job than that, of course, but I love that title," she said, savoring the words, "lunch lady."
"I feed as many kids as I can," she said. "I'd feed them all if I could, at no charge, with no barriers, no stigma."
------
Johnson grew up in Dayton. She ate school lunches as a student at Dayton Grade School.
But the junior high/high school had no hot lunch program, "just the concession stand and vending machines," she said.
High school students could walk down Ferry Street to the grade school for lunch. But most didn't get that far -- they crossed Eighth Street to eat at the Pirate's Den, instead.
Johnson's mother owned the Pirate's Den until 1982, two years after Pam graduated. During her Pirate days, Pam spent her lunch hour at the shop helping her mom cook and serve.
"Mom had an 80-cent student special," she recalled. "Later it was $1."
Her mother also had her own plan for students who couldn't afford lunch, as well, similar to the federal free and reduced-price lunch program that exists in schools today.
"She believed no kids should go hungry," Johnson said. "You could do odd jobs to eat. Kids were happy to do something for a burger."
Johnson embraces her mother's philosophy -- no kids should go hungry -- to this day.
------
Johnson knew early that food service was her calling.
And, although it would be a few years before she walked back into a school cafeteria, she knew she wanted to help children with better nutrition. "I had a passion for kids," she said.
First, she opened her own place, Johnson's Sandwich Factory and Catering, where Lonestar Barbecue is now located. She enjoyed the work, especially the catering.
But the hours were intense, especially on weekends when catering jobs were numerous. "I was never around my kids," she said.
In 1995, she sold her business and took a job that guaranteed she'd have a schedule similar to that of her children: cooking for the school district.
"I thought I'd leave when my kids graduated," she said. "But the last one graduated in 2006, and here I am!"
She stayed, she said, because she loves the job. "It would have been silly to leave," she said.
By 2020, though, she felt ready to wind up her career. Retiring will give her more time with her husband, Thomas, a 1979 DHS graduate, her children, Amber J. Estrada, Barry Johnson and Thomas Johnson Jr., and eight grandkids.
------
Running the sandwich shop and catering taught Johnson valuable business skills she uses as food service director. She is responsible for ordering, inventory and managing cooks and kitchens, in addition to cooking and monitoring child nutrition.
In fact, she said, the business side of her job takes up more time than the food service side does. Over the years, the amount of paperwork has grown exponentially.
"There are more regulations now," she said. "It's never-ending changes."
When she started in 1995, federal rules required that every child take a carton of milk each day. Cooks had to place at least 1/2 cup of fruit or vegetables on each tray.
Schools were just beginning to serve breakfast in addition to lunches. She was pleased.
"Not every child can have breakfast at home," she said. "Parents may not be there to make breakfast, or kids may have to catch the bus at 7 a.m., so they'll be hungry by the time school starts, anyway."
------
Today, schools monitor salt and use whole grains. But students are allowed to choose whether to take milk or juice, and they can select their own fruits and vegetables.
Each Dayton cafeteria has a salad bar with a variety of choices.
There are plenty of entree choices, as well, from one or two in the old days to the current eight or nine.
That's when school cafeterias are open during a regular school year, of course. With today's grab-and-go service, the variety is more limited and everything has to fit in a bag -- whether it's a sandwich, burrito or bowl of chili, plus fruit, vegetable and milk or juice.
"It's different; it's challenging," Johnson said, "but I have a great crew."
When schools are running normally, she and five other employees staff the kitchens at the high school and grade school.
Johnson arrives at Dayton High "super early" each morning to get things started. She preps the salad bar and gets condiments ready.
As other cooks arrive, she steps out of the kitchen and into her office to do paperwork.
At breakfast time, she goes to the grade school to help serve. She loves seeing the children who come through, class by class.
"It's a happy way to start the day," she said.
She returns to the high school to help prepare and serve lunches for 500 students.
------
Johnson likes to cook from scratch. She makes sure to prepare at least one homey dish each day.
It shares the lunch menu with sandwiches, chicken nuggets, hamburgers -- the perpetual favorite -- and several other entrees.
"I would like them all to take those casseroles, but a lot of them take things they're more familiar with," she said, "especially the little ones, who are very visual."
Youngsters will try unfamiliar flavors if they are presented right, she said.
"We do tasting tables, so they don't have to be stuck with a full portion," she said.
After seeing something new a few times, she said, children are willing to choose it on their own. She's seen Dayton students learn to love kiwi fruit, new types of soup and many other foods over the years.
Johnson's love of cooking continues at home, too, although these days, her retired husband often does kitchen duty.
When their children were growing up, the family always sat down to dinner together -- even if mealtime was late because of the kids' sports activities.
"It's important," she said. "When you eat together, you talk about your day and get closer as a family."
---
A hitch in her final year
Pam Johnson's final year as Dayton School District's food service director was going swimmingly until mid-March.
She was looking forward to June, when she'd be free to hit the road with her husband. They're dreaming of going to Australia someday, as well as traveling to Arizona and other destinations in their RV.
Then the coronavirus pandemic led to school closures.
Johnson said she's happy that food service continued, though. Without the grab-and-go meals, some children might miss out on nutrition.
Under the new social distancing rules, she and her cooks bag up and distribute food meant to be eaten over two days -- a fresh sandwich or other entree for today's lunch, plus something to warm up the next day, as well as two breakfasts.
Dayton families can pick up the meals at the high school cafeteria, or receive them at bus stops on Mondays, Wednesdays and Fridays.
For 25 years, she had planned what the school cafeterias would serve each day and week, then ordered ingredients accordingly. Now, however, "there's no guarantee what we'll get," so she inventories the food she has in the freezer, then decides what to make.
"It's a guessing game," she said. "We're not lacking for good food. It's just a little different."
While she's happy to be serving food at all, she misses seeing and talking with students.
"This isn't the way I wanted my last year to end," she said. "I'd always said I was graduating with the 2020 seniors, but now I'm not."