Local company wants to supply masks, face shields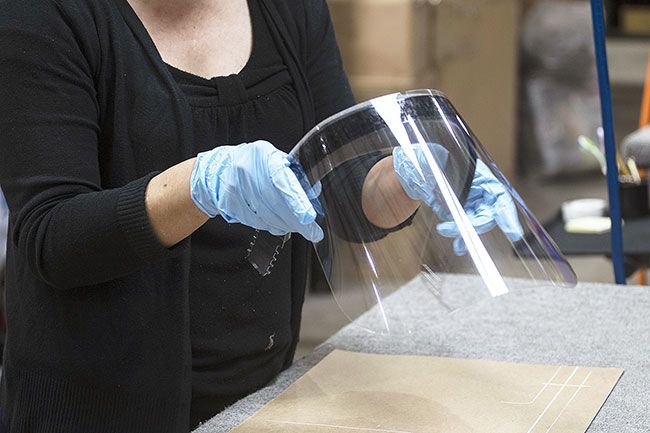 McMinnville company RP Advanced Mobile Systems says it has developed a reusable mask material from alloys that can kill viruses and destroy pathogens that cause disease.
The company, which also has developed a face shield, has contacted the White House, FEMA and state leaders in hopes of becoming a national supplier of personal protective equipment, known as PPE, co-owner Terry Wilmeth said.
It already has conferred with officials in Mexico and South America about supplying PPE, he said.
With its sister company in California, RP could produce thousands of masks and face shields each week. "We want to get as many of them out to help with this as possible," he said.
Wilmeth and Chris Harris run RP, which usually works with law enforcement agencies and first responders to make off-road vehicles for search and rescue, watercraft for surf rescues and other uses.
In March, when they began hearing about massive shortages of protective equipment, they discussed how they could help as they "like to be innovative," Wilmeth said.
While researching PPE materials and fabrication, they found an EPA-approve alloy that had been studied during previous outbreaks, such as SARS.
Using it, they created a soft mask that would capture droplets and destroy pathogens. The mask is reusable and can be hand-washed, he said.
"You still have to follow CDC regulations; this is not a force field," Wilmeth said. "But it's another layer of protection."
He said the McMinnville site and its sister company could make 1,000 masks a week. They also could turn out 10,000 face shields.
"We've reached out to the government saying it's available and looking for guidance," he said. "We're just waiting for the go-ahead."
More info is available by contacting Wilmeth at 971-237-3217 or terry@rpams.com.