Police prevent woman from jumping off bypass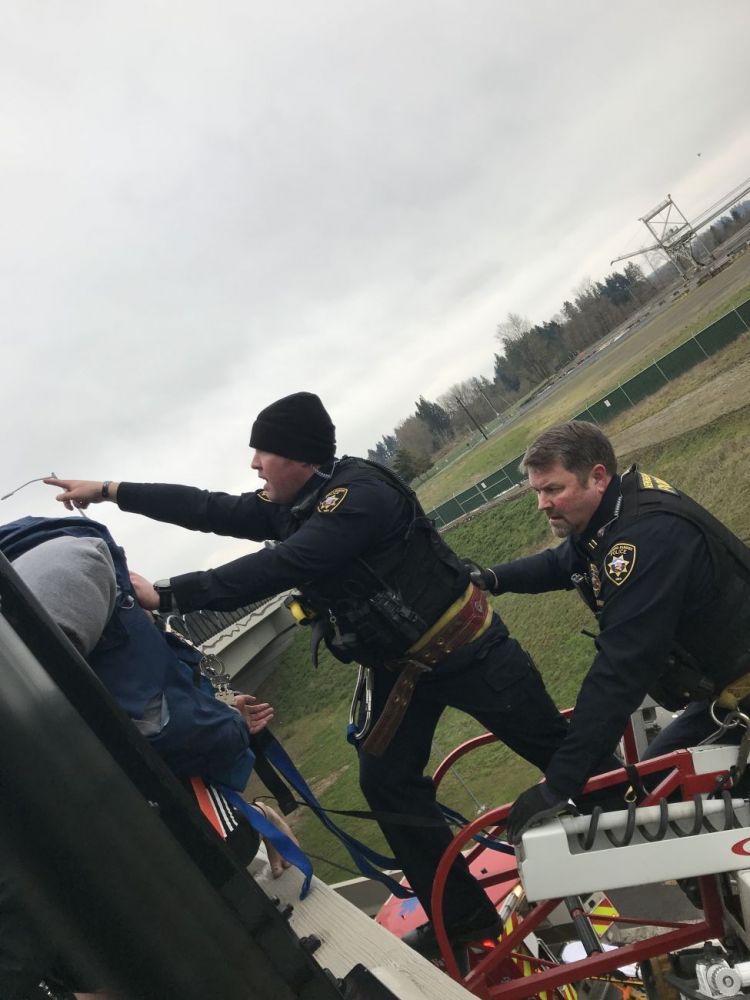 NEWBERG - Newberg-Dundee police, assisted by several other agencies, prevented a woman from jumping off the Newberg-Dundee Bypass flyover Wednesday afternoon.
Shortly before 3:30 p.m., a 911 caller reported that the female was attempting to climb over the steel fencing attached to the bridge. When officers arrived at the scene, she had climbed over the fence and was attempting to leap onto the traffic lane below.
Officers grabbed the woman and pinned her to the fencing. A Tualatin Valley Fire & Rescue ladder truck was dispatched (from Newberg) so she could be removed from the bridge. The woman was fighting with officers as they were attempting to assist her.
The unidentified woman was safely removed from the flyover and transported to Providence Newberg Medical Center for a mental health evaluation. No criminal charges have been filed.
The Yamhill County Sheriff's Office, Oregon State Police and an Oregon Department of Transportation crew assisted police.
The bypass was closed during the incident, as was Wynooski Road.
Newberg-Dundee police posted on its Facebook page that a photo related to the incident it released "depicts the message" the agency was trying to convey to the public.
"This is the reality of a first responder's job, and to be able to post a success story of saving a life versus what is experienced when we arrive too late is the true point."
Police reported that hundreds of people remained in their vehicles on the bypass with no idea what was happening and why traffic was being delayed.
The Facebook post continued, "dedicated people trying to help another human in crisis. Depression and mental health issues are not to be swept under the rug. We encourage anyone to reach out for help when they have any hint of need."