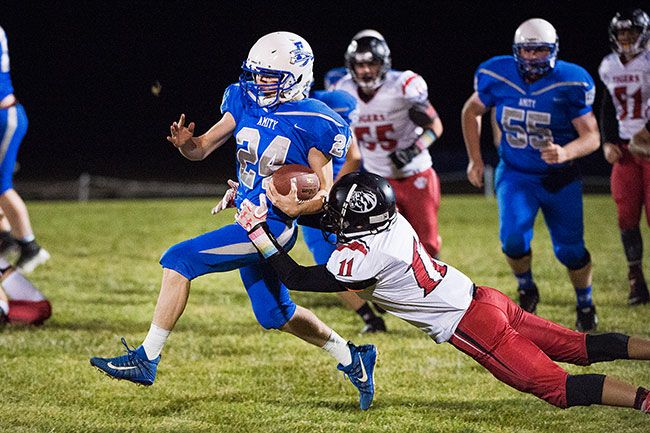 Warriors hold off Clatskanie, Mac falls to Newberg; Friday night football recap
AMITY – West Streeter rushed for 178 yards and two touchdowns, Tyler Parr threw for three scores and ran for another and the Amity Warriors defeated Clatskanie tonight in a shootout, 40-32.
The Warriors took their opening drive 69 yards in nine plays, which ended with Parr's 22-yard touchdown to Brian Hatch on a wheel route. Amity increased its lead to 14-0 four minutes later as Streeter scored a one-yard TD.
In the second quarter, Clatskanie scored a pair of touchdowns courtesy of quarterback Cooper Blodgett.
With 30 seconds left in the first half, Amity drove the ball 29 yards in four plays. Parr hit Payton Richardson for a 41-yard gain, then, two plays later, found Richardson again on a six-yard touchdown pass as time expired.
The Tigers answered by returning the second-half kickoff 85 yards for the score, cutting Amity's lead to 20-18.
Streeter added his second touchdown with 4:08 left in the third on a four-yard rush.
Blodgett tied the game at 26 on a 43-yard scamper and subsequent two-point conversion. Again, the Warriors answered as Parr perfectly hit Richardson in stride for a 41-yard touchdown connection.
In the fourth quarter, Clatskanie trimmed Amity's lead to 34-32 as Blodgett passed for a 17-yard score.
With six minutes remaining, Parr capped a 73-yard drive with a one-yard rushing touchdown for the final score of the contest.
Amity (7-1, 3-1 SD1-West) plays at rival Dayton next Friday at 7 p.m.
Scores from around the county –
Newberg 34, McMinnville 20
Sheridan 9, Santiam 0
Yamhill-Carlton 27, Salem Academy 21
Dayton 36, Taft 12
Rainier 56, Willamina 19