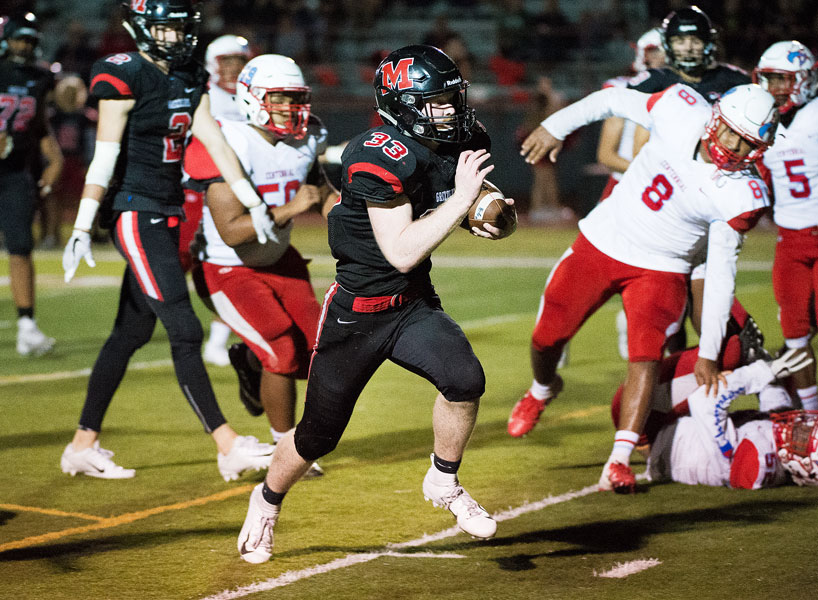 Mac takes 41-27 homecoming win over Centennial; Friday night recap
McMinnville football defeated Centennial tonight, 41-27, during Homecoming festivities to finish the preseason with four wins and only one loss.
The Grizzlies scored on their first possession of the evening. The home team drove the ball 52 yards on nine plays, culminating in Noah Kepler's four-yard touchdown run.
Mac quickly added to its lead after forcing another Centennial punt. Sam DuPuis fired a long pass to Colton Smith on the first play of the drive. Hitting his receiver in stride, DuPuis watched as Smith ran 73 yards for a touchdown.
On the following Eagles' possession, Mac's Ras Felix forced a fumble which Sam Weigel recovered on the McMinnville nine-yard line.
The second quarter lacked offensive flow for both sides. But during the last two minutes of the half, the two teams turned up their intensity.
First, the Grizzlies scored on a 15-yard pass from DuPuis to Parker Spence. Centennial countered with a 33-yard trick play which resulted in the Eagles' first touchdown.
With only seconds remaining in the quarter, DuPuis launched a 48-yard TD to Spence for a 27-7 Grizzly halftime advantage.
Centennial cut into the Mac lead halfway through the third quarter on a three-yard touchdown. But the Grizzlies retaliated as DuPuis hooked up with Smith on a 70-yard bomb at the 5:06 mark of the period.
The Eagles cut into the home team's lead with two consecutive scores, making it a 34-27 Grizzly advantage.
Kepler sealed the victory with a 17-yard touchdown run with 5:35 remaining.
Mac (4-1, 0-0 Pacific) opens league play next week versus Sherwood.
Scores from around the Yamhill Valley –
Amity 48, Taft 7
Willamina 29, Dayton 0
Sheridan 59, Chemawa 18
Madras 30, Yamhill-Carlton 14