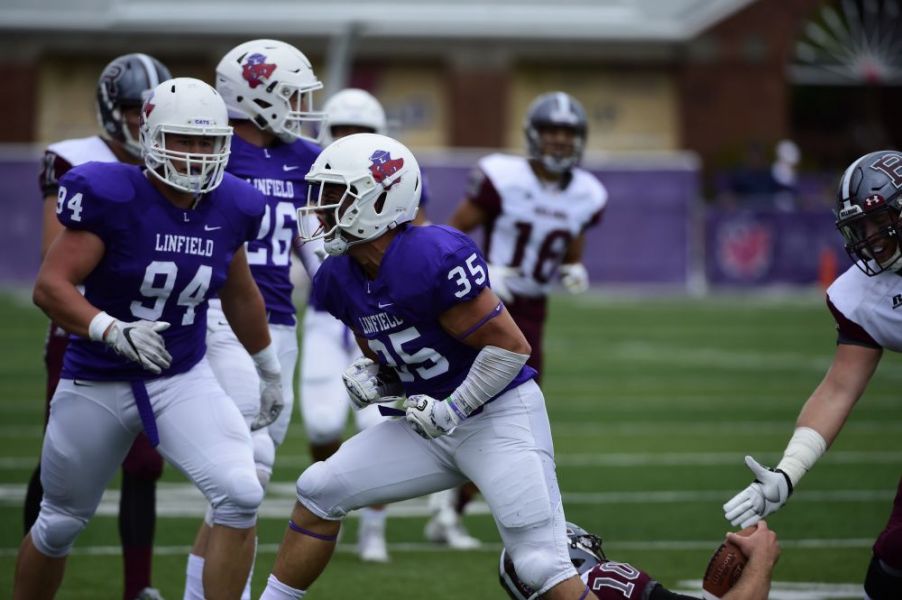 Linfield blanks Redlands 13-0 for first win
Linfield football earned its first win of the season today, defeating Redlands 13-0 behind a dominant defensive effort. The Wildcats allowed only 199 total yards to the previously undefeated Bulldogs.
Linfield's defensive gameplan limited Redlands' mobile quarterback, Levi Plante, to 111 passing yards on 26 attempts and 61 rushing yards on 23 attempts. Linfield also forced three turnovers, including Duke Mackle's diving interception in the fourth quarter.
Linebacker Patrick Pipitone tied Mackle for the Wildcats' lead in tackles with six. Pippitone, who has emerged as the leader of the linebackers, also broke up a pass and pulled Plante down for a sack.
Freshman linebacker Brian Pullman also delivered an outstanding performance against the Bulldogs. He led the team with two sacks and three tackles for loss, and added five total tackles.
With the 'Cat defense playing lights out, the Wyatt Smith-led offense constructed just enough scoring drives to seal the victory.
Linfield grabbed a 3-0 lead in the first quarter. After Redlands turned the ball over on downs, the 'Cats took over at the Bulldog nine-yard line. After three plays achieved zero yards, Linfield placekicker Willy Warne booted a 26-yard field goal.
Unfortunately, Linfield's next four possessions ended with two interceptions, a fumble and a turnover on downs. One of Smith's early picks and a Chidubem Nnoli fumble dented the team's offensive rhythm when the turnovers occurred in the red zone.
Despite the four mistakes, Redlands couldn't capitalize in the first half. The Wildcats ultimately maintained their 3-0 lead into halftime.
Linfield emerged from the locker room with renewed offensive focus. Their first drive of the third quarter went 70 yards on 11 plays, culminating in a 17-yard touchdown pass from Smith to Max Novak.
Now afforded a two-score advantage, the Wildcat defense amped up its pressure on Plante. The scrambling quarterback was hassled on every drop back and hit hard on his runs out of the pocket. Redlands managed to get into scoring territory in the third, but a 49-yard field goal curved wide left.
The Wildcats added another field goal in the fourth quarter, a 34-yarder booted through by Warne.
Redlands' final two attempts at a comeback ended with a Tyler Sitton-caused fumble and their eighth punt of the afternoon.
Linfield sealed the victory with a final series which tallied 51 yards in eight plays. Smith bombed a 41-yard pass to Tyler Torgerson to effectively kill any hopes of the Bulldogs regaining possession, and Linfield prevailed 13-0.
Smith completed 19 of 28 passes for 246 yards, a touchdown and two interceptions. Nnolie led an outstanding rushing attack with 149 yards on 24 attempts. Torgerson caught four passes for 92 yards and Novak added 66 yards and a touchdown on six catches.
Linfield (1-1, 0-0 NWC) has a bye next week, then returns to action September 29 at Whitworth.