Carlton police will pedal patrols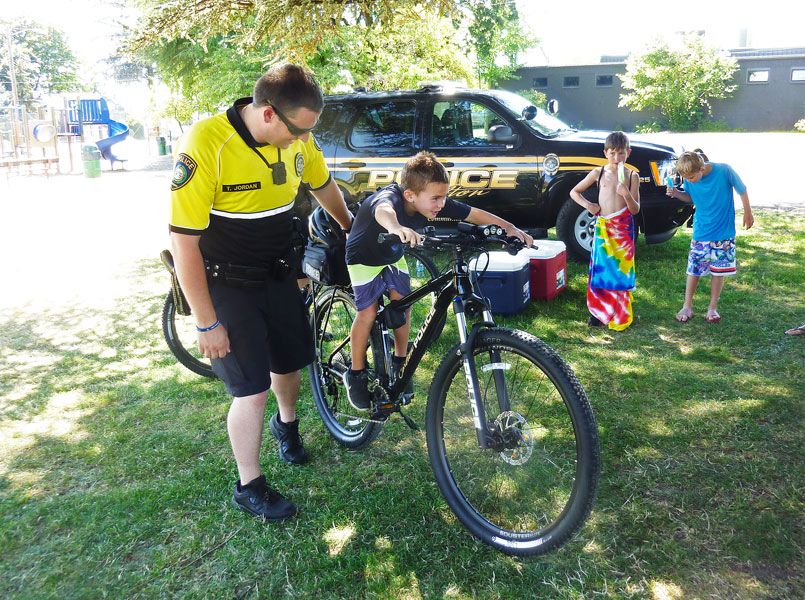 CARLTON — Police have two new patrol vehicles, painted shiny black with gold lettering and trim and equipped with lights and sirens, just like the rest of the fleet.
They don't run on gas, however. These patrol bicycles depend on pedal power.
Officers Jake Blair and Tim Jordan displayed the new bikes Friday in Ladd Park, the upper city park. They distributed popsicles and water to passersby as they told them about bicycle patrols.
The officers and Chief Kevin Martinez often stop and chat with Carlton youngsters and adults when patrolling in their cars. The bikes will allow them to be more accessible and help start friendly conversations.
"Bikes get us out of the car and lets us go places like the parks to see kids," Jordan said. "We're more approachable."
Blair, who paroled on a bike when he worked for the Linfield College Public Safety Department, added, "It's a whole different dynamic. We see more and hear more."
Martinez said he and his officers always want more interaction with the community. They build relationships by hosting the National Night Out event on the first Tuesday in August, by delivering Christmas teddy bears and through other activities.
The department's motto, printed on its patrol cars, is "Police and Community Together."
His department received a $3,700 grant from the Cycle Oregon Fund of The Oregon Community Foundation with which to start the bike patrol program. Tommy's Bicycle Shop in McMinnville helped as well, putting the bikes together and attaching all the equipment.
In addition to the bikes themselves, the grant provided uniforms for officers to wear while on two-wheeled patrol. The outfits include bright yellow tops for increased visibility.
The officers wear bike helmets, as well. Not only do the helmets provide protection, they also set a positive example for youngsters, Carlton police said.
"We always wear our helmets," Jordan told children gathered in the park, then asked them, "Do you?"