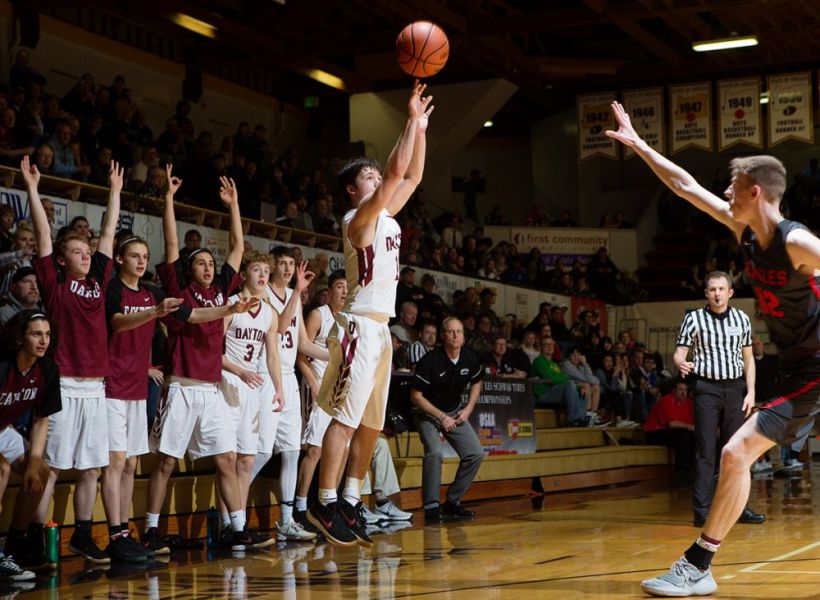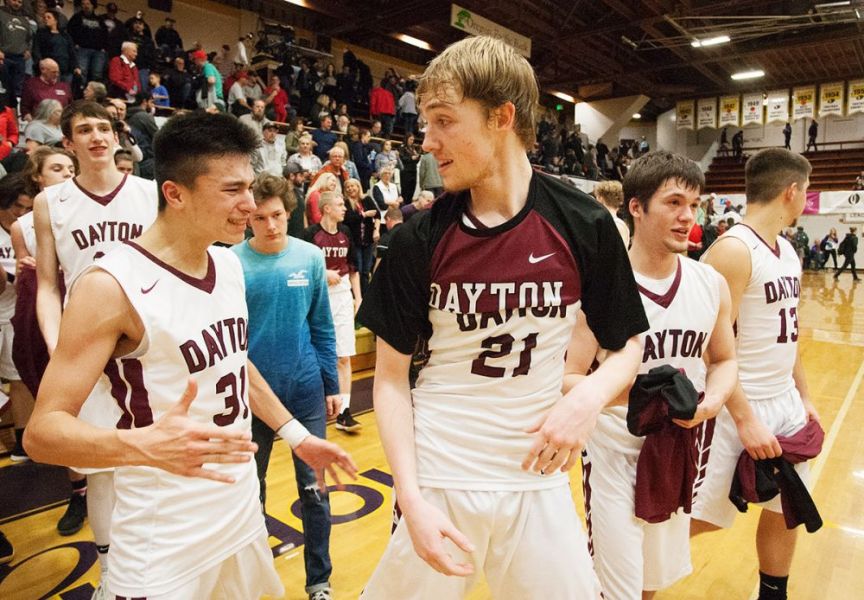 Pirate boys defeat Eagles, 59-47, face De La Salle in championship
COOS BAY – After tonight's gritty 59-47 semifinal win over Santiam Christian, Dayton's boys basketball team will now defend its 2017 state title tomorrow against De La Salle North Catholic.
The Pirates held a dynamic Eagle offense to only 27 percent field goal shooting, and limited star forward Zach Baugher to 14 points.
Dayton opened the contest on an 8-2 run, courtesy of seven early points from Player of the Game Tanner Lewis. After SC battled back to within one point, Dayton scored seven straight, capped by Bailey West's corner trey.
After one quarter, the Pirates led 15-13.
Braeden Nowlin scorched the nets in the second period. He began his scoring outburst with three free throws, then hit two deep threes to put his squad up 26-17 halfway through the quarter.
Santiam Christian scored the final five points of the half to enter the break down 26-22.
The third quarter remained competitive until the 4:12 mark, when the Pirates embarked on a7-3 mini-run to go up 40-33. Lewis was instrumental in the positive stretch, scoring nine points including a buzzer-beating three to conclude the stanza.
In the fourth, the Eagles would close within seven points at the 3:31 mark, but a combination of Dayton bench players led by Tristan Fergus maintained a comfortable lead. The Pirates ended the playoff with clutch foul shooting by Lewis, Dawson Ashley and Matthew Brodeur.
Dayton head coach Ron Hop credited his non-starters for delivering a solid impact tonight, saying, "Today, Dawson, Bailey and Tristan came in and had a positive effect on our team. Those guys absolutely deserve the minutes they've been getting; they work hard every day in practice."
Nowlin joined Lewis in double-digit scoring with 14 points, including three three-pointers. Lukas Findley had seven points and six rebounds, and Jaysen Howard added six points, five rebounds and two blocks.
Asked the challenge of facing the Knights for the second straight year in the championship, Hop noted, "They make it seem like they have eight guys on the floor; they're very quick and very athletic, and we'll have to be ready for some organized chaos."
Tip-off for tomorrow's title match is 9 p.m. at the Pirate Palace in Coos Bay.