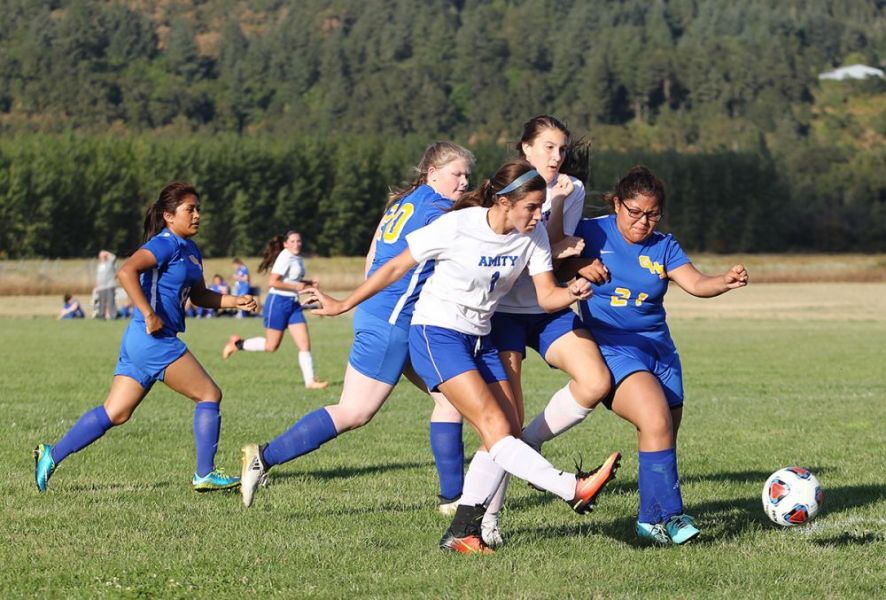 Knuth's hat trick propels Amity girls' soccer to 4-1 win over Gervais
AMITY – Kyndra Knuth netted a hat trick and an assist on a Keeley Graham header, and Amity prevailed 4-1 tonight over the visiting Gervais Cougars.
Knuth, an attacking midfielder and striker, proved dangerous throughout the match. Her relentless pursuit of the ball in Gervais territory ultimately yielded her three goals.
Both sides manufactured few opportunities in the first half. Amity controlled possession for the first 20 minutes as Knuth, Graham and Jenna Lopez bombed forward while receiving support from the midfield.
Perhaps the Warriors' best chance came in the 10th minute when Knuth fired a 28-yard free kick on goal which was parried away by the Cougar goalkeeper.
Gervais then took the momentum from the 22nd minute until the break, maintaining excellent possession in the attacking half. Morgan Croxford, Amity's keeper, made a pair of saves, including one shot off the post which seemed destined for the back of the net.
Despite the desperate pressure from both teams, neither could register an opening tally, and the two sides entered halftime tied 0-0.
Amity broke through in the 51st minute. Knuth methodically dribbled around the Gervais defenders then unleashed a 19-yard left-footed blast, beating the Cougars' keeper to the right side netting.
Five minutes later, Knuth sent in a perfect cross and Graham's glancing header found the corner of the goal to put Amity up 2-0.
The Warriors appeared to smell blood in the water. Their attack continuously pushed forward, forcing Gervais to bunker in and weather an incredible amount of shots.
Knuth struck again in the 69th, a 25-yard laser, low and away from the Gervais net minder.
The Amity playmaker saved her best for last. A swerving 16-yard golazo smacked off the crossbar and into the back of the net, resulting in Knuth's shout of excitement.
Gervais produced an encouraging run of possession to score their first goal of the match during the 79th minute.
Aside from Knuth's three strikes and assist, and Graham's header, Lindsay Emmingham recorded an assist and Croxford tallied four saves.
Amity (1-2, 1-1 SD3) travels to Western Mennonite Monday for a match at 4:15 p.m.