Police carry flags to honor veterans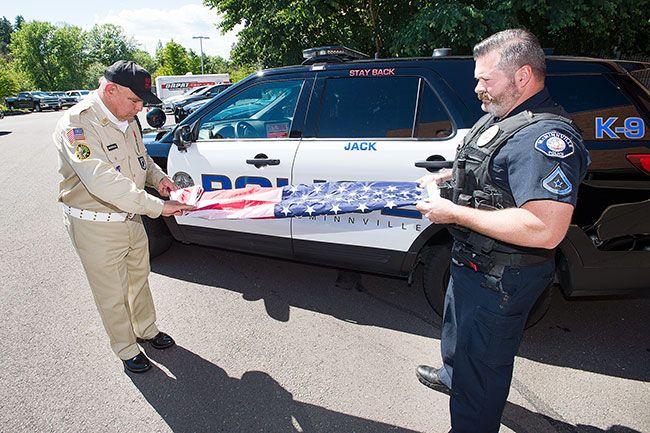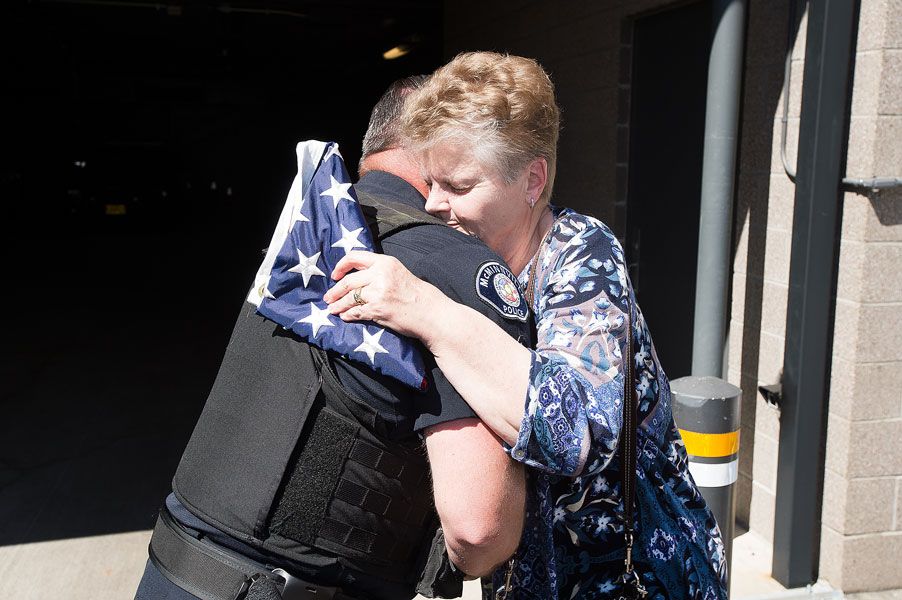 When people die at home, police officers often respond to assist their families. One such death particularly stands out for McMinnville Officer Mike LaRue — that of Vietnam vet Ronald Fredrickson.
When he learned Fredrickson had served in the 101st Airborne, LaRue said, "I wanted to honor him. We owe veterans so much."
He drove to a local store and purchased a 3x5-foot American flag. He returned and draped the flag over Fredrickson's body.
LaRue asked personnel from Macy & Son Funeral Directors to leave the flag in place when they transported the veteran to the mortuary, then return it to his family so they could fly it or display it in his memory.
"That was so very touching," said Ron's widow, Mary. "This means the world to me, and I know it means the world to Ron, too."
The events of that day have sparked a new program, "Flags to Honor Our Veterans," involving the McMinnville Police Department, the local police union, American Legion Post 21 and Macy & Son.
Each police supervisor's car will carry two American flags for use on calls involving the death of a veteran. The flags will be draped over the bodies, taken to the funeral home, then, after being properly folded, be presented to the families with a note.
"Please accept this flag as a small token of our appreciation for your sacrifice and for your loved one's service to our country," the note reads.
Veterans also receive large flags from the government — 5x9-foot versions that are draped over their caskets during the funeral, then presented to the family.
Those flags are wonderful keepsakes, according to LaRue and Angel Mendoza of Legion Post 21, but they're not intended to be flown. The smaller nylon flags can be hoisted up a flagpole outdoors or otherwise displayed, they said.
The Legion donated 15 flags for the program, Mendoza said. "It's an opportunity for us to support law enforcement as well as veterans and their families," he said.
LaRue said the police union added an equal amount.
"As police, we try to give back to society," he said. "That's why we do this job."
In addition, the Yamhill-based nonprofit Quilts for Cops has donated two quilts for Macy & Son to have on hand for the deaths of law enforcement officers, firefighters and other emergency responders.
Community members also can contribute to the flags for veterans programs. Each flag costs $25.
Donations may be made at the police station or through a form posted on the Macy & Son and police department websites.