Power restored to all Yamhill County PGE customers; still 2,600 outages throughout service area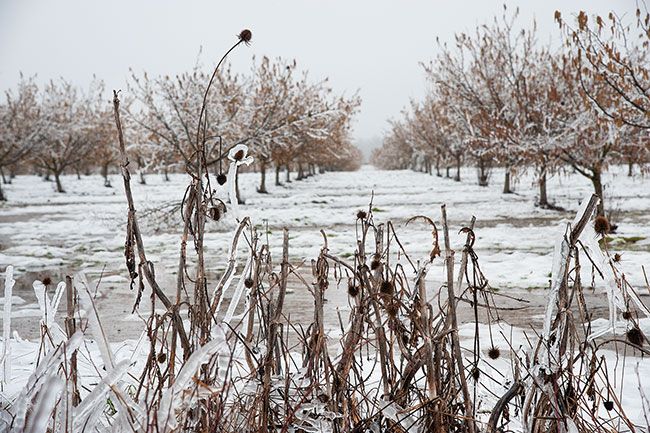 Update: Yamhill County power outages all have been restored according to Wednesday's 3 p.m. report from Portland General Electric. Outages through the PGE service area were reported at 2,603 Wednesday afternoon.
All Yamhill County residents have power restored by Portland General Electric. The PGE report Wednesday afternoon showed no outages in the county, where once more than 7,000 customers had lost power following regional snow-ice storms.
PGE maintains two different "power outage" maps online, with different update timelines and significant variance in identification of outage-areas.
Map #1 displays individual zip code flags with popups showing the number of outages in the zip code, but without area outlines. Zip code boundaries extend outside primary city limits and cut across county lines, making it difficult to identify the exact outage areas. The map is accompanied by linked listings of all zip codes by county, each with popup showing outage information. PGE Map #1 is updated every 10 minutes.
Map #2 outlines extended color-coded areas that cut across multiple zip codes, showing estimated time for power restoration in each area. PGE Map #2 was updated at 7 a.m. Wednesday.
PGE still has a mapped area of East Silverton / Scotts Mills, where 574 customer outages have an estimated restoration time of up to 7 days.
Areas hardest hit by the regional ice/snow storm, according to PGE, included Silverton and outlying areas; the Gladstone, Milwaukie and Sellwood areas; residents in Canby, Woodburn and Sublimity; and the Beavercreek and West Linn areas. The PGE map also showed significant outages remaining in the Salem and Oregon City areas.
Last week, the utility that reported there were 15 transmission lines, 7 substations and 106 feeders out of service, with 4,408 wires down and 206 miles of transmission lines to be repaired. This week the utility reported having 3,000 people working on power restoration projects, and crews continue working 24/7 on power restoration projects.
PGE faced power outages in every zip code of a service area stretching from south of Salem to the Columbia River and from Grand Ronde to Mt. Hood. The highest outage numbers came from Clackamas, Multnomah, Marion and Washington counties.
PGE maintains outage maps, reporting instructions, notification call-backs and other information on its website at www.portlandgeneral.com. The PGE outages map, updated every 10 minutes, is found at www.portlandgeneral.com/outages. PGE's call-in number is 800-544-1795.
For updated PGE information online, see www.portlandgeneral.com/storminfo/.