Great Scott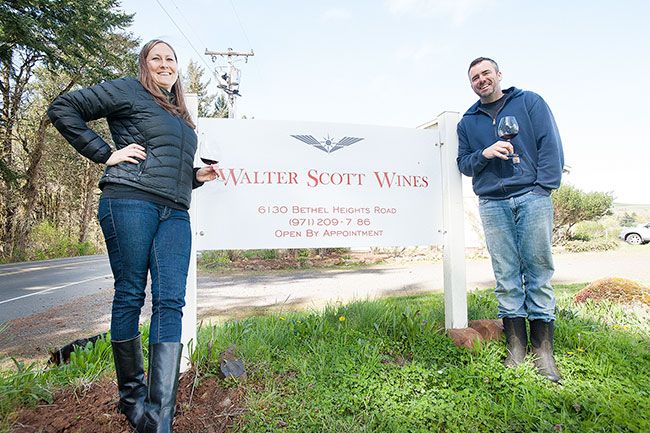 This installment in the Brave New Wave series features a couple who started their own winery with limited capital but virtually unlimited enthusiasm and sweat equity.
Ken Pahlow and Erica Landon bring extensive industry experience to their new winery, which they call Walter Scott. Situated in the heart of the Eola-Amity Hills, their intention is to make it an expression of that AVA.
If you were thinking there may have been some relationship between either Pahlow or Landon and the eminent Sir Walter Scott, you would be mistaken.
The internationally acclaimed, 18th century novelist, playwright and poet from Edinburgh, Scotland, is as distant from them as the Highlands are from Hillsboro. However, they enjoy making the clarification while telling you about their wine.
This purported connection is merely coincidental. Walter was the first name of Ken's grandfather, with whom he was very close, and Scott was a favorite nephew, who died young.
They won't deny, however, that Dumb Ox, the name of their 2011 Eola Springs Vineyard Pinot Noir, was blatantly borrowed from 13th century cleric and pluralistic philosopher, St. Thomas Aquinas. He acquired the sobriquet owing to his "brilliant" and "enigmatic" views.
A first-hand glimpse of the 21st-century Landon/Pahlow philosophy in action rules out any hint of idle hands or a laid-back lifestyle.
The path that brought Pahlow to this point wound its way through Vin de Garde Wines, the St. Innocent Winery and Evening Land Vineyards, and took 28 years to traverse.
He spent 10 years with Vin de Garde, a Portland wine importer who immersed Pahlow in fine European wines. He went on to spend 14 years with the St. Innocent Winery before taking a sales and distribution post with Evening Land.
That takes us up to 2008, when Pahlow formed Walter Scott and blended his first 160 cases of wine. The next year he moved on to Patricia Green Cellars, thanks to a close friendship with Green's partner, Jim Anderson.
His first commercial production, from the 2009 vintage, totaled 650 cases. It included La Combe Verte in tribute to the Patricia Green team.
Following her own wine-tinted way to the present, Landon started out in the restaurant business. She caught the wine bug and it never let go.
Working for the Accardi family in Portland, she met Nichole Andrus, daughter of Archery Summit founder Gary Andrus. Her pinot preferences were top tier from that point forward.
Landon really went to the top when she took a position as assistant wine steward in the Cascade Room at Timberline Lodge. The ski resort's restaurant had, at that point, been elevated to world class standards by renowned chef Leif Eric Benson.
There she met chef Jason Stoller Smith, who had performed admirably for the Ponzi family's Dundee Bistro. Smith took Benson's spot when he retired and Landon went on the Dundee Bistro, becoming sommelier and general manager.
Landon and Pahlow were already an item when she agreed to help build the wine list at Ten 01, a posh Portland restaurant in the Pearl District. There she orchestrated the acquisition of a wine cellar, earning an award of excellence from Wine Spectator magsine.
She left when management problems beset the operation, but keeps her hand in the restaurant side as wine director for the Bruce Carey Restaurant Group, which includes Bluehour, Clarklewis, Saucebox and 23Hoyt. She also serves as a wine instructor for the International Sommelier Guild and the Wine & Spirits Archive in Portland.
To further augment their income, Pahlow works part time in sales at Galaxy Wine Co., the importing firm owned by longtime Portland wine luminaries Bob Liner and Matt Elsen.
Without question, the couple can point to 2012 as a landmark year for Walter Scott. Having produced 1,300 cases in 2011, they had outgrown their existing quarters and needed a new home.
Enter the Casteel Family of Bethel Heights, a pioneering Eola Hills winery. They had a perfectly suited building for lease, a former ciderworks.
Pahlow and Landon leaped at the opportunity and put everything they had on the line to equip the winery for the 2012 vintage. Their bladder press was itself a vintage 1970 Wilmes.
"We had barely gotten it together when October rolled around," Pahlow said. "And just the two of us processed 35 tons — about 2,200 cases — with our new crusher/destemmer and that old press."
That is the kind of challenge designed to test stamina, will and marital union. But they made it through and are geared up to take on this year in great shape.
The year 2012 also brought a new business relationship, and with it needed capital investment.
Good New Yorker friends Sue and Andy Steinman, who had visited Oregon wine country for years, finally decided to move here permanently. Seizing an opportunity, they decided to buy into Walter Scott as partners.
Sue, an attorney, hammered out the legal framework, and Andy, an accountant, made certain the numbers added up.
A winery is nothing without grapes. Fortunately, they've secured strong relationships with growers, in addition to putting in several acres of their own.
In the Eola-Amity Hills AVA, the vineyards Walter Scott can rely upon for fruit include Bieze (pinot noir and chardonnay), Clos des Oiseaux (pinot noir), Crannell (pinot blanc), Eola Springs (pinot noir), and Temperance Hill (pinot noir).
Additionally, they source pinot noir and chardonnay from Freedom Hill, in the Willamette Valley AVA, and pinot noir from Holstein Vineyard, in the Dundee Hills AVA.
Small, carefully crafted lots mark Walter Scott Wines. Production will incrementally increase, but as it now stands, wines sell out quickly.
"We owe it to many amazing friends in the industry," Landow said. "Oregon wine people are wonderful and caring. We're very fortunate."
A look at the website shows only recently released 2011 Holstein and Clos des Oiseaux pinot noirs available, and those only on a limited basis.
But 2012 whites will soon be released, then 2012 pinots later in the year.
It's a fun trip up Bethel Heights Road, and you're likely to be happily and energetically greeted by winery dogs, Kira, a blue heeler, and Finn, a Jack Russell terrier. They don't bite, but they're likely to lick.
Karl Klooster can be reached by email at kklooster@newsregister.com or by phone at 503-687-1227.