Kirkland to lead Saturday breakfast program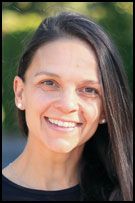 Jessica Kirkland, who has lived in McMinnville since 2016, has been hired to oversee day-to-day operations of the Saturday Morning Breakfast program.
The nonprofit, volunteer-based program provides free meals and hygiene items and other supplies to those in need. It is open for hot breakfasts from 8 to 10 a.m. on Saturdays at McMinnville Cooperative Ministries, 544 N.E. Second St., McMinnville.
Its motto is "feeding hope every day of the week."
Kirkland has worked with Oregon nonprofits for 13 years, as well as youth correctional facilities and other youth programs. She also has worked with both local and international educational outreach programs that bring fine arts education to low-income schools in the U.S. and Mexico.
She also is director of children's ministry at Praise Church in McMinnville.
Saturday Morning Breakfast is always seeking volunteers. For more information, go to the website smbinmac.org or call 971-261-9742.