Old-fashioned plowing, demonstrations recall Yamhill Valley's past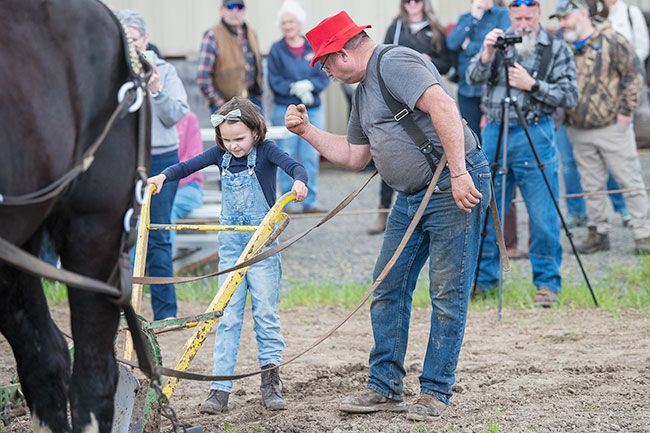 Horses and mules pulled plows as their owners competed to turn the ground the old-fashioned way at Farm Fest, the Yamhill County HIstorical Society's annual spring event.
Held at the Yamhill Valley Heritage Center, Farm Fest features demonstrations of other early industry in the area, such as sawing logs into boards and blacksmithing. Children played 1800's games with help from members of the McMinnville High School Leos Club, a teen version of the Lions. Other guests enjoyed food, old-time music and displays of old tractors and other farm equipment.
Usually, Farm Fest happens in mid-April, but this year the cool, wet spring caused it to be delayed until May. A companion festival, Harvest Fest, will happen in August, featuring harvesting of an oat crop planted this spring.
One of the highlights of Farm Fest was a grandfather-granddaughter team entered in the plowing competition.
Duane Van Dyke of Carlton encouraged his granddaughter Imogen as she worked the plow pulled by horses Clare and Sophy in the competition.
Grandpa Van Dyke started plowing himself when he was 12, half a century ago, and won the contest for "Best Working Team" last year.
Now Imogen, 7, is following his lead.
Grandma Diane Van Dyke said her husband is tickled to be able to pass on his skills to their granddaughter, who has been playing with horses since she was 2.