Dimitra (Toula) Pelos 1935 - 2023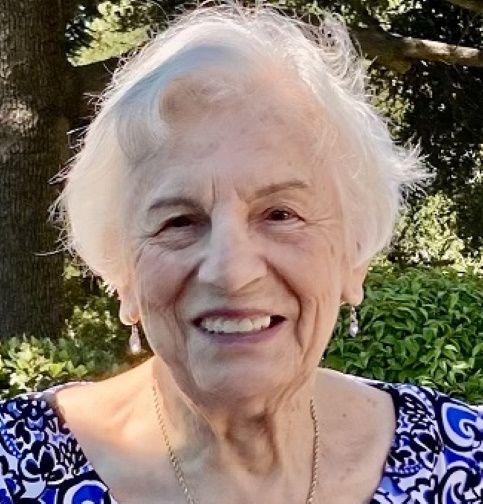 Dimitra (Toula) Pelos passed from this earth on April 15, 2023. This week, of all weeks, was particularly special for her as it was the Greek Orthodox Easter Holy Week. Her religious faith was a product of her upbringing as a young girl in the country of her birth.
Toula was born in Meropi, a small village in Southern Greece. Her childhood was punctuated by the Second World War and the Greek Civil War that followed, which devastated her homeland. Her personal experiences included diving into a ditch as bombers flew overhead and emerging from her destroyed Athens home carrying a white flag, making it to safety.
Her fearless personality was evident throughout her life. She met her soulmate, Andy, when she was still a teen and began writing to him secretly after he moved to America and was a G.I. in Korea. After the war, they were married, and Toula moved to the U.S., residing in Pittsburgh, Pennsylvania.
Coming to a foreign country without knowledge of the language or customs, Toula demonstrated her adaptable set of skills. She learned the language, integrated into a small community, and began raising a family. Despite modest means, she and Andy created a happy home for their four children, Sophie, Dean, Perry and Johanna, making many life-long friends.
Toula and Andy moved the family to Greece in the early '70s, giving the children the gift of knowing and understanding the country of their ancestors. They lived with Toula's parents, Constantine and Ioanna, creating a multigenerational experience for all.
The family moved back to the U.S. in the late '70s, residing for 38+ years in Chicago, Illinois, where Toula created a home that was always welcoming. Her excellent sweets followed multi-course dinners, prepared from scratch, with love for all. Classic Greek dishes flowed effortlessly from her kitchen, and her baklava was renowned in her social circles.
As Toula and Andy settled into the later stages of life, they decided to follow some of their children to the Pacific Northwest. In 2016, Hillside Manor in McMinnville, Oregon, became their new home. Their love of gardening and zest for life had an immediate positive impact on their senior living community. After Andy passed away in 2019, Toula entered a more reflective part of her life, reading and knitting wonderful blankets.
In 2022, she took a final trip to Greece. This allowed her to see her childhood home and visit the gravesites of her ancestors. The adventure was framed by special meals with lifelong friends and relatives.
Toula spent her last year focused on life's simple pleasures, visiting with family and friends. Prepped to go out for a lunch or dinner on occasion, she was always impeccably dressed. Her dignified air was combined with a soft touch for those around her, a reminder of what made her special at Hillside. A final highlight was welcoming two great-grandchildren into the world. Along with 10 grandchildren and four children, they all survive her. Toula lived a full life up to age 87. She will be greatly missed.
Service and Visitation at 10 a.m. Thursday, April 20, at the Chapel of Macy & Son Funeral Home, with a private burial to follow at Evergreen Memorial Park, McMinnville. She and Andy will be buried side by side to face the sun together for all eternity.

In lieu of flowers, to honor the memory of Dimitra (Toula) Pelos we welcome donations to Holy Trinity Greek Orthodox Church , Portland, Oregon, or a charity of your choice. To leave online condolences, please visit www.macyandson.com