Thomas William Edwards 1926 - 2023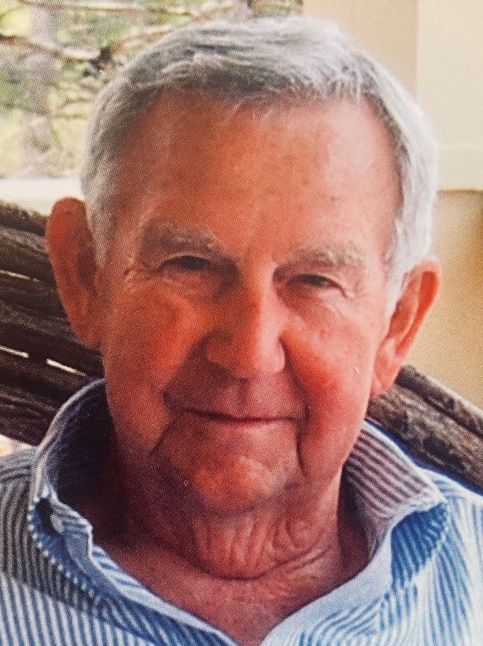 We honor the passing of Thomas William Edwards on February 12, 2023, who charmed us all for 96 years. Tom quietly served in a vast array of roles over time: logger, Army, student, entrepreneur, broker, pilot, builder, investor, farmer/grower, friend, traveler, Husband, Father and Grandpa.
He was born in Tacoma, attended high school in Puyallup, served in the Army during WWII, and then attended the University of Washington.
He started multiple companies, along with his original endeavor in Industrial Lumber Company (after working early on at Weyerhaeuser), all supporting construction and housing industries. One daughter noted that he must "sell sticks" as that must explain all of the wood samples in the back of the car. He kept up his flying and favored the Beechcraft Bonanza for business and personal trips.
Tom met Kay more than 50 years ago, and they quickly married and formed a new family (with children a wide range of ages). These children include Sally Edwards, Eric Edwards, Elizabeth Edwards Dennis (Gary), Thomas Lloyd Edwards and (the late) Garth Edwards. His grandchildren include Maya Edwards, Martha Jones, Anna Engel (Cory), Tyler Russell, James Russell, Emma Dennis and Will Dennis. He also has one great-grandchild, Elliot; and a dear sister, Marian Blank (age 100, living next door).
Except when illness started holding him back in the last few years, Tom treated "retirement" as another series of projects. These projects included starting a vineyard (Lillie's, named after his mother-in-law), planting an orchard, developing property, partnering in new businesses, and making stuff happen. Driving around Dundee, there are a number of routine sights that he started, i.e., the picnic structure at Dundee Billick Park, the warehouses (eventually turned into wineries) off Fifth Street, the conversion of the old antique store into a general store and then into the gas station, to name a few.
Tom taught his children to play cards, identify trees, ski, love to travel, check out every aerospace museum and try new things. He was an avid reader and could always be found with a Scientific American or Smithsonian magazine, or something about local geology. He did the crossword puzzle every morning for years, in pen. He enjoyed fishing and would "captain" boat trips to the San Juan Islands. He built many houses over the years but possibly the favorite was the (oversized) treehouse in Carlton.
Over the years, he lived in Portland and then Dundee. He and Kay tried out Florida for a short period, and promptly returned to Oregon. Most recently, Tom received caring support from the teams at HelloCare, St. Vincent's Hospital, Providence Hospice, Marquis Newberg, and Visiting Angels.
His wife, Kay, appreciates the outpouring of love and will plan a small memorial gathering later. In lieu of flowers, please consider contributing to the American Heart Association, the American Red Cross or the Smithsonian Institution.