Amity man charged with attempted murder in alleged machete attack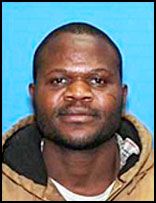 An Amity man, Peter Darius Huber, 33, who allegedly attacked his brother with a machete early on the morning of Friday, Feb. 3, has been charged with one count each of second-degree attempted murder, first-degree assault and unlawful use of a weapon, according to Yamhill County Circuit Court records. The murder and assault charges are Class A felonies. The weapon charge is a Class C felony.
Huber was arraigned on the charges Tuesday, Feb. 7, before Judge Jennifer Chapman. She set bail at $500,000.
The victim, Diego Armand Clark Huber, 41, was struck multiple times by the machete and sustained severe lacerations to his head, neck, shoulders and hands, according to a probable cause statement written by Yamhill County Sheriff's Office deputy Andrew McMahon. He was initially transported by McMinnville Fire Department ambulance to Salem Hospital and later transferred by Life Flight Helicopter to Oregon Health & Science University Hospital in Portland.
Peter Huber fled the scene of the attack, 307 Fifth St. in Amity, before deputies arrived, but was located Friday afternoon on South Corbett Avenue in Portland. He had collapsed on the side of the road near his vehicle, having sustained self-inflicted lacerations, according to the Portland Police Bureau.
Shortly after 3 a.m. Friday, deputies responded to a reported assault at the Fifth Street residence, according to McMahon's probable cause statement.
Diego Huber had sustained life-threatening injuries to his head and upper torso. His right hand/wrist were nearly severed. Four fingers on his left hand were severed.
Family members who were home were awakened by the disturbance. Peter Huber was located near Diego when the victim was discovered. Peter then drove away in a 2007 Toyota Highlander after the family called 911.
The family told detectives they were unaware of any disagreements the brothers were having, and they did not believe the two had been arguing. The attack, it appears, was unprovoked.
Peter Huber has suffered from depression and suicidal ideations, has previously attempted suicide and has a history of alcohol and drug abuse, according to the family. They also said he suffers from paranoia, to include hallucinations. He has not been medically diagnosed with a mental health condition but had seen a counselor in the past.
There were slash marks and blood on a folding cot in the living room of the residence, where Diego Huber often slept.
About 11 hours after the attack was reported, Peter Huber was found in Portland. His vehicle was observed to have a substantial amount of blood in the driver's area and a razor blade was located in the front passenger seat. He was transported by ambulance to OHSU for treatment.
He was released from the hospital and booked into jail Monday, Feb. 6, and will be arraigned on a grand jury indictment at 1:30 p.m. Tuesday, Feb. 14.