Dwight Eugene Boyles Jr. 1945 - 2022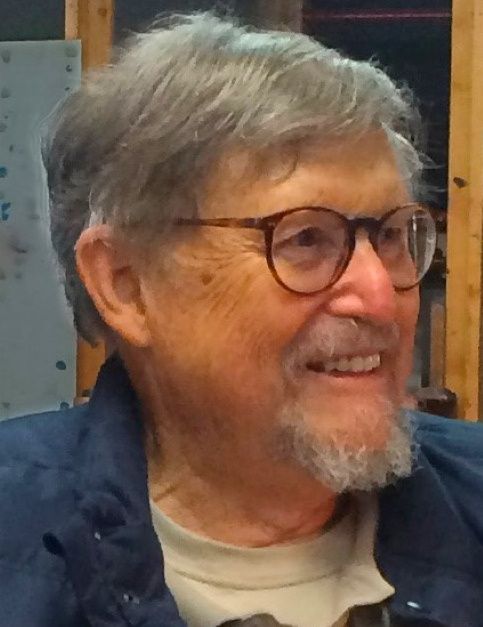 Dee Boyles, an artist accomplished in multiple media, died peacefully in his home in McMinnville, Oregon, with his beloved wife of 30 years, quiltmaker Laura TenBroeck, her sister, and a few close friends at his side. Dee was 77 years old. The cause of death was multiple myeloma, a consequence of his exposure to Agent Orange during his military service in the Vietnam War.
Dee was a loving husband, a kind and generous friend, and an inspiring teacher. He was an artist of many talents: landscape painter, illustrator, printmaker, ceramicist, graphic designer, woodworker. Friends still remember his hand-built kayak decorated with painted vines and flowers. He was widely known locally for his annual posters for the Willamette Shakespeare Company, for his years of participation in the annual Yamhill County Art Harvest Studio Tour, and for his art shown in galleries throughout northwest Oregon.
Dee was born in Peoria, Illinois. He grew up in Roseburg, Oregon, where his family moved when he was five. He was the eldest of two sons of Dwight Boyles, a dentist, and Evelyn Boyles, an emergency nurse. His artistic talent was evident early on, but his parents wanted him to go into medicine. In a compromise, Dee entered the University of Oregon School of Architecture. Before long, he succeeded in transferring to an arts major and received a degree in graphic arts in 1968. He joined the Army in 1969 and served in the infantry in Vietnam, much of the time in design-related assignments. Upon discharge in 1970, he returned to Portland, pursued various art projects, and opened his own design studio. Dee also taught graphic design at several colleges, including Portland State University and the University of Portland.
Dee was a dedicated backpacker, bicyclist, kayaker and backcountry skier. When a friend moved to Alaska, adventure called. Dee visited Alaska the summer of 1982 and spent three months backpacking and floating remote rivers in the Brooks Range. The next year he was hired as art director by an Anchorage advertising agency. Later, he opened his own design studio, then joined the Anchorage Daily News, where he became the paper's art director. During his years at The Daily News, he produced hundreds of illustrations and graphic design projects, dozens of which received national and international recognition. He also taught graphic design and illustration at Anchorage Community College and then joined the University of Alaska Anchorage teaching graphic design.
In 1997, Dee accepted a position as features art director at the Orange County Register in Southern California, later becoming the paper's art director. He lived in Laguna Beach, where he encountered California Impressionism and plein air oil painting, which profoundly influenced his work for the rest of his life. He left the Register one year before his 2001 diagnosis of multiple myeloma. From then on, he devoted himself to his art. He moved to Northern California in 2004, and to McMinnville in 2007, in both places painting pastoral scenes and seascapes. He took his easel outdoors, to the Rocky Mountain, Yosemite, and Joshua Tree national parks, and to other locations throughout California and Oregon, combining his two passions, art and love of nature, in plein air painting.
Dee's work is rich in attention to design, light and color, and the unique qualities of various media. There is also humor and fantasy. A friend's report of a dream became an explosion of movement and high drama in a Dee Boyles' drawing. A series of ceramic sculptures depicted "Cowboy Bob" in outlandish situations; another series of characters explored aging and loss. As he became limited by declining health, he took up printmaking, focusing largely on Japanese woodblock prints and linoleum cuts. In 2022, he produced a series of prints of birds viewed from his home. Even at the end of his life, he was planning another painting he hoped he would be able to execute. Of his idea he said only, "This one will be a little different."
Dee was predeceased by his parents and his brother. He is survived by his wife; by many friends; by the students whose lives he touched; and by those who have loved his artwork.
A memorial gathering will be held on Saturday, May 6, 2023, in McMinnville, with details to follow. Currents Gallery in McMinnville will present a retrospective show of Dee's work during the month of May 2023.