2022 Year in Review, Part II: A selective look back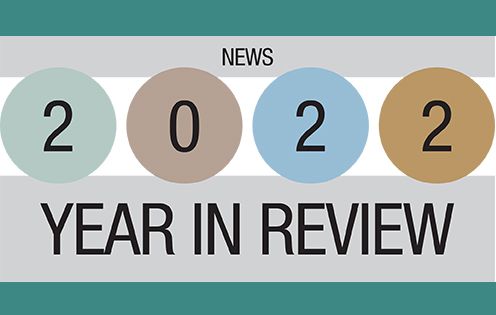 News-Register's choice of a baker's dozen topics from news coverage in 2022 continues on these pages. Part 1 appeared in the Dec. 30, 2022 edition (click here for the News in Review part 1), and included business and sports highlights from last year. The review continues in this edition with more news summaries, and a look back at local residents who died in 2022. Story summaries are by news staffers Paul Daquilante, Nicole Montesano, Starla Pointer, Kirby Neumann-Rea, and Scott Unger. With space a constraint, the annual review is a set of highlights but by no means an exhaustive list of every important story.
Some of these reviews include updates and looks ahead at how some of these stories will carry forth into 2023.


Gun shots ring out in McMinnville
Gun shots repeatedly unnerved McMinnville residents, and no incident was more unsettling than what took place Saturday, July 30, in a two-story home on Southwest Mt. Mazama Street.
Shooting suspect Dillan Cashman is scheduled to stand trial Monday, May 22, in connection with his allegedly discharging about 200 rounds during a three-hour standoff with multiple law enforcement agencies.
Cashman has been indicted on 20 counts, including two charges of attempted aggravated murder, by a Yamhill County Grand Jury.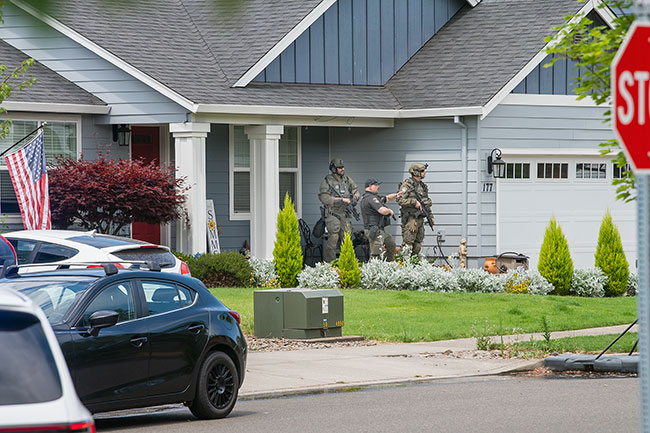 He has also been charged with two counts each of attempted second-degree murder and attempted first-degree assault, in addition to seven counts each of felon in possession of a firearm and unlawful use of a weapon, according to the indictment.
He possessed seven different types of weapons during the morning standoff, according to the indictment. There were four semi-automatic rifles, including one with a scope; two semi-automatic handguns and a revolver.
Elsewhere, on Wednesday, Nov. 16, the Yamhill Communications Agency 911 dispatch center began receiving calls between 5:30 and 6 a.m. from residents in the area of McMinnville High School, reporting they heard what sounded like possible gunshots. The school was not in session at the time and no students were in the building.
McMinnville Police officers started searching the area and located damage to an exterior wall of the school, as well as some shell casings in a couple of the streets north of the school, including Northeast Ford.
Officers responded Sunday, Sept. 25, to a shots fired report in the 600 block of Northeast 26th Street shortly before 9 p.m.
A naked adult male was seen in front of his residence by a group of individuals who live across the street from him, and they verbally challenged him.
Following an exchange of words between the parties, an individual in the group threw two full cans of beer at the neighbor, who went inside his residence and retrieved a shotgun, which led to a member of the group arming himself with a handgun.
That individual fired five shots into the ground in an attempt to scare the neighbor.
No injuries were reported. A 24-year-old male was cited to appear in Yamhill County Circuit Court on one count of second-degree criminal mischief.
There was a report of gunfire in the area of West Second Street and Southwest Fleishauer Lane at 12:30 a.m. on Thursday, Sept. 1.
Officers learned that multiple shots had been fired at a home. One resident sustained a minor injury and received medical treatment.
The sound of shots fired was heard in the area of Southeast Davis and Debbie streets, and a vehicle was struck by gunfire about 2:30 a.m. on Wednesday, Aug. 10.
A possible suspect vehicle was described as a cream or white-colored sedan occupied by a young male who was alone.
Police received multiple calls of shots fired in the areas of Northwest Sixth and Hickory streets and Southwest Second and Agee streets shortly after midnight Sunday, June 12.
Two males sustained non-life threatening gunshot wounds and were treated at the Willamette Valley Medical Center. They were 21 and 18 years old.
There was not a great deal of cooperation in attempting to identify suspects.


New leaders elected to local, state, federal positions
2022 saw the election of several new faces in leadership positions, including the first representative of the newly created 6th Congressional District.
Democrat Andrea Salinas beat out Republican Mike Erickson to represent the new district, which was created following the 2020 census. Oregon gained a house seat for the first time in 40 years after its population grew by more than 10 percent in the last decade.
The 6th district consists of Polk and Yamhill counties and portions of Marion, Clackamas, and Washington counties.
Salinas will head to Washington D.C. after serving as an Oregon State Representative since 2017.
Oregon Legislative District 24 will have a new leader in Republican businesswoman Lucetta Elmer, who defeated Democrat Victoria Ernst 56-43 % in the race to replace McMinnville's Ron Noble. Serving in the post since 2016, Noble steps away from politics after losing his bid for District 6 in the primary election.
Elmer and her husband Denny have been running business ventures for 20 years, including owning Union Block Coffee and other downtown McMinnville businesses, along with several recreational vehicle parks around the state.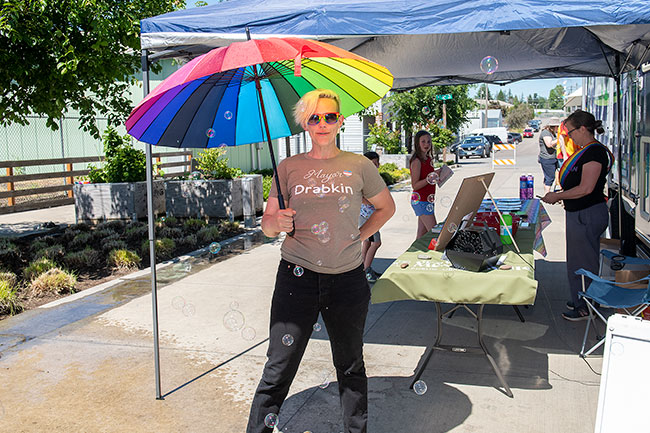 Locally, Remy Drabkin became McMinnville's first female and queer-identifying mayor, running unopposed for the position after serving as interim mayor since May.
"I am beyond honored to have so many of you here tonight and I hope to not just serve you for this one term but to serve you for many terms," Drabkin told the crowd at her swearing in ceremony.
Dayton nursery stock and marijuana farmer Kit Johnston defeated Dayton Mayor Beth Wytoski 52-48 % in the race to replace Casey Kulla on the Yamhill County Board of Commissioners.
Johnston served on the Yamhill County Planning Commission and ran on a platform emphasizing the protection of gun and property rights and fiscal responsibility.
Election week was one of highs and lows for new Yamhill County Clerk Keri Hinton. After defeating Cory Fribley by a wide margin (76-23 %) in the clerk's race, Hinton's office was scrutinized for delays in election results and mistakenly releasing results of the Newberg City Council race, which required a special election due to a balloting error.


Return to in-person continues, and so does disease
In 2022, Americans continued the 2021 theme of returning many activities to in-person and normal, even as widespread COVID-19 infections continued, and numerous other viruses spread. As the year wound down, the state declared a public health emergency over pediatric hospitalizations of RSV and adult hospitalizations from influenza and COVID-19. Health authorities urged Oregonians to wear masks to combat a "tripledemic" of COVID-19, influenza and RSV and to consider skipping or postponing holiday gatherings, especially those including older adults or very young children. In the week of Dec. 11-17, two Oregon children died from influenza. Nationwide, 30 children have died from the flu so far this season.
Studies continue to show that COVID-19 infection weakens the immune system, leaving people at heightened risk of other infections. Numerous diseases have surged in the wake of repeated COVID infections among the majority of the population.
In January, Yamhill County Public Health stopped contact tracing of new COVID-19 cases, after the county saw reports of more than 400 cases over four days. It said it no longer had enough staff to keep up, as the Omicron variant caused a new surge in cases. Despite early claims that the Omicron variant was milder than earlier ones, studies later showed it was just as deadly. It was more transmissible, however, and quickly dwarfed earlier outbreaks, leaving hospitals struggling. The county held mass vaccination and testing clinics for several months.
By the end of 2021, Yamhill County had seen 157 deaths from COVID-19 in two years. By late December of 2022, another 93 had been reported, for a total of 250. The majority of Americans have been infected at some point, and in Oregon, more than 8,960 people have died over the course of the pandemic. Millions of people nationwide have reported ongoing symptoms, many disabling.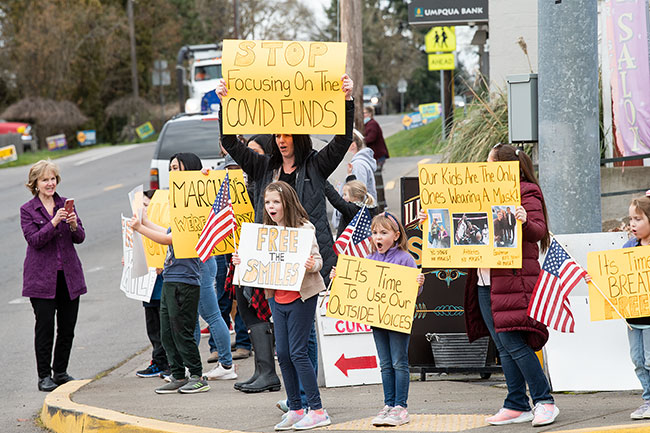 Yamhill County Commissioners Mary Starrett and Lindsay Berschauer, who opposed the state's efforts to mitigate and contain the disease, spent much of the year in contention with Health and Human Services Director Lindsey Manfrin, trying to get her to change the information offered on the county's Public Health website, and to add information Manfrin said was misleading or problematic. At times, they delayed state funding and other approvals for the department, in an effort to gain leverage. Manfrin eventually removed most information about COVID-19 vaccines from the county website, instead providing links to the Centers for Disease Control and Prevention
Mask mandates for indoor places, including schools, were dropped on March 12. In April, mask mandates for public transit ended, after a federal judge ruled against them.
In July, inmates at the Sheridan prison began a hunger strike, protesting extensive lockdowns in their cells, inadequate meals, limited medical care and restricted access to computers. The prison saw repeated outbreaks among inmates and staff, and inmates said they often did not receive medical treatment.
Many Oregonians, however, supported returning to more in-person activities, particularly as the pandemic dragged on.
The McMinnville Wine & Food Classic, which was canceled a day before it was scheduled to open in 2020, returned in March 2022. Once again, the benefit for St. James School drew thousands of visitors to the Evergreen Space Museum to sip wine, taste food and buy artisan products.
McMinnville's UFO Festival also returned in full in May, after a truncated festival held in the fall of 2021. Locals and visitors from far-flung places celebrated with a huge parade and other activities.
A socially-distanced version of the Oregon Air Show had been held in 2021 at the McMinnville Airport, but this year it was back in full, with crowds wandering the tarmac admiring the planes.
In addition, school assemblies, church services, tag sales, concerts, big-cast Gallery Theater plays and all sorts of festivals and fundraisers also returned in 2022. The Confederated Tribes of the Grand Ronde brought back their Contest Powwow in August.
In May, Mpox, formerly called monkeypox, a previously rare disease, began spreading worldwide. It causes lesions and, often, extreme pain in people infected.
Over the ensuing months, Oregon saw 268 cases, including two in children. Those at highest risk were urged to obtain vaccinations, and later, booster shots. As of mid-December, the disease had been reported in 12 counties in the state; it had not been reported in Yamhill County. Unlike many of the diseases currently spreading, Mpox is transmitted through contact with the lesions of an infected person, or with contaminated items such as bedding.
Schools throughout the county saw a massive outbreak of hand, foot and mouth disease in the fall. The highly-contagious virus causes fever, mouth sores and rash, but does not usually cause severe disease.
Respiratory syncytial virus, usually called RSV, a common winter illness that typically looks similar to a cold, has caused children nationwide to be hospitalized in large numbers, exceeding the capacity of several children's hospitals. The disease can be life-threatening to infants and to older adults.
In Oregon, hospitalizations of infants and children tripled in early November, and Governor Kate Brown declared a public health emergency. Children's hospitals warned they are struggling with capacity. They were followed soon after by adult hospitals, as influenza and COVID-19 cases began spreading, increasing hospital demand.
Disease cases surged after Thanksgiving get-togethers, and officials said they could well surge again after Christmas, again primarily because of Oregonians traveling and visiting with family. As of December 28, 346 Oregonians were hospitalized with COVID-19, and test positivity rate had climbed to 10.4%, with 3,306 new cases reported from the previous week, despite a sharp drop in testing over the Christmas weekend. A widespread ice storm before Christmas may have also contributed to lower testing numbers.
According to a report released by Oregon Health and Science University's Dr. Peter Graven on December 16, the number of available hospital beds had dropped to its lowest number since last January, with just 254 beds available. By December 28, that had risen to just 259; there were 33 ICU beds available statewide, and 226 adult non-ICU beds available. Graven warned that "the number of deaths is expected to increase with the recent surge."
In addition, he said, "Flu levels are at near record levels in Oregon."


City begins, continues multiple development efforts
City of McMinnville officials spent much of the year piecing together funding for the present, while still keeping an eye on the future with several projects.
The city debated several funding strategies to address a $2 million shortfall in the general fund before settling on a service fee attached to utility bills and continuing the pursuit of a new fire district.
At a contentious five-hour council meeting on the 2022-23 budget in April, many residents weighed in on several proposals before council decided to move forward with the fee and use $1.8 million in American Rescue Plan Act dollars as a stop gap.
The "city service fee," which will begin appearing on residents' McMinnville Water and Light bills in January, was approved 4-2 by city council in September after several more meetings on the issue, with councilors Jessica Payne and Chris Chenoweth opposed.
The $13 fee will apply to single family residences, while multi-family dwellings and low income residents will pay discounted rates. City documents indicate approximately 9,300 residents will pay the full fee, approximately 3,000 will receive a 25 % discount and 1,000 will receive a 90 % reduction.
The charge is estimated to generate over $2 million per year. Once the shortfall is addressed, revenue from the fee will be used to stabilize operational costs such as staffing and expenses and fund capital projects for repairs and upgrades to facilities, according to City Manager Jeff Towery.
The consolidation of the city and rural fire departments has been in the works for several years and is likely to head to a public vote in May after officials spent 2022 ironing out the details and holding several public information meetings on the formation of the new McMinnville Fire District.
City officials argue the new district is needed to address service gaps such as delayed response time, insufficient staff for emergencies and a lack of capital reserves for needed projects like new vehicles and substations.
The planned district will cover a 95-square-mile area with service for approximately 40,000 residents and have a tax rate of $2 per $1,000 assessed value. The tax rate for rural residents will increase by $1.03, while city residents will initially see a 50-cent increase. City council will vote in March whether to additionally keep its current $1.50 taxing authority and what to do with that figure.
In addition to dealing with current budget issues, the city spent 2022 planning for future development and expansion. The most discussed city effort has been the development of the Three Mile Lane area, 1,340 acres of land near the airport that could serve a range of uses.
The city's ambitious plans for the parcels north and south of Highway 18 include commercial, industrial and residential uses, including a "mixed-use town center," an Innovation Campus designed for corporate and industrial users, expanded health-care facilities near the Willamette Valley Medical Center, a "tourism area" for hotel, retail or event space and a cohesive trail system.
The "mixed-use town center" was opposed by many residents concerned over the size, which led to restrictions being added to the overall footprint by city council when the area plan for the project was approved in November.
The city could also be expanding across town in the Fox Ridge Road area, as an advisory committee was formed this year to plan for potential development. In addition to geographic expansion, the city continues to plan for the future with long term projects for recreation facilities, parks, the airport and downtown.


Municipalities respond to new psilocybin rules
Nearly two years after voters approved making psilocybin legal to take in an approved clinic, Yamhill County commissioners and city councilors had to start figuring out how to proceed. They took diverging paths.
In November 2020, Oregon voters approved Ballot Measure 109, directing the Oregon Health Authority to create rules for licensing and regulating all aspects of the drug, including manufacturing, transportation, delivery, sale and purchase, and service provision. Those rules are under development and are supposed to be finished by the end of the year. In early January, the agency plans to start accepting licensing applications. But some cities and counties proved wary of being among the first to start allowing treatment in their jurisdictions. People who want to use mushrooms for treatment will be required to use them onsite at a treatment center, under trained supervision.
The cities of McMinnville, Carlton, Dundee, Sheridan, Willamina and Amity passed two-year moratoriums on allowing psilocybin service centers within their borders, while the city of Newberg voted to ban the centers altogether.
Dayton decided to treat them like marijuana dispensaries and set itself to create time, place and manner regulations for how and when the centers may operate.
The county board of commissioners held a public hearing in August on the issue, and considered sending a ballot measure for either a ban or a two-year moratorium. But in the end, it did neither, heeding the pleas of advocates, including a local farmer who hopes to grow the crop and offer a service clinic, and a couple who want to create a service center on a private campground.
The commissioners asked the county Planning Commission to propose time, place and manner restrictions, and to determine zones where the centers should be allowed. However, advocates objected to its proposal to keep the centers, at least initially, out of the farm and forest zones, and the commissioners added those back in.


Authorities seize pot and more pot
The Yamhill County Sheriff's Office swooped in on three marijuana grows and seized thousands of pounds of pot in just a two-week period of time.
About 77,000 pounds of processed marijuana was seized via search warrant Tuesday, Oct. 18, on a rural Newberg property at 14750 N.E. Stone Road.
The acreage had been converted to facilitate the growth, storage, processing and packaging of marijuana to be shipped or transported out of the county, according to Capt. Sam Elliott.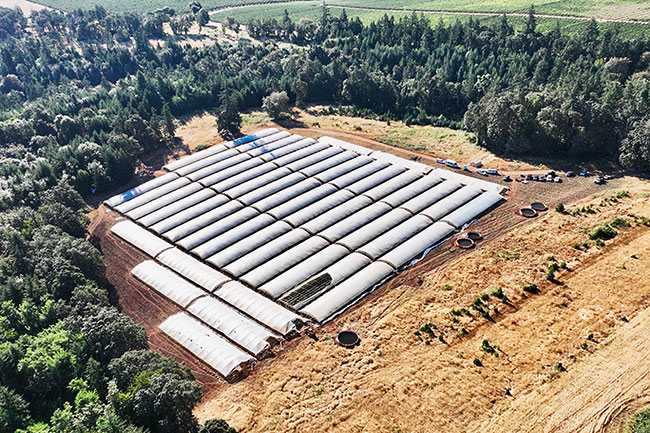 Documents and evidence was recovered that the operation was the work of a large-scale drug trafficking organization moving marijuana out of state.
The Oregon street retail value of the haul would be about $76.5 million, and $265 million on the East Coast.
Also seized were two AR-15-style rifles, a shotgun, multiple handguns, telescopes and about $80,000 in cash.
It was regarded as the largest marijuana seizure in the history of the sheriff's office.
Five individuals were charged with one count each of unlawful possession of marijuana by a person 21 years of age or older and unlawful manufacture of a marijuana item, both felonies.
Recovered receipts showed multiple large wire transfers from Oregon to Michoacán, Mexico, located in western Mexico.
Starting Monday, Aug. 22, the sheriff's office dismantled and destroyed large, unlicensed and unpermitted grows in the 20500 block of Southeast Webfoot Road and the 12200 block of Southeast Willow Lane in rural Dayton.
Authorities took four days to complete the seizure, arrests and eradication. The addresses, south of Dayton, are about one mile apart.
There were 46 unpermitted greenhouses tied to the Webfoot Road grow, and about 6,700 growing marijuana plants were eradicated at that location. About 10,400 pounds of dried or drying marijuana were destroyed.
Fifty-three greenhouses and 15,427 plants comprised the Willow Lane grow, bringing to more than 23,000 the total number of plants.
Ten arrests were made. Five of the suspects were from California.
They were all charged with one count each of manufacture and possession of a controlled substance/marijuana.
The operations were described by the sheriff's office as drug trafficking cartel grows.
Large camps were set up at both locations where individuals who were actively involved in the cultivation and processing of marijuana were living. The camps contained a large amount of solid waste and refuse.


Yamhill farmer Nick Kristof disqualified for governor ballot
The prolonged Nicholas Kristof candidacy question was settled in early February, and the Yamhill Democrat was kept off the ballot for governor.
"I won't appeal," Kristof told the News-Register after the decision on Feb. 17 by the Supreme Court to deny Kristof's request for writ of mandamus — effectively reaffirming Secretary of State Shemia Fagan's ruling in December 2021 that Kristof is not eligible to run for governor, based on residency requirements. Fagan argued that Kristof's status as a New York state resident disqualified him for a run for Oregon governor.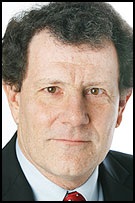 Kristof, whose family owns a farm in Yamhill in north Yamhill County, failed to qualify under the State Constitution's requirement that a candidate "reside in the state" for three years prior to taking office, Fagan determined. Kristof immediately challenged that decision by filing the writ of mandamus, bypassing the Court of Appeals.
Kristof, a graduate of Yamhill Carlton High School who went on to author books and write a column for more than 30 years in The New York Times, has won two Pulitzer Prizes for his work. He resigned his newspaper job in July 2021 in order to prepare for a run for governor.
His family farms apples, grapes and other fruit, and produces cider, on its property north of the city of Yamhill. He had resided in New York state, and voted in New York, while also pointing out that he spent much of his time in Oregon and always planned to live on his family property in Oregon.
Fagan reiterated her citing of Article V, Section 2, of the Oregon Constitution, which she argues states that a candidate must be a "resident within" Oregon for the three years before the general election. She also disputed Kristof's distinction between residence and domicile.
Kristof, in a legal brief stated, "First, a 'resident' is someone who intends to be at home in Oregon and acts pursuant to that intent. As the provision's text and history show, the concept of residence is distinct from the doctrine of domicile, meaning that a person may have more than one residence. Second, under either a residency or domicile standard, Kristof satisfies the requirement of Article V, section 2, because he has consistently viewed and treated Oregon as his home, and he has never wavered in his intent that the state remain his home."
(Kristof announced in December that he had been re-hired as columnist by The New York Times.)