Stopping by: Bunco forever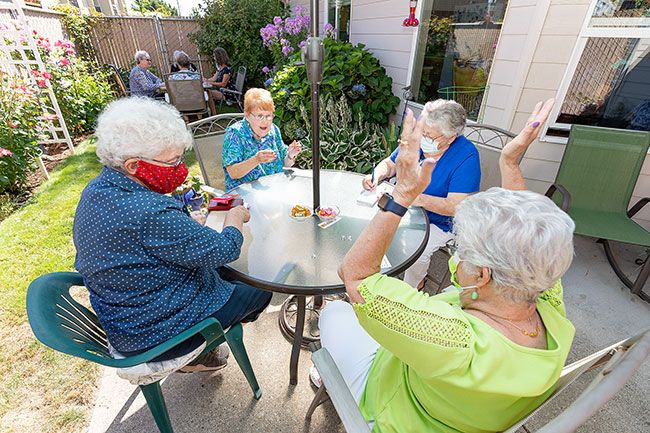 With every toss of the dice, with every tease and witty retort, it becomes clear that this Bunco game is not about racking up the most points.
Rather, these women, who've been rolling dice together for 48 years, are here for the friendships. They enjoy playing and winning, sure, but they love spending time with each other.
"We used to get together for Bunco," said Jean Bresee, who co-founded the group in December 1973 with Jan Spencer. "Now we get together more for friendship."
Their August gathering was the first in well over a year, since the coronavirus pandemic started.
"I've missed this," Sally Williams said. "I've missed the social time."
Even though she and her friends were sharing the same card tables again, the women took a few precautions against the virus; for one thing, many brought their own sets of dice, instead of sharing a single set per table.
They set up three tables of four players each at Spencer's home. Two of the tables were outside in the fresh air.
Many wore masks, but no one refrained from laughing out loud. That would have been much too difficult.
The last time they met, in February 2020, was at the McMinnville Senior Center. They played about two-thirds of their monthly games at the senior center, as they have for years, with the rest in individual members' homes. In the early days, all games were in homes.
Back then, the women played in the evening. Now, retired and no longer eager to drive at night, they meet at 2 p.m. and usually are home before dark.
When Spencer and Bresee started the Bunco group, they worked during the day for the McMinnville School District. They recruited players from among their school coworkers and other friends.
Other original members were Pat Petrovich, Lee Hubbard, Jan Messer, Jean Harris, Karen Fairbanks, Sandy Howd, Edna Crowell, Geri Crowel, Arliss Anderson, Darlene La Dassor and Karen Tate.
The latter two, along with the founders, are still playing. Other longtime players include Claudia Howd Wilson, Kathy Sill, Patty Sterett and Williams.
Another veteran player is Linda Dick, who neither worked in local schools nor lived in McMinnville. She drove down from Portland at the invitation of Bresee, her sister-in-law.
"And she's a real nice gal," Tate said, explaining another reason Dick was welcomed into the group. The sentiment could apply to each member.
They also were joined in August by Mona Clark, who said she is officially a "substitute" and has been since 2012.
Also joining them was Darlene Robins, a longtime player who now lives in Dufur, south of The Dalles, too far to make it very often. She couldn't resist driving over for the reunion game.
"It's a special occasion," Robins said, as she and her friends caught up on the latest news of family and events.
Over 48 years, other women have been part of the group. Some moved away; others moved on to different activities.
"We lost some," Tate said, and everyone paused for a moment, remembering.
Others joined, often coming as a substitute when a regular member couldn't make it. "I started subbing when I was pregnant with my daughter," recalled Claudia Wilson, now a regular.
The group still keeps a list of subs, said Wilson. "If we need a sub, we call someone on the list," she said.
The chosen sub usually jumps at the chance to play.
During the nearly 50 years they've been playing Bunco together, the women have bonded, not just over work and dice, but also over shared life events.
"Death, divorce, babies, grandbabies," Tate said.
Speaking of babies and grandbabies, many of the women remember Spencer's daughter, Holly, as a little girl who loved watching them tumble the dice.
Holly now brings her own daughter, 10-year-old Olivia, to the games sometimes, as she did in August. Both fill in when there's need for a sub or someone wants to take a break, meaning there are three generations at one table at times.
"I find it to be such a special thing," she said. "A lot of laughs and screams when someone hits a 'Bunco.'"
As Holly Spencer remembers the early days, her mother "was always home except when she went to Bunco." When she was little, she cried when her mother left. But she loved it when her mother hosted the games.
"I could eat all the candy" the women put out for between-game snacks, she recalled.
A crying child would have never stopped any of players from attending, the players claimed. They never missed Bunco unless that absolutely had to.
One recalled her husband injuring himself in the yard just before Bunco players were due to arrive at their house. She called her neighbor, a paramedic, to check on him. "And Bunco went on," she said.
At the August game, players spent their first few minutes socializing. Then they settled down at the tables for the first round, a quest to roll the number one.
Jan Spencer tinkled a tiny bell — the starting signal. Each player rolled a set of three dice, and, at each table, the player with the highest score went first.
At the indoor table, Robins took the first turn. "Come on, ones!" she called, shaking her dice, then carefully depositing them on the table, revealing a one, a three and a four — scoring one point, in Bunco terms.
She rolled three more times, each time turning up at least one die with a single dot. She wanted to get as many ones as possible, since each gave her another point on her quest to rack up 21.
On her fifth role, no ones appeared, and play moved to the woman on her left. Dice clattered rhythmically as all four players at the table kept trying for ones.
Dick rolled without getting even one point. Same thing during her next turn. "I need new dice!" she cried, joking that her own weren't lucky enough.
Once in a while, someone rolled three of a kind, scoring 5 points. If all three dice came up with the number in question — a one in the first round, two in the second, and so on — the player received a Bunco and won the round.
After each game ended, either with a shout of "Bunco!" or a smile about earning 21 points, two women from each group stood up and switched to the next table to try rolling the next number.
At the end of the day, the person with the most wins receives $20. Other awards include $5 for the final Bunco and $5 for the most Buncos.
Years ago, there was a prize item for the winner. But each of the players eventually collected enough dishtowels, hotpads and other kitchen items, so they switched to cash instead.
A prize still awaits the player with the fewest wins, though: a jokingly crude statuette.
"The fabulous booby prize" the women call it, sharing yet another laugh.
Starla Pointer, who believes everyone has an interesting story to tell, has been writing the weekly "Stopping By" column since 1996. She's always looking for suggestions. Contact her at 503-687-1263 or spointer@newsregister.com.