Longtime Linfield professor, volunteer Edith 'Duffy' Reynolds dies at age 92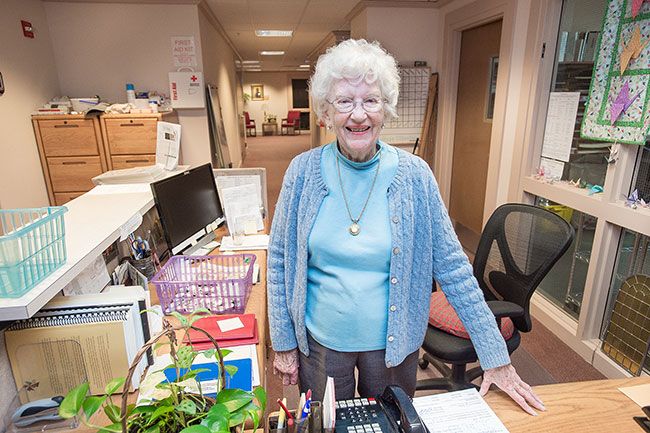 Former Linfield professor and community volunteer Edith "Duffy" Reynolds died Sunday in McMinnville. She was 92.
Services are under the direction of Macy & Son Funeral Directors.
Reynolds, who graduated from Linfield in 1951, retired from teaching home economics at her alma mater in 1990. She received the school's Alumni Service Award in 1992.
In retirement, she was a volunteer at McMinnville First Baptist Church, where she had been a member since 1954, when she had returned to town to teach at Linfield. In addition to volunteering in the church office each week, she replaced candles in the sanctuary, served on the church board and its social team as well.
A native of Texas, she came to Oregon when she was about 7. She graduated from Springfield High School in 1947. She followed her two best friends to Linfield, working on campus to pay for her tuition.
She saw the college grow in enrollment and build several new buildings, including Dillin Hall cafeteria and Memorial Hall, a combination dorm and stadium. She had been a fan of Wildcat football since her college days.
A member of Kappa Alpha Phi sorority, she majored in English with a minor in home economics — high school home ec teachers were in demand. After graduating from Linfield, she earned a graduate degree in textile science from the University of Tennessee.
She returned to Oregon to teach high school for two years, then became a professor at her alma mater.
She taught cooking and clothing construction to Linfield students, many of whom would become home ec teachers themselves. She also served as dorm mother in Potter Hall, where the home ec deparment was located.
She retired in 1990 when Linfield closed its clothing department.
In addition to volunteering, Reynolds spent much of her retirement time traveling, often with friends from Linfield. She went to England, New Zealand and various other countries, including her favorite destination, Scotland.
She also took up watercolor painting. She loved raising Corgi dogs and, along with roommate Sybil Seward, even owned a champion — Marnie of Michelbook, named for the street on which they lived at the time.